asparagus and potato tart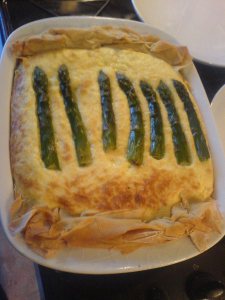 I made this a while back but just found pictures of it so thought I'd share. I bloody love asparagus, but optimistically I'll leave it til the season to wax then.
This is a Jamie recipe, and deserves heaps of praise for making the most of it's wonderful homely ingredients. It's boiled new pots mashed together with cream, eggs and cheshire cheese (that lovely crumbly one), poured into a filo pastry-lain dish. This is then topped with charred asparagus and baked in the oven til set. Mega-filling and handsome with some salad leaves.