beef in oyster sauce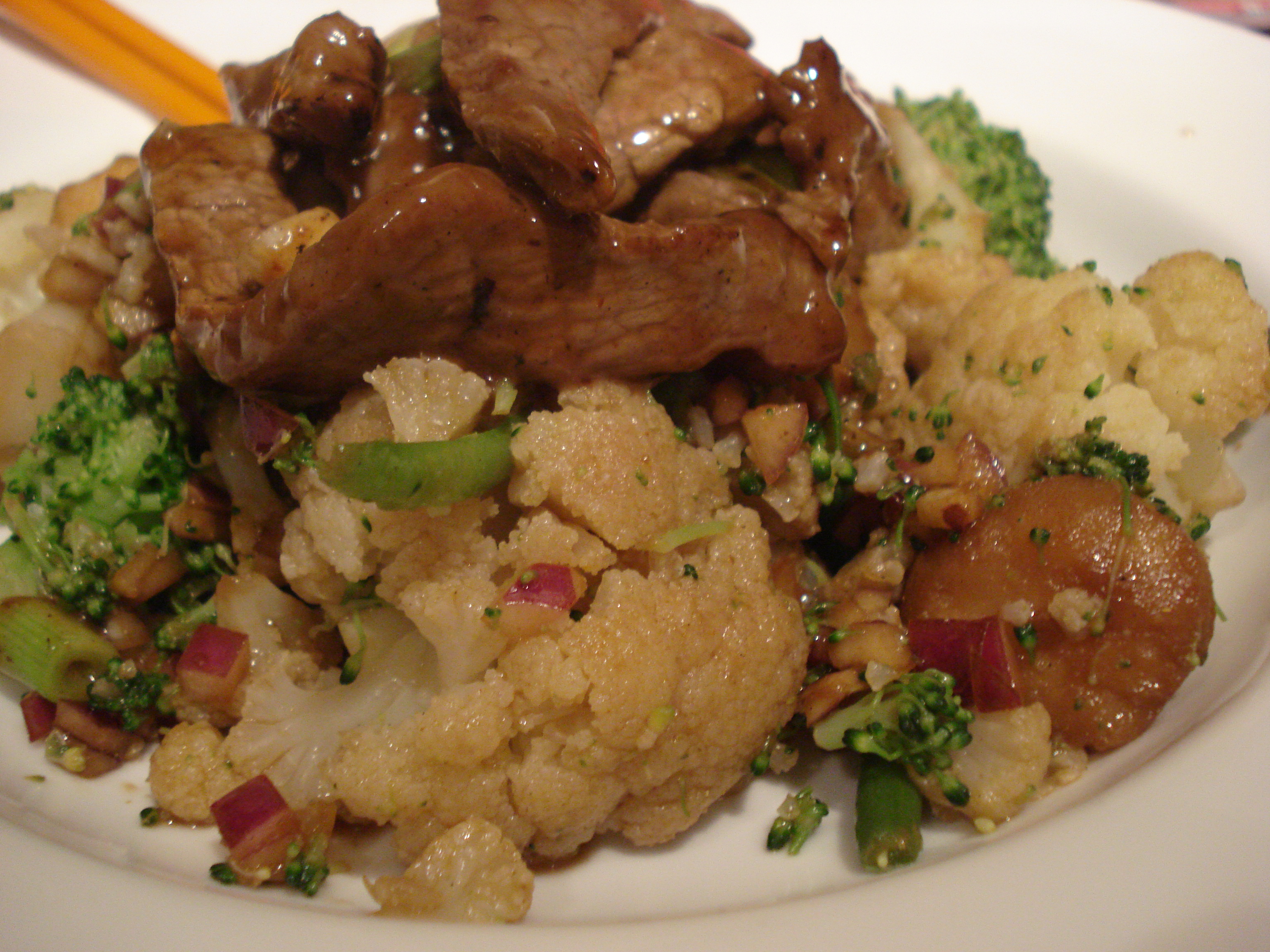 When Ken Hom is on Saturday Kitchen, he usually pulls a blinder out of the bag, such as crispy chicken noodles. And this recipe was no exception. Tender beef, sticky savoury sauce and to quote the Homster "disgustingly healthy". I'm not sure how healthy it is, but it tastes pretty darn good to me.
Based on Ken Hom's original recipe and messed around with according to what I had knocking about
Beef in oyster sauce (serves 4):
For the beef
450g fillet of beef, cut into thin strips
1 teaspoon dark soy sauce
2 teaspoons sesame oil
1 tablespoon dry sherry
2 teaspoons cornflour
3 tablespoons rapeseed oil
3 tablespoons oyster sauce
4 spring onions, chopped
For the salad
2 teaspoons Dijon mustard
1 teaspoon Madras curry powder
1 tablespoon dark soy sauce
4 tablespoons extra virgin olive oil
1 broccoli, cut into small florets
100g green beans, trimmed
½ cauliflower, cut into small florets
Small tin of water chestnuts, drained
½ red onion, finely diced
Mix the soy, sesame oil, sherry and cornflour together and add the beef. Combine well and leave to marinate while you chop up everything else.
Get your wok on screaming hot, then add a few splashes of oil. While the oil heats up stick a sieve or colander over a bowl. When the oil is smoking add the beef. Keep it in the wok until it's browned lightly on all sides, then chuck the lot into the sieve, letting the excess oil drain off. Wipe the pan out with kitchen paper.
Put the vegetables into a pan of simmering water. These will take 4 -5 minutes to get tender. While this is happening, mix the mustard, curry powder, soy sauce and oil in a bowl, mix well and add the onion and chestnuts.
Back to the wok: get the oyster sauce to simmering point and add the spring onion and drained beef. Toss well to coat.
While the beef finishes, drain the veg and add to the salad dressing. Mix thoroughly with the dressing and serve up with the beef.