chicken and chickpea casserole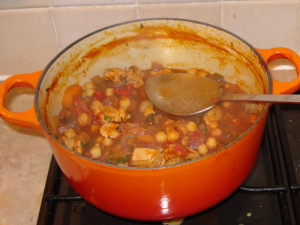 I saw this recipe on a low GI recipe website, but it was a little under-developed and felt sure it wasn't going to quite come together. So I embedded a few ideas: a sofritto base of onion and carrots, but that wasn't quite enough. I remember doing an Italian pasta sauce starting with basil stalks, infusing the whole thing with a deep flavour. For this I felt coriander would be  good fit. Whaddya know, tastier than expected: red onion, carrots, and coriander stalks sweated off, then diced chicken, chickpeas, button mushrooms, tin tomatoes, tabasco and chicken stock are added. After 45 mins simmering some lemon juice, soy sauce, salt and pepper and coriander leaves are added for seasoning.
Served with greek yoghurt mixed with lemon juice and more coriander, this was quite satisfying and pretty simple.