chicken curry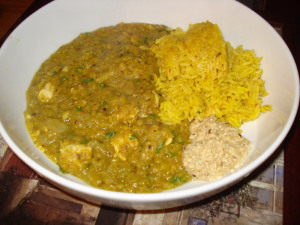 Can the world take another generic 'curry' recipe? At least one more it seems.
We kick off with ginger, onions, lentils, turmeric and cumin with 2 pints of water. This is left for 40 mins, then diced chicken is added for a further 25 mins. As seasoning right at the end, cumin seeds, ginger, garlic, cayenne pepper, nutmeg, cinnamon and salt is fried until aromatic, then pounded to nothing and added to the curry with some lemon juice. Turned out pretty good.
The little beige puddle in the corner is one of my fave accompaniments: cashew butter. It's just toasted cashews and cumin seeds blitzed with oil and salt. Yum!