chicken with chickpeas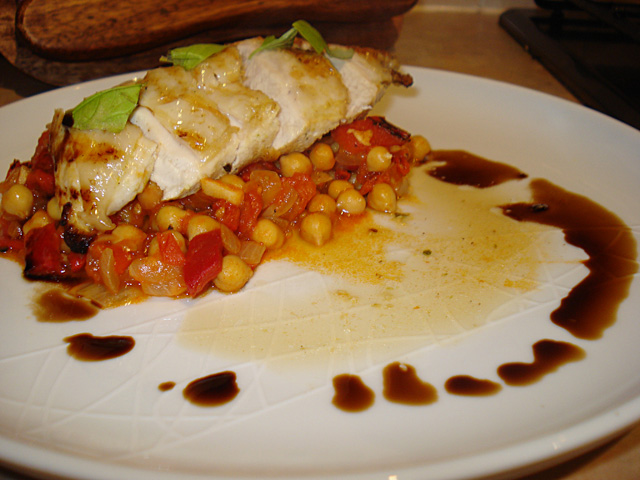 Yes, another recipe from Jamie Oliver's book Jamie's America
. This one is a rich, moist chicken breast over a hearty and fiery chickpea stew. It sounds peasanty – and it is – but like most peasant foods is earthy and satisfying, and dead easy. I've used chicken breast with skin on as I want to give it time in the oven, and leaving the skin on retains moisture by allowing fat to drizzle through the meat. This prevents dry 'orrible flesh. I've used tinned chickpeas 'cos let's be honest – who wants to soak chickpeas overnight?
The chicken breast was left to marinate before I went out for work in a mashed up blend of parsley, garlic, lemon zest, lemon juice, salt and pepper. Back from work a few hours later and it's the turn of the chickpea. I sweat down an onion, two cloves of garlic and some paprika until soft, and then add four diced tomatoes, half a jar of sweet peppers and a tin of drained chickpeas.
While that simmers I turn my attention back to the chicken. I put it skin-side down on a hot griddle until dark lines appear, then turn 30 degrees to get that fancy criss-cross appear. When there's more lines I turn them over and put the whole thing in a 200C oven for about 8 minutes. While that continues I look back over the chickpea stew, and adjust seasoning with salt, pepper and red wine vinegar. The chicken looks done now so I bring the chicken out to rest for a couple of minutes, to let all those tasty juices flow back through the breast.
To serve I pile some chickpeas up, top it with sliced chicken breast and few torn basil leaves over. At the last minute I reckon a drizzle of balsamic vinegar will help here, so I get out my best to sprinkle over. It goes really nice with the juicy chicken and peppery chickpeas. It's a really tasty dinner and fairly easy too. I'll be seeing this one on my plate again!