chicken with spinach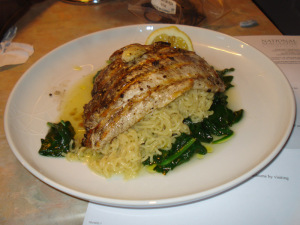 Inspired by a true muse, I've heartily ripped this wholesale from Giorgio Locatelli.
It really couldn't be easier: a chicken breast is butterflied and sliced laterally before being battered thin to get the most surface area possible. This means that it can be cooked quickly and keep as much moisture in as possible. It's placed on a griddle for about five mins, until it develops those lovely char marks and the white is creeping up the sides. Then I flip it over for a minute or so until it's done all the way through. I made sure it was seasoned on both faces, and left a smashed garlic clove on top while it cooked.
I served it with some lightly wilted spinach and some cheap-ass chickeny noodles (10p from Tesco!), finished with lemon wedges and drizzled with extra-virgin olive oil. Very nice, and super-quick.