essex food fair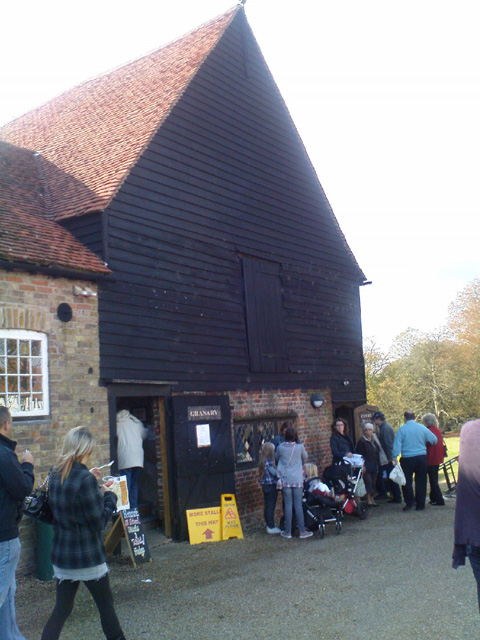 I've recently found a pocket of Essex-based foodies into which I have aggressively thrust myself, and being a persistent little oik has paid dividends. The wonderful EssexGourmet (@essexgourmet on Twitter) tweeted on Thursday that there was a food fair happening on Saturday in Braintree. After a moment's thought LittleSpud and I decided to take a trip out into the heart of green Essex. And what a wonderful afternoon it was!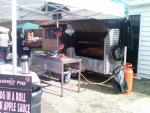 Situated in the Cressing Temple site, you couldn't ask for a more picturesque and homely setting for a local event. There were plenty of stalls with a wide variety of craft and produce available. There were characterful jams and chutneys sold in attractive jute bags; pies of all distinction; cheeses of all provenance; meat and fish alive alive-o. The highlights for me were thankfully quite numerous. First to catch my eye was the hog-in-a-roll; the whole pig barbecued in the background while a genial chap shovels shredded pork into a floury bun and slides a wedge of stuffing in the side. Really meaty and the chew of crackling really makes a joyful crisp in the mouth. I also grinned at the scallops cooked to order with a pile of homemade pesto on the side. The smell was utterly intoxicating. Another fine memory was seeing a flourishing and nourishing Indian snack stall; after passing through rows of bangers and pies this feels incongruous, but how many of us don't now consider Indian cuisine very much part of our own? Sharing a spicy samosa, my son and I certainly weren't fussed about any feelings of whether it fitted or not.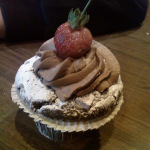 I also sampled some turkey sausages which were absolutely out of this world, unfortunately I was very nearly broke by this point to investigate further! I was also happy to see a game stall; only that morning I'd seen a pigeon recipe and was tickled by the sight of pigeon burgers. I splurged on some venison steaks, a treat for some helpful in-laws. I am also a complete sucker for a gorgeous cupcake, moist of crumb and swirly of gritty buttercream. See this glorious example picture, which I had to sit down to savour.
My only slight criticisms were being a lack of a real direction so it was easy to miss some stands; also that there was not enough room to move around the main barn. Also quite puzzling was a distinct lack of beef – I found one beef farmer who was very knowledgeable and sold good stock, but his selection was small. Where are all the bovinophiles?
All quibbles aside, I will definitely be back next year – I will look for it in the calendar. It's so nice to rub shoulders with the people who rear the produce, and hand-make everything. You can feel – and taste – the love.
(From this adventure, my purchases made pork belly confit and braised beef brisket. Ta!)