gammon and leek risotto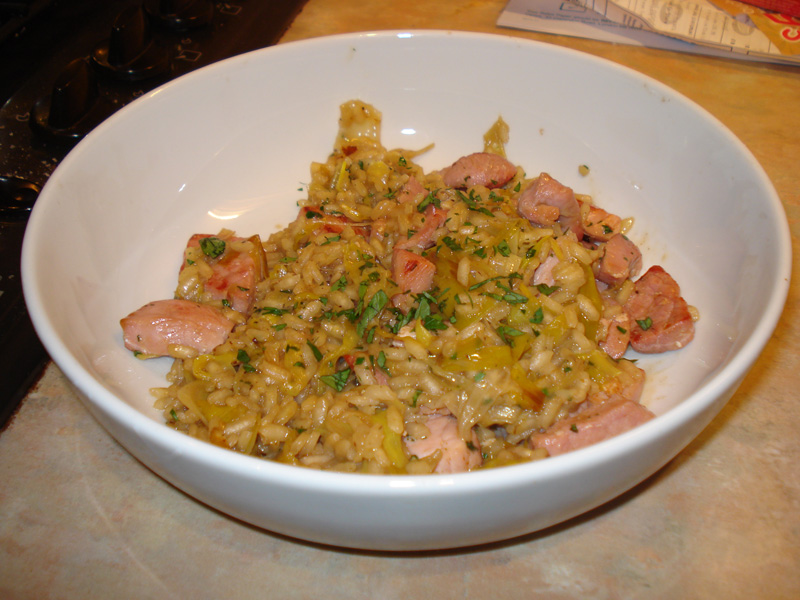 Thanks to this wonderful example of a roast chicken, I was of course left with a superb chicken stock to use up. Whenever I have spare stock floating about, my default dish is risotto. With some spare gammon and always keeping arborio in the cupboard, all this dinner requires is buying a leek. Quite a powerful flavour here – the gammon is of course quite strong, and the leeks quite sweet, so there's a lot going on. The stock came through though, rich and meaty.
Gammon and leek risotto (serves 2):
2 gammon steaks, diced
1 large leek, cut into matchsticks
4 handfuls arborio rice
Glass of white wine
Chicken stock on the boil
Large knob of butter
Chopped parsley, to serve
Fry the gammon in a little oil until coloured. Remove to one side.
In the same pan, fry the leeks until softened. Add the rice and toast for a couple of minutes.
Add the wine and bubble quickly until reduced to almost nothing.
Add the stock a ladelful at a time, allowing the rice to absorb it all before adding the next. Stir frequently. This process will take at least 20 minutes. Taste often after this, to check how done the rice is.
When the rice is ready, check for seasoning and add the butter, stirring and shaking it furiously.
Add the gammon and parsley, warm both through and serve.