hot cross buns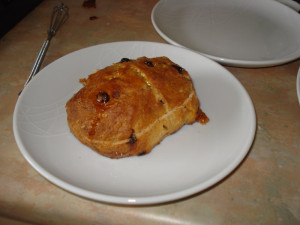 There was no breakfast for Sunday 🙁 So I refused to go to the shop and make something instead.
I had no idea where to start – I remember Paul Hollywood making some on the superb Good Food Live years ago, and that's as far as I went. I decided to start at a malt loaf recipe and work outwards from there.
I'm writing the ingredients here for my own benefit really: 350g bread flour, packet of yeast, 1 tsp salt, 1 tsp sugar, 2 tsps cinnamon into which I rubbed in 15g butter. Then I added a couple of handfuls of mixed dried fruit, 200 ml water, 2 tbsps golden syrup and blended until bound. Then turned out, kneaded and stretched until smooth and elastic. After proving and shaping into buns, I gave 'em a milk wash and ovened.
Hot cross buns are traditionally basted with thinned down apricot jam. I possess no such odd preserve so improvised a caramel glaze: water and sugar and a tablespoon of golden syrup boiled until sticky, then the freshly-baked buns were doused in sugary gloop whilst cooling. I have to admit, they were great! Nice toasted the next day too.