matzo ball soup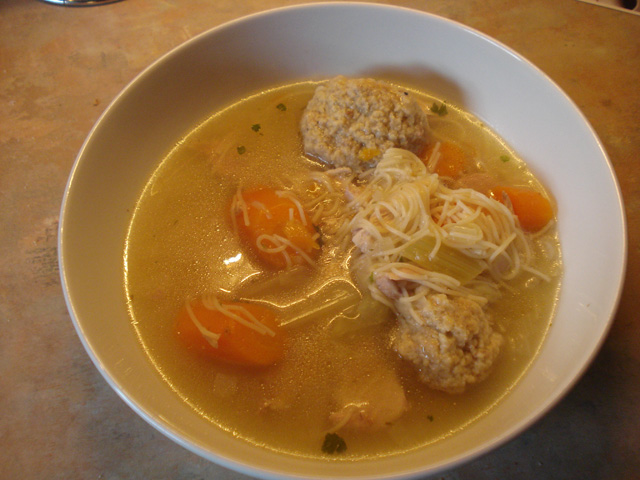 Yet again another Jewish recipe from the Gentile! There's an honesty and heartiness to the Jewish kitchen that I keep coming back to. I was in part spurred on by Comedinewithcathy's recent attempt, though I luckily had no such genuine benchmark against which to be measured. My version, like hers, comes from Jamie Oliver's recent book Jamie's America
which he refers to as Jewish Penicillin. Matzo isn't something I've ever knowingly had before, nor found easy to obtain from my local Tesco's. I used cream crackers pounded to dust instead, so I hope I at least captured the essence of the staple soup dumpling.
I'd already used the breasts and wings of a whole chicken for a tray bake earlier in the week among other dishes, so the remainder of the carcass and went in a pot of cold water for half an hour. I skimmed off a great deal of scum then piled in chopped carrot, celery, garlic, thyme and bay. After an hour there was golden chicken fat floating to the surface, so I skimmed that off too for the dumplings later. After anhour and a half I strained off the contents to police for skin, bones, thyme stalks and lacklustre veg, and tore the meat from the bones before returning it all to the pan.
Then came the matzo balls (Jacob's balls, I guess I should call them): powdered crackers, 2 beaten eggs, water, salt and pepper and a little of the skimmed chicken fat beaten together until thick, then left for a few minutes to firm up. I then scooped into balls and added to the bubbling soup. After twenty minutes they had doubled in size, then for a final ten minutes I added broken up vermicelli, parsley and dill.
I can see why this would be a great meal when you're down – it's dense with robust flavour, and the tender vegetables give you a warming feeling inside. The herb lend a freshness while the 'noodles' and dumplings give you sustenance. It's very filling, and easy to see why it can be a family favourite. Another time I'd be tempted to pull it in another direction – with little fiddling it could end up as a lhaksa, and a dash of tabasco or fish sauce, topped with spring onions could really give it a final zing.