pancetta & pea risotto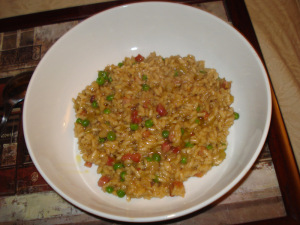 Risotto is a deeply calming dish, both to cook and especially to eat. What amazes me about risotto is that it starts the same but can end so many ways depending on what you add.
It starts with: onions fried gently, then the heat turned up as your arborio or carnaroli rice is added. A handy tip for measuring rice: two handfuls per person. The rice needs to get hot and toasted all over to prepare it for absorbing stock. Stock should be boiling the background (thank you,
last week's chicken stock
). Booze is needed here, a glass of white wine is best. Allow this to bubble to nearly nothing. Then stock is added a ladelful at a time, allowing it to reduce away until sticky. You need a bit of armwork, stirring away to move the rice off the bottom of the pan. Once the rice is tender and tasty, you can eat as is (a little dull) or add what works for you.
For me, it's grated parmesan and butter, vigorously stirred through. In this case I added pancetta fried just beforehand, kept to one side then put back into the rice at the end. Some frozen peas and it's ready. Eat with a spoon and a lazy grin.