porcini steak with mushroom camargue rice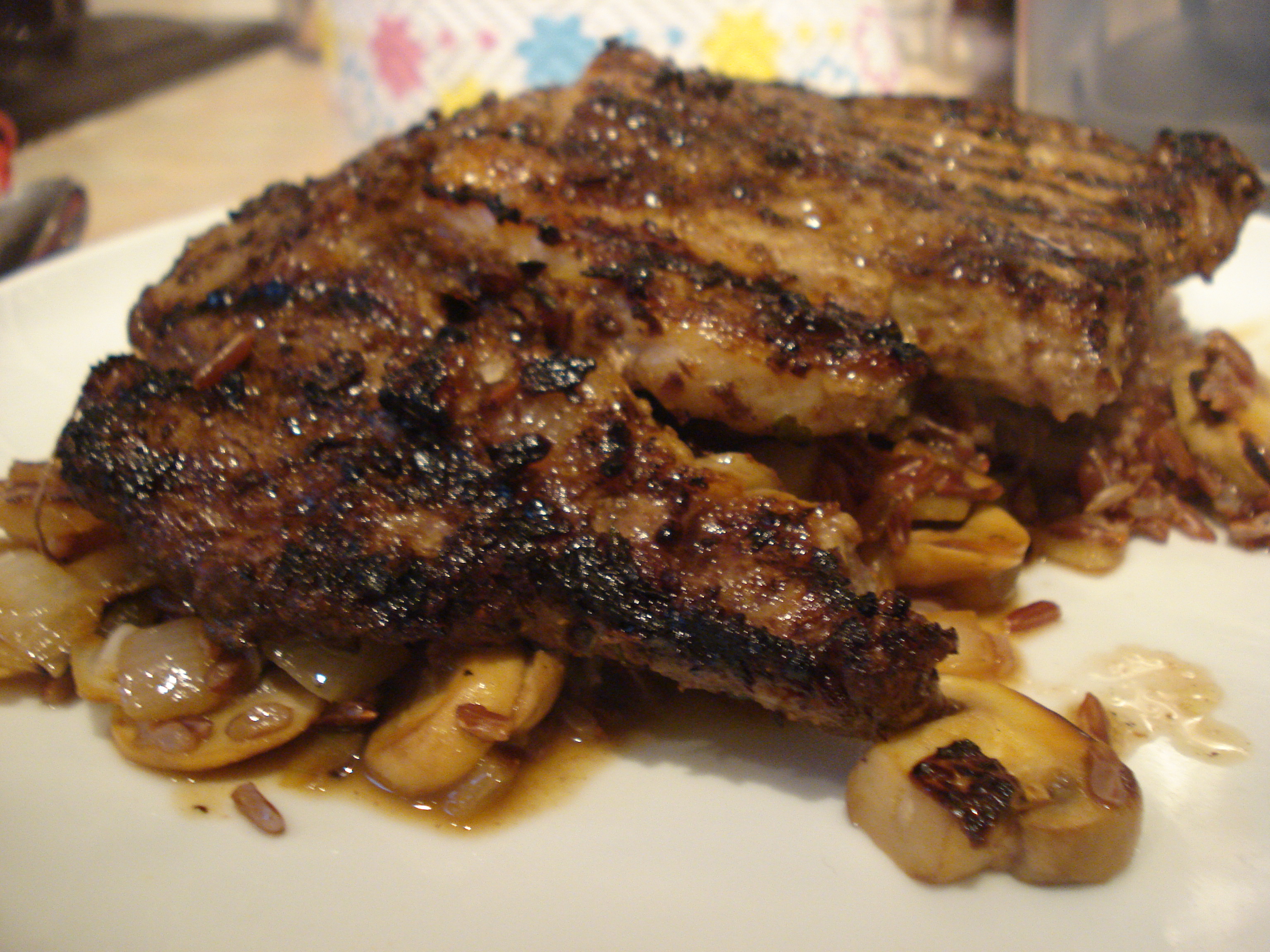 It's an idea that's bubbled around my head for ages so when I saw this recipe for porcini mushroom rump on Michelle's site that was the kick I needed to follow it through. And it was everything I imagined. The concentration of dried porcini in beef provides an umami kick that's hard to beat. Combined with nutty, stock-infused rice this is a real treat.
Porcini steak with mushroom camargue rice (serves 2):
Handful of dried porcini mushrooms
Couple of sprigs of thyme leaves
½ an anchovy
2 x 300g rib-eye steaks
200g Camargue red rice
500ml beef stock
10 chestnut mushrooms, sliced
1 onion, sliced
1 clove of garlic, crushed
½ a lemon
Put the porcini and thyme in a food processor and chop it until it's as fine as you can get it. Add the anchovy and some black pepper and blitz a little more. Rub all over the steaks with a splash of olive oil and leave to marinate for a couple of hours or as long as you've got.
Get the beef stock on to boil and add the rice. Simmer for 30 minutes until the rice is tender.
15 minutes before the rice is ready, sweat the sliced mushrooms and onion in a frying pan with a little oil. Toss occasionally until these are tender, then add the garlic.
To cook the steak, brush off any loose rub ingredients while you get a griddle pan reallllly hot. When it's smokin', lay the steak on and cook for a couple of minutes on each side. Make sure you rest the steaks well for beautiful texture.
While the steak rests drain the rice and toss together with the mushrooms and onions. Add a blast of lemon juice to lift it up.
Add a sprinkle of smoked sea salt and a dash of extra virgin olive oil to the steak and serve with the rice.