pork chow mein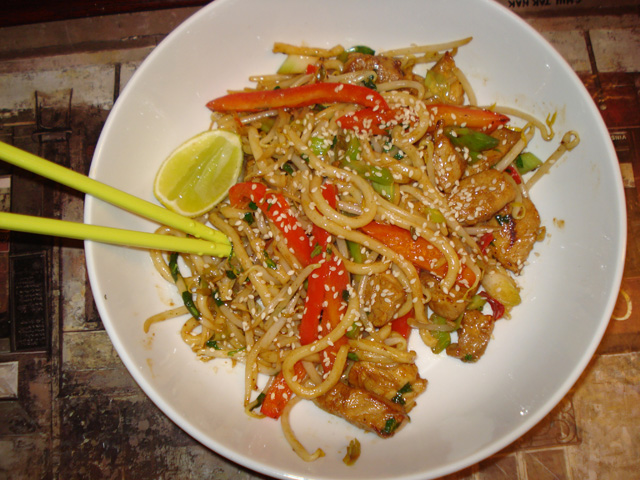 I always get too many ingredients for 1 stir fry, so i always have to schedule 2 into a week to make sure those spring onions (and particularly beansprouts) don't go brown and liquidy at the bottom of my fridge.
Nice two-parter; deal with the meat first in a gloopy sauce, then stir fried quickly along with everything else. Crunchy and tasty. Same rules apply as with yaki soba; ninja-hot pan, and keep those ingredients moving the whole time.
Pork chow mein:
2 pork steaks, cut into strips
2 tablespoons dark soy sauce
2 teaspoons five spice
2 tablespoons sweet chilli sauce
1 teaspoon cornflour
1/2 red chilli, finely sliced
1 teaspoon ginger
1 red pepper, sliced
Handfuk of beansprouts
5 – 6 spring onions, sliced
2 sachets udon noodles
Sesame oil to taste
Handful fresh coriander leaves, roughly chopped
Mix the soy, five spice, chilli sauce and cornflour together and then cover the pork strips with it.
In a seriously hot pan heat a little oil, then fry the pork quickly for 2 mins.
Add the chilli, ginger and red pepper and cook for 1 minute, then add beansprouts and spring onions.
Stir fry for a further minute then add the noodles. When the noodles are tender drizzle over some sesame oil and stir through the coriander leaves.
Serve in large bowls and garnish with lime wedges squeezed over and sesame seeds.