sausage ragu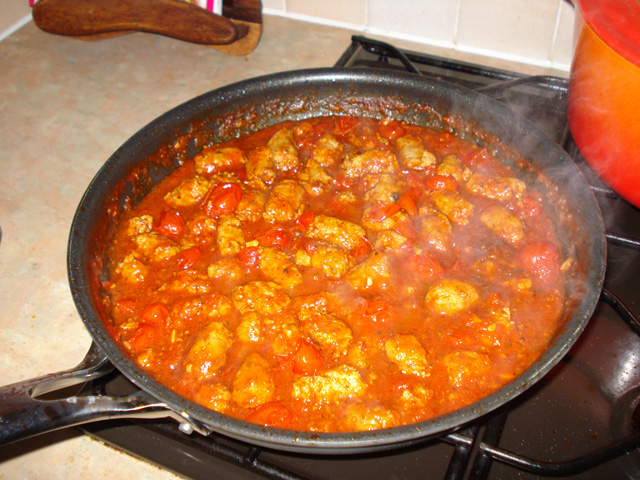 One of the joys of modern life, where unfortunately the pressures of today allows no time for proper food shopping, is the home delivery. I've only recently tried Sainsbury's home delivery, which has wonderful customer service, though leaves a number of t's uncrossed. After a recent drop-off we realised we had been left two packs of sausages we'd not ordered. Not a problem in itself but I had meals planned out for the rest of the week, and as the Best Before date loomed I felt I had to do something with the poor porkers. I opted for a multi-pupose ragu.
I started by squeezing the sausages out of their skins into meatbally lumps. I then browned them all over in a hot pan with crushed fennel seeds and black pepper, for tone and bite. Then I removed them to one side while I adding sliced garlic and two tins of tomatoes. After warming up the meat went back in and I allowed to bubble away for a while before seasoning with salt, pepper and balsamic vinegar.
I ate a small bowl of it for a quick supper, while the rest went into the freezer for a future emergnecy meal.
Sausage ragu:
16 sausages
1 teaspoon crushed fennel seeds
1 teaspoon crushed black pepper
2 cloves garlic, sliced
2 tins tomatoes
balsamic vinegar, as desired
Halve the sausages, then squeeze them out of their skins to make thumb-dized meatballs.
Roll the meatballs in the fennel and pepper, and fry in a hot pan until browned all over.
Remove from the pan and add the garlic. Fry a minute and then add the tomatoes and bring to a simmer.
Add the sausages and simmer for 20 minutes.
Taste for seasoning, adding vinegar if required.