soy, ginger and garlic prawns with cashews and noodles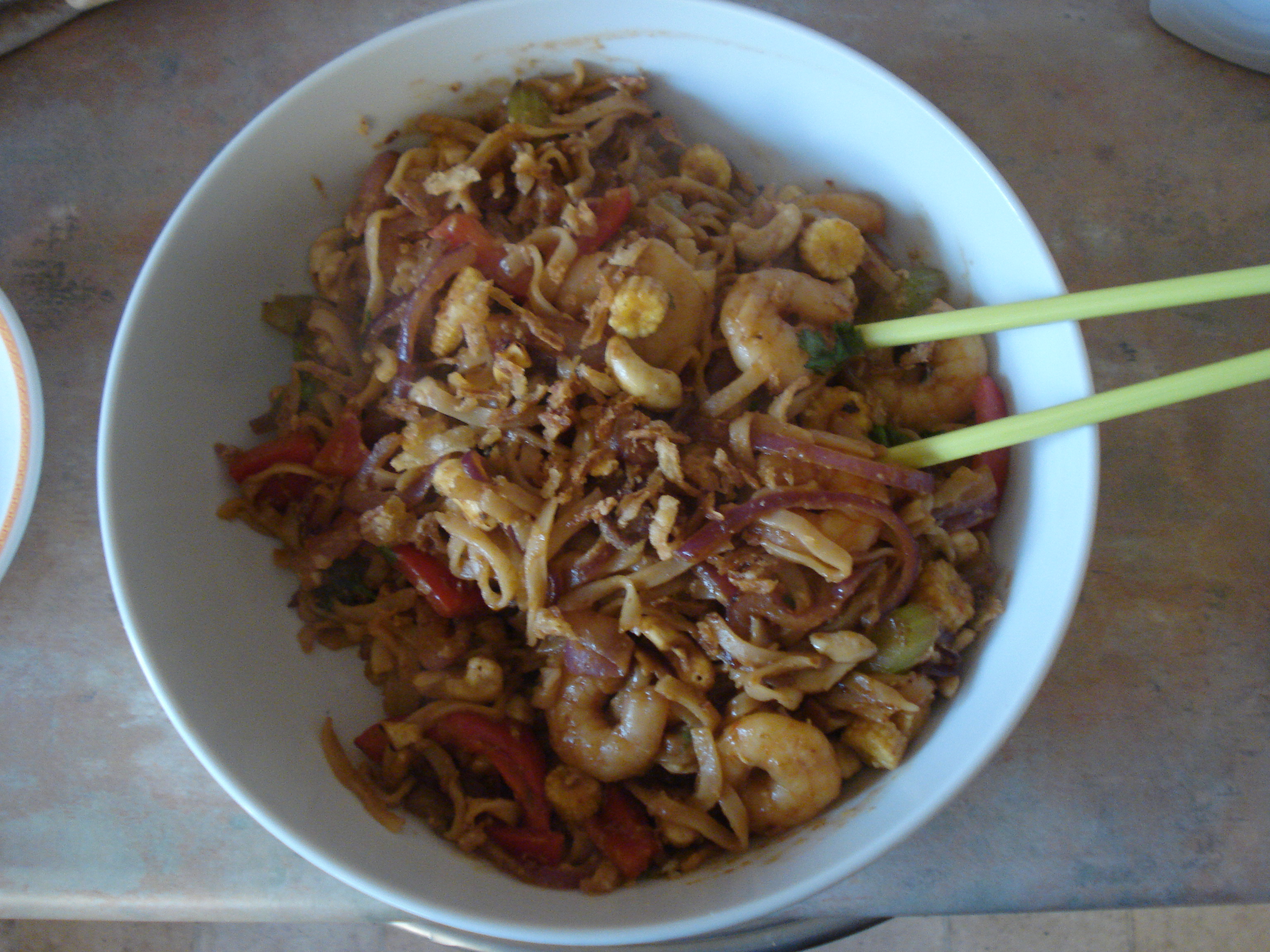 I found myself in the rare event of travelling home knowing I was going to cook for myself and not having a clue what to do. As luck would have it, I step through the door and Pureety have sent me a clutch of marinades. So why not.
I go for a Soy, Garlic and Ginger marinade and chuck it over some prawns I have knocking about, and then knock up a stir fry. It worked pretty well – sweet prawns and savoury notes, backed with the aniseedy tang of fennel and celery finishing with the crunch of cashews. Not bad for an improv.
A couple of tips: keep the pan mega, mega hot, and keep everything moving. For this reason, stir-fries are all in the prep, or mise en place if you prefer. Get everything chopped, assembled and to hand so you can just stand round the pan throwing stuff in and stirring. Makes all the difference.
Soy, ginger and garlic prawns with cashews and noodles (serves 2):
1 sachet Pureety soy, garlic and ginger marinade
A handful of cooked, peeled prawns
½ teaspoon fennel seeds
1 tablespoon rapeseed oil
1 celery stick, chopped
1 red onion, sliced
½ red pepper, chopped
5 baby sweetcorn, sliced
1 tablespoon chilli dipping sauce
1 pack of straight to wok flat noodles
1 tablespoon coriander, chopped
1 egg, beaten
Handful of cashew nuts, toasted and slightly crushed
Pour the marinade over the prawns and leave while you prep the veg.
In a dry pan, toast the fennel seeds for 1 minute or until they start to pop. Add oil and fry the celery and onion for 1 minute.
Add the pepper and sweetcorn and fry for another minute or two until tender. Chuck in the prawns, noodles and chilli sauce and continue to stir until the noodles are ready. You may need to add just a splash of hot water to loosen everything up a bit.
Add the egg and coriander and stir continuously for 45 seconds so the egg never sets – it will pick up the stray liquids and make a silky sauce. Serve immediately, topped with toasted cashews.