30 minute beef hash with baked potatoes, green goddess salad and butter beans

I got in from work the other day and Mrs. RP beseeched me with a desperate look in her eyes: "make this. MAKE THIS NOW!" So here's 30 minute beef hash.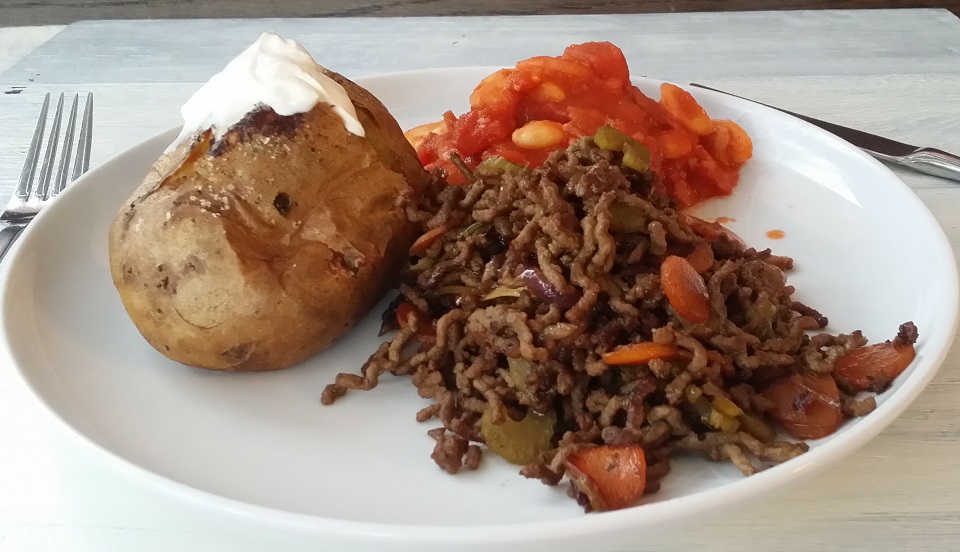 She was gesturing at the TV; Jamie Oliver had just made 'super-fast beef hash, jacket potatoes, goddess salad, lovely butter beans & bacon' on 30 Minute Meals
. I admit it looked the business. 1 PVR and a flick through the book later, and I was ready. Not quite so manic as previous 30 minute recipes, this one also isn't too harsh on the washing up. How long did it take? 31 minutes. I'll take that – I had to stop briefly and try and calm my daughter down, distraught at the distinct lack of Mr. Tumble on the TV. I'm certain I could get it under 25 minutes next time having been through the motions once.
It's real comfort food; nice big carbs and large flavours. The Worcestershire sauce is particularly satisfying, packing lots of gutsy savouriness. I also felt really nourished eating it – I think it was the amount of carrots and celery in the mince mix.
Jamie's original recipe can be seen on his site here. I made a couple of minor substitutions based on what I had to hand.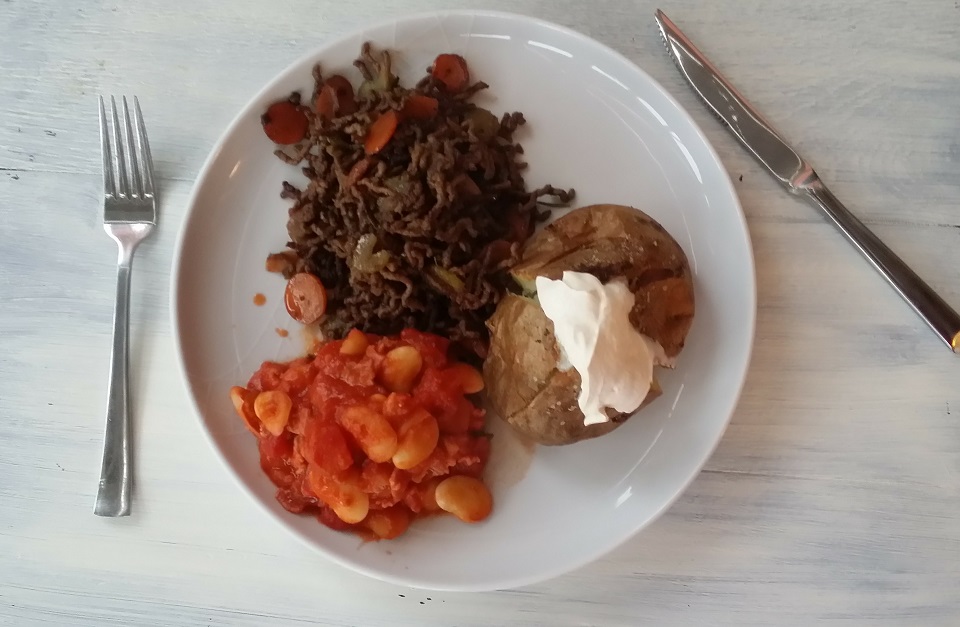 Jamie's 30 minute beef hash (plenty enough for 4):
Ingredients
4

baking potatoes

500

g

beef mince

4

rashers of smoky bacon

chopped

2

sprigs of thyme

rosemary

a few sprigs

6

tablespoons

Worcestershire sauce

1

red onion

3

sticks

celery

2

carrots

4

cloves

garlic

minced

1

tin

butter beans

drained

1

tin

tomatoes

1

handful

lamb's lettuce

¼

iceberg lettuce

shredded

1

avocado

300

ml

sour cream

1

lemon

parsley

chopped
Instructions
Get the grill on screaming hot and stick a baking tray under it to get nuclear. Stab the potatoes all over, pop in a bowl and cover with clingfilm. Microwave for 14 minutes.

Get a pan on to quite a high heat, chuck in the mince along with a dash of olive oil and seasoning. Fry and stir, browning all over. Meanwhile get some bacon frying gently in another pan.

When the mince has browned, coat with the Worcestershire sauce and add the garlic, thyme and half the rosemary. Whack the onion, celery and carrot into a food processor and get them sliced up, then add those to the beef too.

When the bacon is golden add the beans and tomatoes to that pan and simmer away.

The potatoes are probably done now; prod with a knife to check they're soft in the middle. If they are, slather with olive oil, the rest of the rosemary and some salt and pepper. Toss to coat then pop under the grill to crisp up.

Turn to the salad now: whizz up half the avocado with half the sour cream, lemon juice and a little seasoning to make a lurid green dressing. Chop up the other half of the avocado and mix with the lettuces.

The beef should be done by now, all crispy and craggy. Add most of the parsley and check for seasoning. Check the beans for seasoning - dash of vinegar perhaps? Rescue the potatoes, cut them open and dollop over the rest of the sour cream and parsley. Toss the salad with the dressing and serve the lot to hungry, lucky people.