arctic roll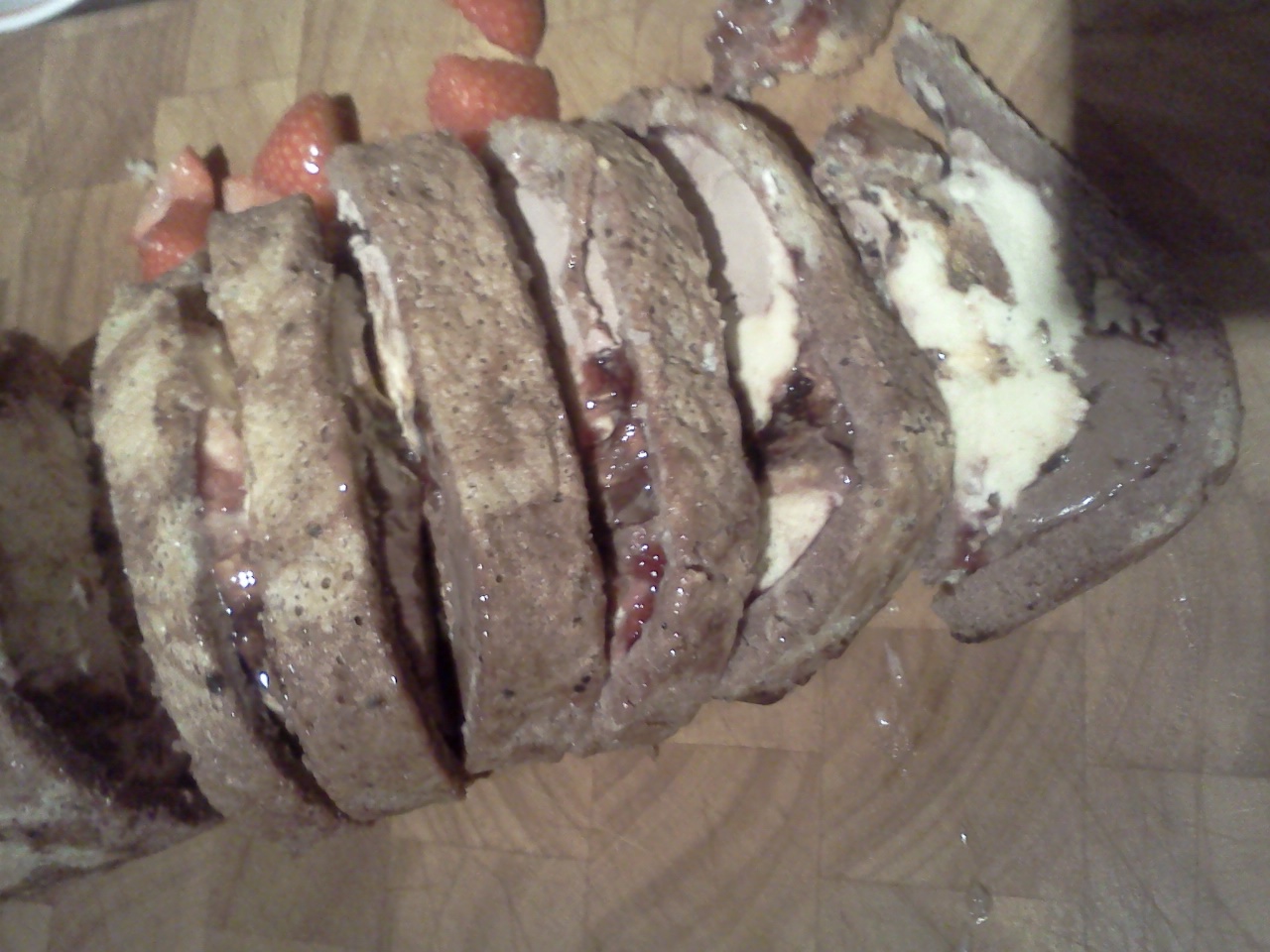 This one is straight from the pages of Jamie's Great Britain. I don't have particularly as strong memories of arctic roll as other people seem to – but what's not to love here? Ice cream, jam, sponge…
And it is good – but it's extremely similar to his pudding bombe masterpiece (which I'm making for about the sixth time this week, do try it now pannetone is in the shops). Given the choice I'd have the bombe every time.
Arctic Roll (serves about, ooh 6 – 12?):
For the sponge:
3 eggs
100g caster sugar
75g plain flour
1 heaped teaspoon cocoa powder
For the filling:
500ml vanilla ice cream
500ml chocolate ice cream
300g raspberry jam
1 Crunchie
Preheat the oven to 180°C. Leave the ice cream on the side while you do everything else so it softens.
Whisk the eggs with the sugar until pale and fluffy. Fold in the flour.
Grease a baking tray and line with greaseproof paper. Spoon half the mixture on to the tray, fold the cocoa into the remaining mixture, then swirl that through the stuff on the tray. Place in the oven for 15 minutes, or until cooked through (it's only thin so watch out!).
Get another piece of greaseproof paper and scatter with sugar. Get the sponge out of the oven and flip it on to the sugar, and peel off the 'cooked' bit of paper. Carefully roll up the sponge in the paper and leave to cool curled up.
Once cooled spread unroll the sponge and spread over the jam. Blob it with ice cream, alternating to make sure there's a good mix of flavours. Bash the daylights out of the Crunchie and scatter over the ice cream, then roll it back up again. Leave in the freezer until you want to serve it.