chicken biryani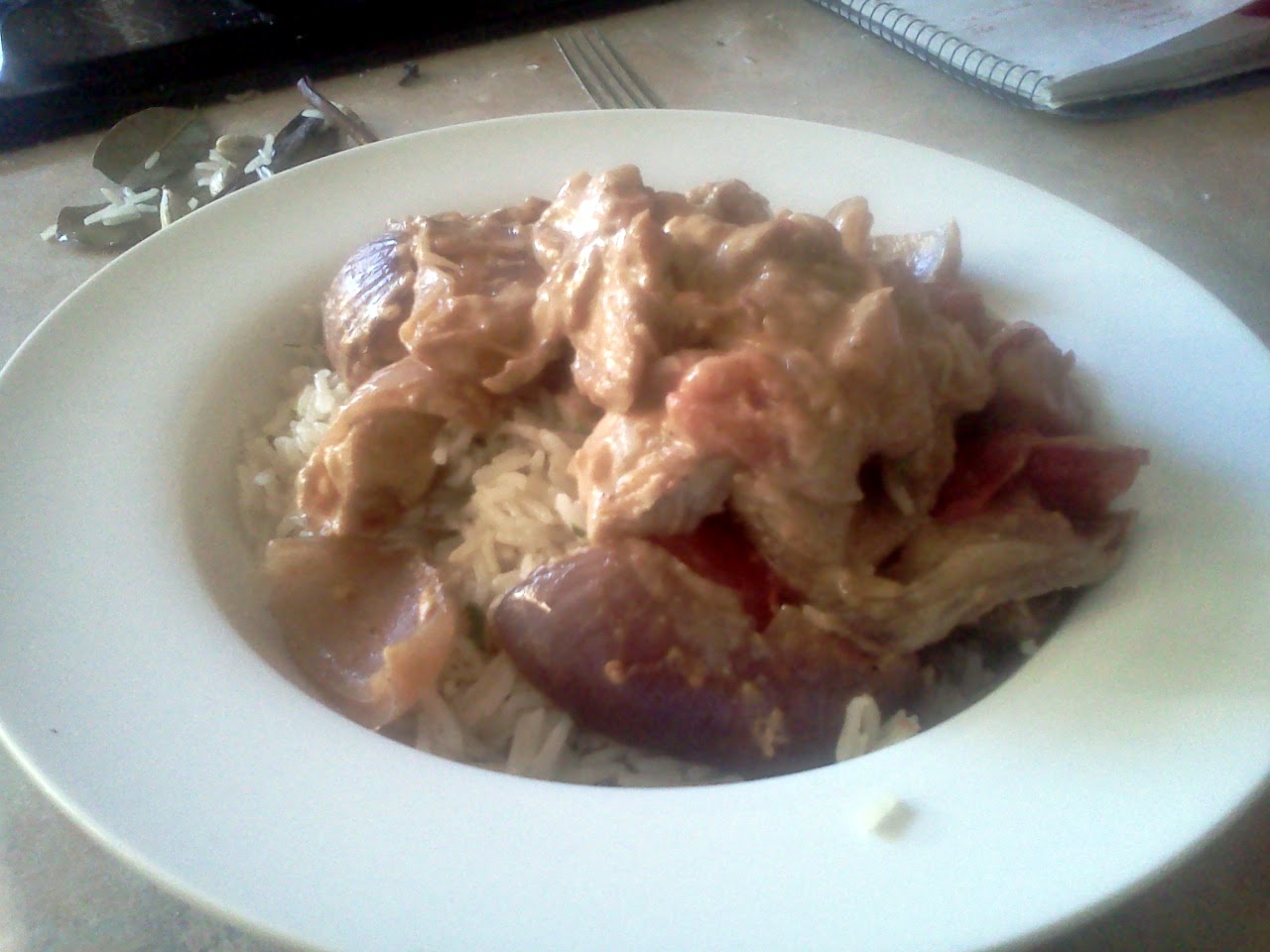 Give me a few minutes alone in someone's company, and I'll soon be asking them about their eating habits. A colleague, originally from Lahore, Pakistan was kind enough to give me a lift. We talked of food, of the curious Anglicisation of Indian cuisine and what he recognised of it. We discussed balti, dhal, obsession with gravy… and he mentioned that he'd never had biryani. A staple of his region, yet somehow it had passed him by.
I love biryani. Fairly often when left to my own devices I'll make some spiced rice; to push it further in this version I added a chicken curry. It's hilariously inauthentic, using cream cheese as the dairy ingredient but the tang you'd usually ascribe to yoghurt works great. Don't be put off by the mountain of spices – it's worth it.
This one's for you, Waseem!
Chicken biryani (serves 2):
For the rice:
A pinch of saffron
3 pods green cardamom
1 cinnamon stick
100g white basmati rice
½ teaspoon cumin seeds
4 cloves
2 dried bay leaves
For the curry:
1 tablespoon garam masala
1 teaspoon dried chilli flakes
½ teaspoon turmeric
2 cloves garlic, minced
4 tomatoes, chopped
1 thumb-sized piece of ginger, peeled and minced
2 chicken breasts, diced
100g cream cheese
A fistful of roughly chopped coriander leaves
2 roasted red onions, chopped
Cover the saffron with warm water and add a splash of oil to a pan with a lid over a high heat. Add the cardamom, cumin, cloves and bay leaves and stir-fry for 1 minute before adding the rice with a pinch of salt. After a further minute add 200ml water, the saffron and bring to the boil. Pop a lid on, turn the heat down low and leave for exactly 10 minutes.
Meanwhile in another pan heat a little oil and add the garam masala, chilli, garlic, tomatoes, ginger and chicken. Stir fry and season with salt. When the chicken is coloured all over turn the heat down, add the cream cheese, a splash of water and pop a lid on.
Whe the rice's 10 minutes are up, turn the heat off and leave for a further 10 minutes. Don't remove the lid!
When the chicken is cooked through add the onions and stir thoroughly. Check for seasoning. When the rice is ready grind over a little pepper and garnish with the coriander. Serve the rice with the curry on top.