chicken in cider casserole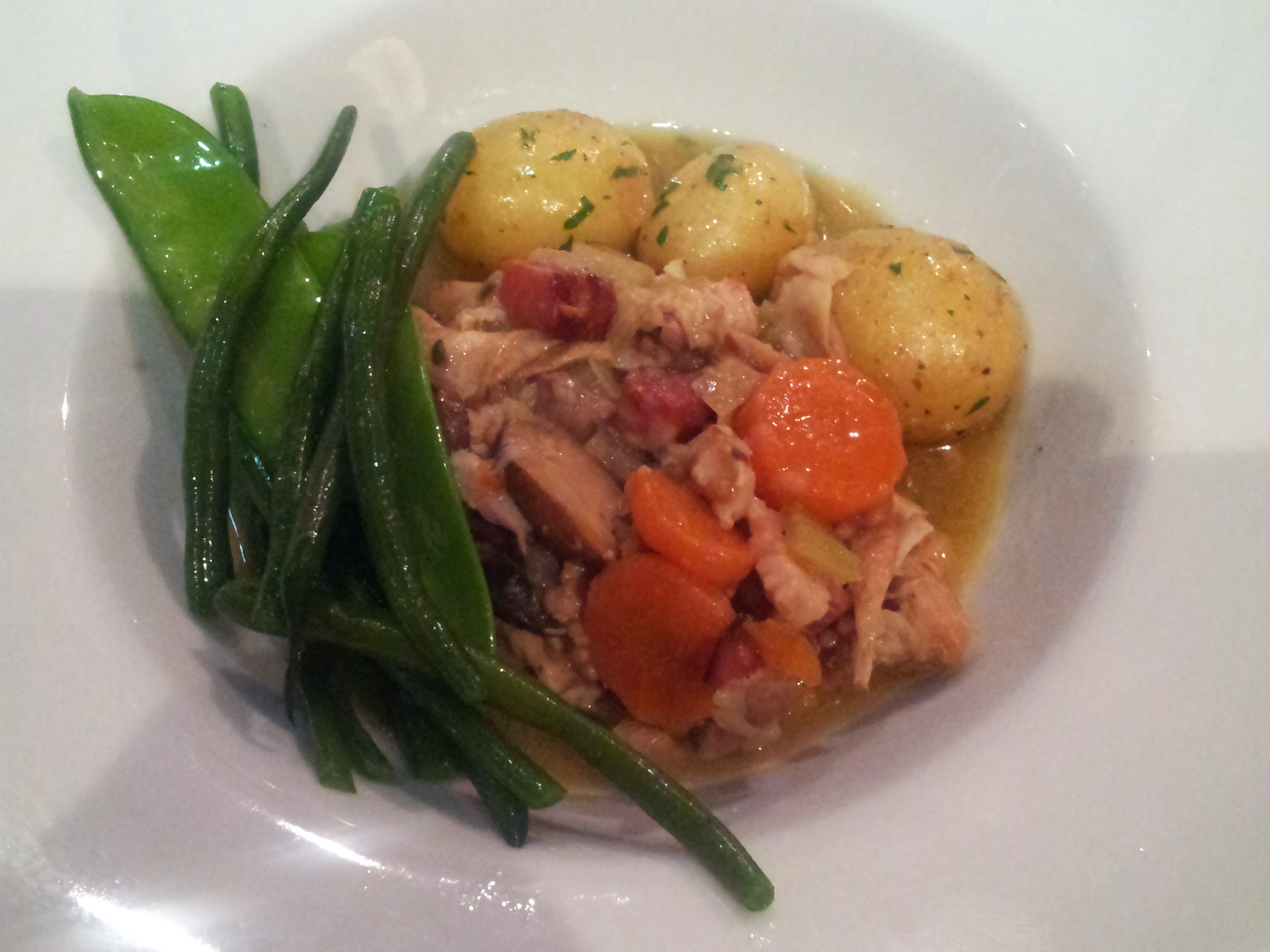 I seem to have a thing for baldy guys with glasses.
No, not that one this time. I'm talking about Adrian Edmondson.
I was a fan of the Young Ones growing up. Though I suspect I was too young I would sneak a look at my brother's VHS tapes. Hole In My Shoe was the first song I bought. I kinda liked Filthy Rich and Catflap but I didn't understand why Vyvyan and Rik were so different. Then Bottom arrived and I was smitten. Rude, comically violent and puerile slapstick was just what I wanted. GAS is one of my favourite 30 minutes of television ever, it's just outrageously funny.
When someone says "do you want to have dinner with Ade Edmondson?" I barely stopped to breathe before replying yes.
Held at the wonderfully eclectic Food at 52, Ade was presenting a dish of his own devising: a cidery take on coq au vin. Fitting as the night was hosted by Merrydown cider. Not a cider I was familiar with but that was just another reason to say yes.
It was a very silly evening with bucketfuls of cider, Morris dancing and Ade plugging away at his casserole, enjoying himself and talking about his recent Celebrity Masterchef win ("I only had to beat 14 people!"). Reining in the urge to bark "squashed potatoes, your maaaa'am?" I took the opportunity for a quick chat. He seems to be over his comedy background and wants to move on to food and music; in fact a few days after the event he was off to Australia with his band. Ade also told Kavey and I he dreams of opening a pub with a menu that changes daily.
Aside from one toe-curlingly awkward moment where someone asked him if he'd ever tried stand-up (going to happen if you invite lots of young 'uns I'm afraid) it was an evening of good food, good drink and lots of laughs.
I made the dish for friends only two days later, and it's cracking. Dead easy too, just bung things in gradually and let it tick away. It's the mustard seeds that make it. Don't leave them out.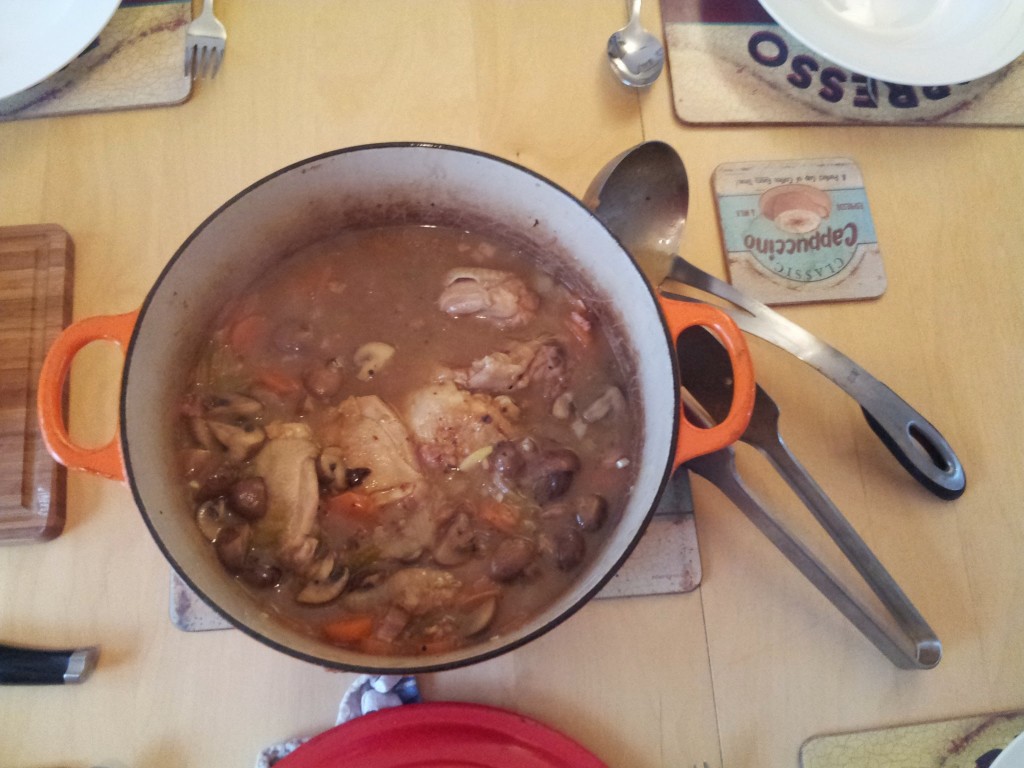 The recipe below for chicken in cider casserole (or "coq au cider" as he calls it) is Ade's in all his own words. Many thanks to Merrydown for hosting an hilarious evening.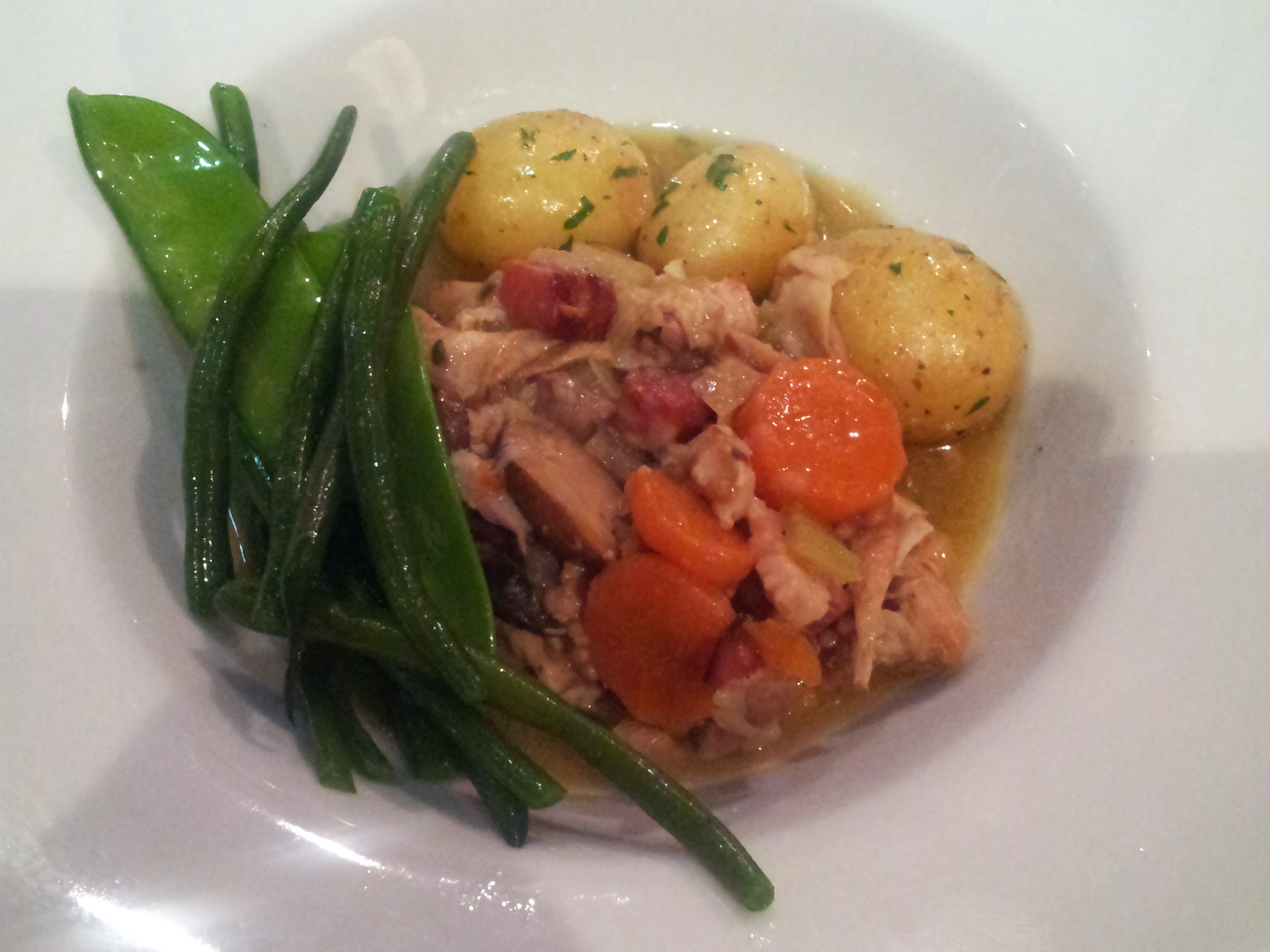 chicken in cider casserole
Ingredients
4

chicken legs

complete with the thigh

1

teaspoon

mustard seeds

120

g

lardons

1

tablespoon

Olive oil

100

g

butter

3

cloves

garlic

chopped

2

medium sized onions

chopped

2

sticks

celery

sliced

2

medium sized carrots

sliced

4

sprigs

fresh thyme

2

leaves

bay

1

tablespoon

flour

1

large bottle

Merrydown medium cider

200

g

small chestnut mushrooms
Instructions
Pour a glug of oil into a heavy bottomed pan or casserole dish. Once it is hot add half the butter. Once that has melted add the lardons and fry until they are very nicely browned, then remove them from the pan with a slotted spoon.

Season the chicken with salt and pepper and brown them in the oil, butter and left over fat from the lardons, then remove them from the pan too.

This is the fun bit – add a heaped teaspoon of mustard seeds to the fat and put on the lid. A glass lid is the most fun, as after a couple of minutes you can watch the seeds burst and fly about all over the place. The make shift tin foil lid is fun too though, as the exploding seeds cause brilliant indentations on the underside.

Once the seeds have all popped (after a minute or so) add the onions, garlic and celery, and gently cook them off until the onions are translucent.

Add a tablespoon of flour to the pan and stir until it has been absorbed – a kind of makeshift roux.

Pour in a little of the cider and stir, and keep adding more, stirring each time, until the cider has absorbed the roux.

Now add the carrots, return the chicken and lardons to the pan and add the sprigs of thyme and the bay leaves. You need to make sure the chicken is completely covered by the cider. Bring to the boil, then reduce the heat and leave to simmer, and cover it almost entirely with the lid – almost, but not quite – you want it to reduce, but not very quickly.

Leave to gently simmer away for an hour, checking occasionally – if it looks like it's drying out too much add more cider.

When the hour is nearly up slice the chestnut mushrooms and fry them off in the remains of the butter – you want to get them nicely browned – once they are done, add them to the pan and leave it for a further 10 minutes. Serve with boiled potatoes to soak up that delicious sauce.