chorizo and chestnut soup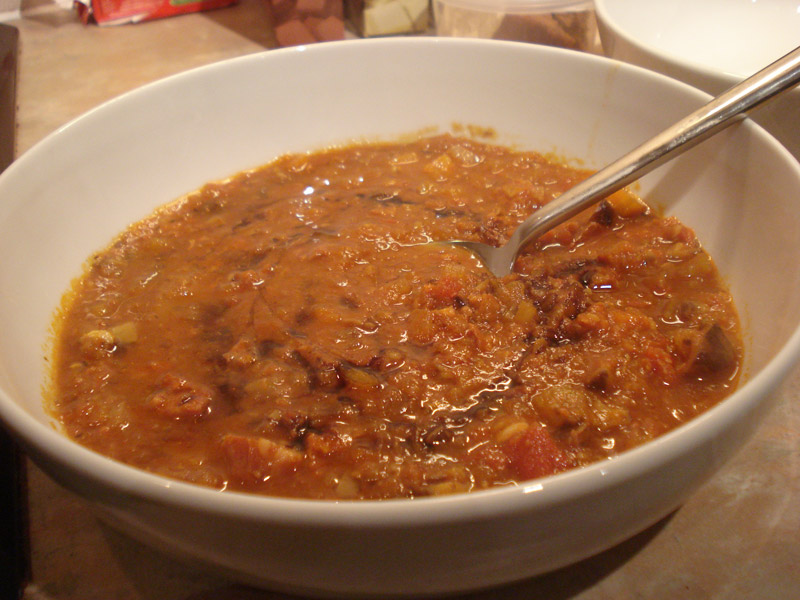 A stomping Winter warmer here, inspired by a posting by Food Urchin, in turn plucked from the pages of the Moro Cookbook
.
Food Urchin is a jolly good blogger. Very entertaining, passionate about his food and nothing if not pragmatically resourceful, as he attempts to be fed daily by generous foodsters. A post of his popped up containing Two Soups, and one in particular caught my eye. It's earthy, it's Wintry, it's warm and has two of my favourite things in: chorizo and chestnuts. Reminds me a little of another chorizo soup I did, though it sounds a little more interesting.
It's a fairly simple (and quick) soup, of the bung-it-in-a-pot-and-simmer variety, which is endearing. A couple of tweaks I made though: not so fussed about chilli in my house so left that aside and instead added a measure of smoky sweet paprika. Then as I was about to serve I thought a couple of dressings would really lift the final bowl: a swirl of seasame oil to remind of the rich nuttiness, and a drizzle of sweetest balsamic vinegar to give a nice acid finish. It's a really lovely bowl of soup, and served with some brown bread it's perfect for these dark October evenings. Thanks Food Urchin 🙂
Chestnut and chorizo soup:
1 large onion, diced
1 medium carrot, diced
1 celery stick, thinly sliced
120g chorizo, diced
2 garlic gloves, thinly sliced
1 teaspoon ground cumin
1 teaspoon dried thyme
1/2 teaspoon paprika
1 tin tomatoes
500g cooked peeled chestnuts (fresh or vacuum-packed), roughly chopped
20 saffron threads, infused in 3-4 tbs boiling water
1 ltr water
sesame oil and balsamic vinegar to serve
Fry the onion, garlic, carrot, celery, chorizo and a pinch of salt for about 10 minutesuntil browned.
Add the cumin, thyme and paprika and cook for 1 more minute, followed by the tomato and chestnuts.
Give everything a stir and then add the saffron-infused liquid, the water and simmer for about 10 minutes.
Season well with salt and pepper and lightly pulse it with a hand blender. Serve with a drizzle each of oil and vinegar, with breadsticks or bread on the side.