chorizo and chickpea soup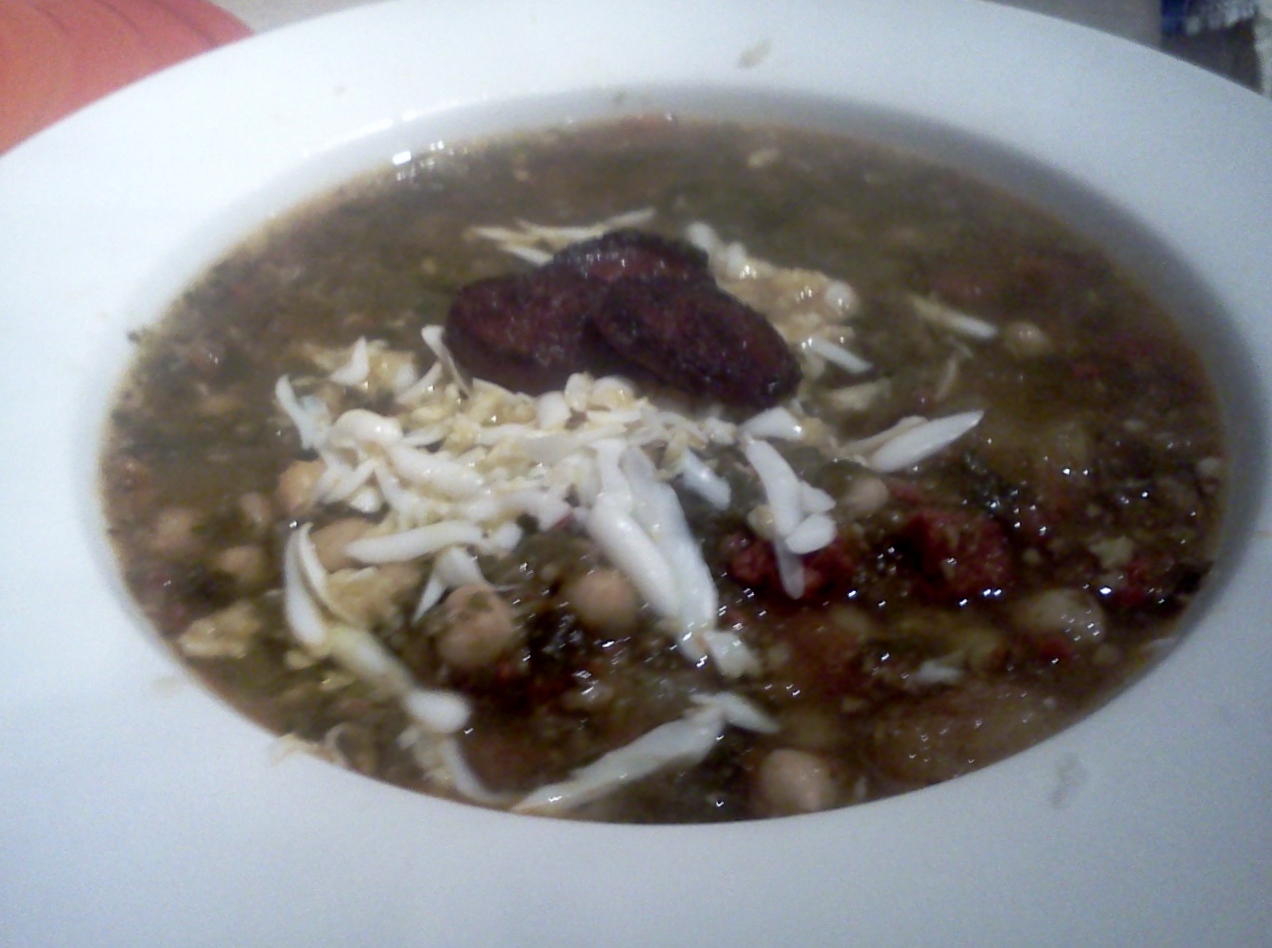 I read this post on the Word Magazine website. It was a Jamie recipe for a really corking-sounding soup which I was surprised I hadn't come across before. I was even more surprised to discover it was in a book I've owned for years, Jamie's Dinners
!
It was as gutsy as it promised – nice, meaty chorizo with hearty chickpeas. If I did it again I'd add a little less liquid to make it a bit thicker, and perhaps add a dash of paprika to amp up the chorizo flavours. I have to say I'm not convinced by the grated egg either, did nothing for me at all. That aside it's warming and frugal* – perfect for this time of year!
*if you ignore Jamie's addition of pata negra – PATA NEGRA! – and use boring old sandwich ham like me. His version is here.
Chorizo and chickpea soup (serves 4 – 6):
200g chorizo sausage
1 onion, peeled and finely chopped
1 clove of garlic, peeled and finely chopped
8 fresh tomatoes, deseeded and roughly chopped
1 x 410g tin chickpeas, drained
1.3 litres chicken stock
6 chunks frozen spinach
2 slices ham, shredded
1 hard-boiled egg
Finely chop 150g of the chorizo and fry in a large casserole dish until the orangey oil leaks out, then add the onion. Cook gently for a five minutes then add the garlic.
Add the tomatoes, chickpeas and stock and bring to the boil. Add the spinach and simmer for 30 minutes until everything is tender and adjust the seasoning.
As the 30 minutes comes to the end get another frying pan very hot. Slice the remaining chorizo and fry for a couple of minutes on each side until crispy. Drain on kitchen paper while you finish the soup.
Whizz the soup up a bit with a hand blender (not too much!), and stir through the ham. Serve, garnishing with egg and sliced chorizo. Make sure there's bread to hand!