competition – win a heston blumenthal measuring jug [closed]
This competition is now closed. Many thanks for all your entries, there were some really fantastic ideas! The winners have been notified by email.
Like most people who love being in the kitchen, I enjoy a good gadget. But better than that is a good gadget you use more than once. There's the key. And this digital measuring jug by those clever folks at Salter is the business. Heston's seal of approval has made this a very canny device. Yes, yes, it's a measuring jug, but it's more than that. It's a measuring jug that can gauge liquids of different types (milk, oil, etc.), but it can manage weight too. And in a bunch of different units. One after the other. Let me explain.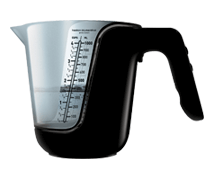 I've made a bunch of things with it recently, such as white chocolate and blueberry muffins. The cool part is making it all in the one jug. Add your flour, zero it. Then add your sugar, zero it, change to liquids and off you go adding milk, zero, etc. etc. Similarly chocolate and rosemary ice cream was made by measuring stuff as I went along, adding and pouring out, then zeroing and adding something else to the jug. Less washing up and the mixture's all there in one pot ready to go. Put simply – it's a measuring jug and add-and-weigh digital scale in one gadget. Genius.
The good folks over at Salter have kindly passed on some of these measuring jugs for me to give away. Want one? Enter below.
In addition to the current range, there's a brand new selection of Heston Precision products coming very soon. I had a chat with Caroline from Salter who gave me an idea of what it's like working with Heston Blumenthal and what new products we can expect to see:
How did Salter get involved with Heston Blumenthal?
When we first started thinking about working with Heston and his team, we felt that it was important to understand the brand values for both Salter and Heston to ensure that the partnership had integrity behind it. While Salter has been around for over 250 years, and Heston is very much a forward thinking modern chef, the good news was that our values of Precision, Trust, Excellence, Innovation and "Britishness" bought the two brands together and ensured that our collaboration would make sense to our combined audience.
We approached him with a proposal, and he was very agreeable to collaborating from the start as he knew the Salter brand and was comfortable with our values and ethics. It took a while to decide the range, as we wanted to make sure that it most definitely wasn't just a celebrity endorsement, rather that it was a range that reflected the methods and tools that Heston would use in his own kitchen.
To what extent has Heston and his team been involved with development?
From day one we have had access to Heston and his amazing team at the Fat Duck. The whole process has been remarkably easy as they are a truly passionate bunch, and Heston is a genuinely nice chap. He is both interesting and interested – he makes time for us, and I always look forward to our development meetings as we are always looking ahead to see what other products we could develop that would help people cook like Heston, at home.
What's involved in developing one of these products and to what extent does Heston have sign-off?
Product development is a fascinating process as it involves a lot more thought and time than perhaps many people realise. If we know that we have a new category to think about, we will look at it from both consumer and catering viewpoints. We will get together to brainstorm new ideas and talk each one through – taking into account the brand values, and especially how true the product is to Heston's processes. Once we have a firm idea of a product that we would like to bring into the range, I work with our in-house design team to come up with concepts, showing how the product could look and function. These are then taken to Heston and the team for reviewing and refining. Once we are all happy with the product concept we can get going on the manufacturing process. With any product that Heston is putting his name to, it is important that us that he is delighted with the product and that he has full sign off. Whilst people usually ask for his signature as an autograph, I ask for his signature in order to bring another great product to market!
There's a new range coming in 2012, what can we expect to see in the future?
All I can say at the moment is watch this space… we are working on a 3 year product plan which will result in many more truly exciting products that will help people achieve great results in the kitchen.
Keep an eye on the HestonBySalter website for more info. Until then though, it's competition time!
How to enter
There's five ways to enter, and you can do all of them if you like:
Leave a comment below answering the question what unusual ice cream flavour would you like to make?
Follow me on Twitter, and leave a comment below to let me know.
Link to this competition on Twitter using the Tweet button at the bottom, and leave a comment below to let me know.
Like my Facebook page, and leave a comment below to let me know.
+1 this post using the button below, and leave a comment below to let me know.
After the closing date, I'll use a random number generator to pluck out the lucky winners. So more entries means more chances to win.
Rules
Competition closes 10pm 25th July. Comments posted after then won't be counted.
I'll pick the winners at random using some fancy random number generator.
Entrants must be 18 years or older.
If the winner hasn't replied within two weeks, someone else will get it.
Only people from the UK please. Additionally, I'll only post to a UK address.
Good luck!