courgette carbonara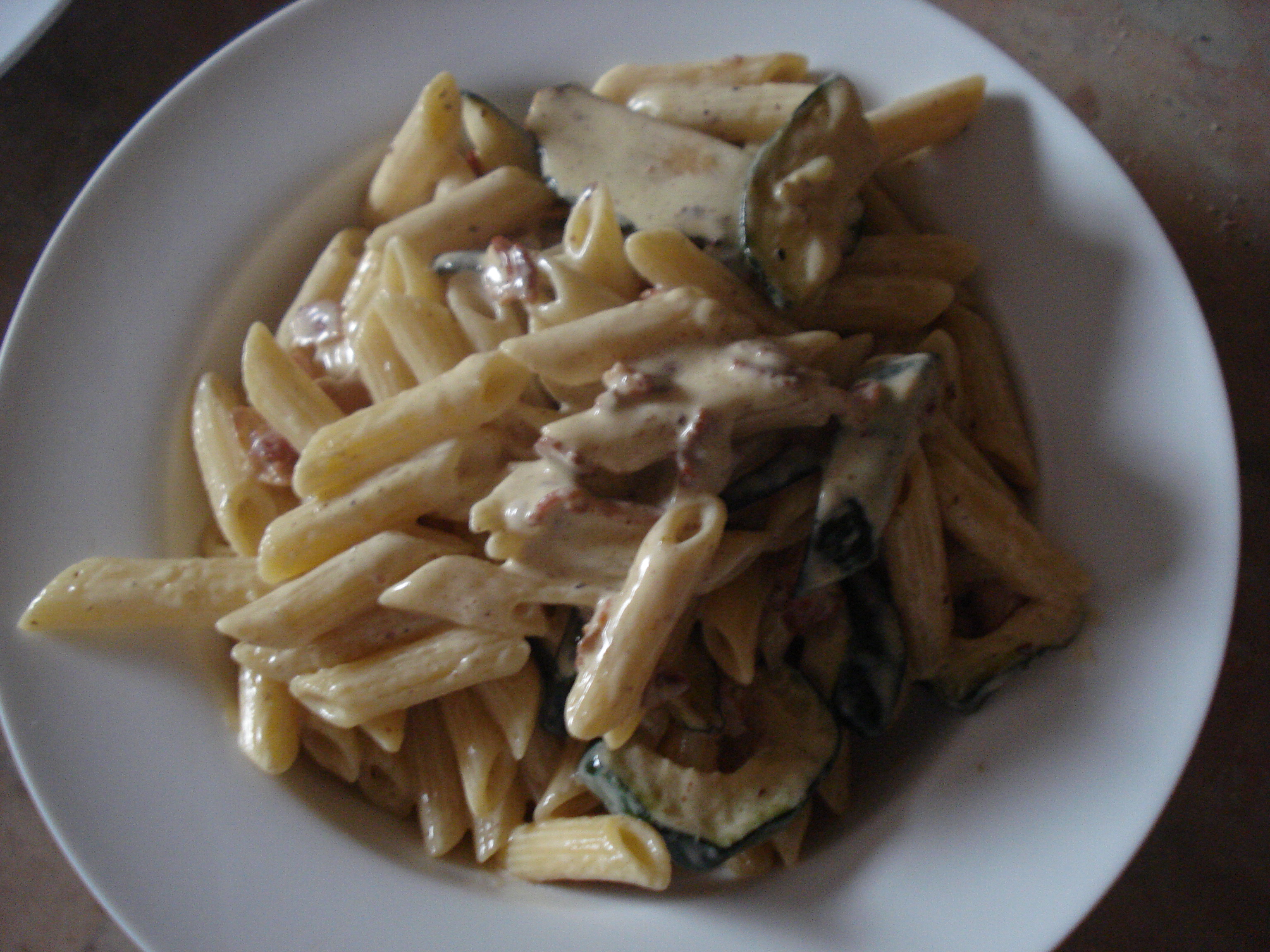 I am utterly aghast that I have not blogged this before. I must've made it half a dozen times and it never fails to delight, yet somehow it fell through the cracks. I was chatting with a colleague that I was having this for dinner and she asked if it was on my blog. "Of course," I said, "I've cooked it loads of times." And yet there it wasn't.
This is a great twist on carbonara. It always nags at me that these delicious pasta dishes don't have a veg component which means cooking something else on the side. You can't fault the Italians; it's the way they eat but I prefer to have everything together. I find peas a little too harsh against the creaminess but the addition of courgette is a great one. It's an idea I've lifted from Jamie at Home
and it's really worth trying. I'm also a big fan of dishes where the sauce is cooked in the same time as the pasta so can be up and on the table in under 15 minutes. Brill.
Courgette carbonara (serves 2):
1 large courgette
6 rashers of smoked streaky bacon, cut into small pieces
Leaves from a sprig of thyme
150ml double cream
A large handful of grated parmesan
250g penne
2 egg yolks
Get a large pan of salted water on the boil and a big frying pan on a high heat.
Slice your courgette in half, then use a spoon to scoop out the fluffy seeds and discard. Slice the courgette on an angle so you end up with pieces about the same size as the pasta.
Chuck the pasta in to boil and keep checking for when it's al dente. In your frying pan add a splash of oil and toss in the bacon. Keep frying until crisp on once side, then add the courgette and thyme and give everything a good toss to coat in bacony goodness. Meanwhile in a jug stir together the cream, parmesan and egg yolks and grind over loads of black pepper – it really helps cut through the cream. Toss your courgettes every now and then.
Get a mug and scoop out some of the pasta cooking water to slacken your sauce in a minute. When the pasta is cooked drain, and when the courgettes are starting to go tender turn the heat off of the pan (this is important to avoid scrambling the eggs) and add your creamy mix. Keep stirring it to stop the egg clumping and add a dash of the reserved water. Toss with the pasta, check for seasoning and add a little more water if you need a bit more liquid in your sauce. Serve immediately with a dash more parmesan, this dish doesn't hang around!