curry salmon with confit chicory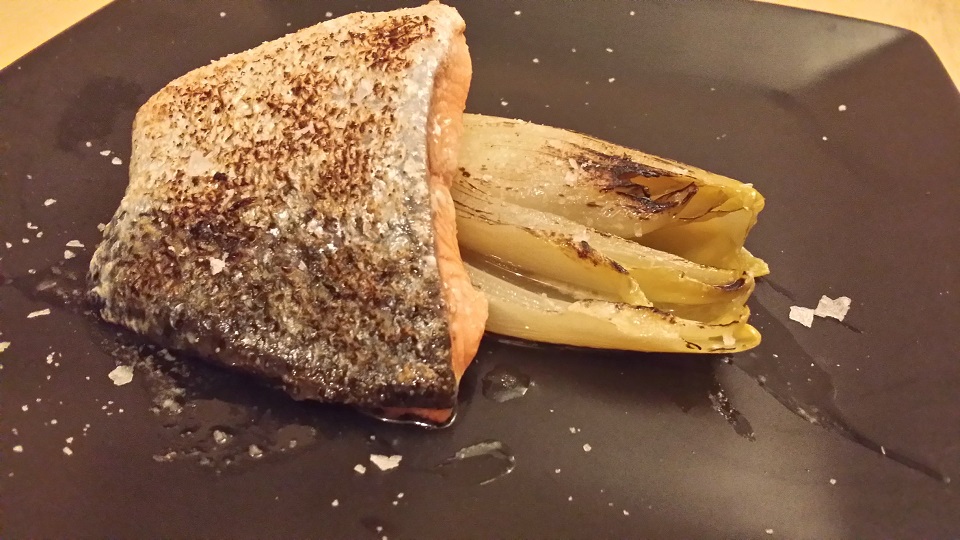 It's not an everyday pairing this one: lightly spiced salmon paired with bitter-yet-buttery confit chicory. And it needs a bit of kit too, namely a sous-vide machine and a blowtorch. But the results really are worth it.
And why on earth am I cooking this anyway? I was recently a guest of Miele's where Ink Restaurant's talented head chef Martyn Meid cooked a splendid Scandinavian meal. The dishes were excellent but one that caught my attention was chicory simmered in 2kg of butter (!). Juicy and rich, yet the bitter, crisp leaves were still present. It set my mind off wandering. What about pairing with luscious salmon which has been flavoured with mild spice to set it off? And here we are.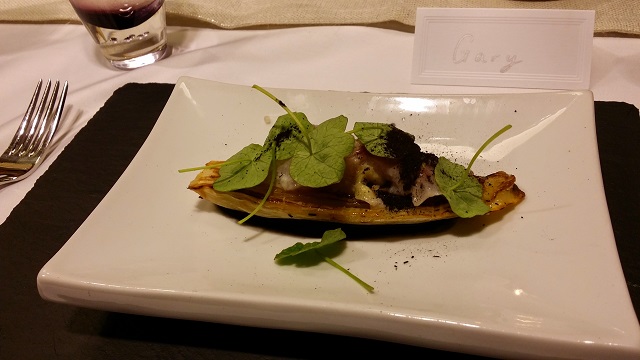 This is a little bit faffy, but I wanted to really maximise this one. The curry oil in sous-vide imparts just a little flavouring that pushes through the rich elements on the fish. You could simplify the fish cooking process considerably if you wanted to and just pan-fry, but I think you must have the confit chicory as described. It is the star of the dish and really not much effort. Just plop in a pan and leave for a bit. I do use a blow torch for both components because the quick scorching is a lot of fun, but you could use a super-hot grill if you don't have one.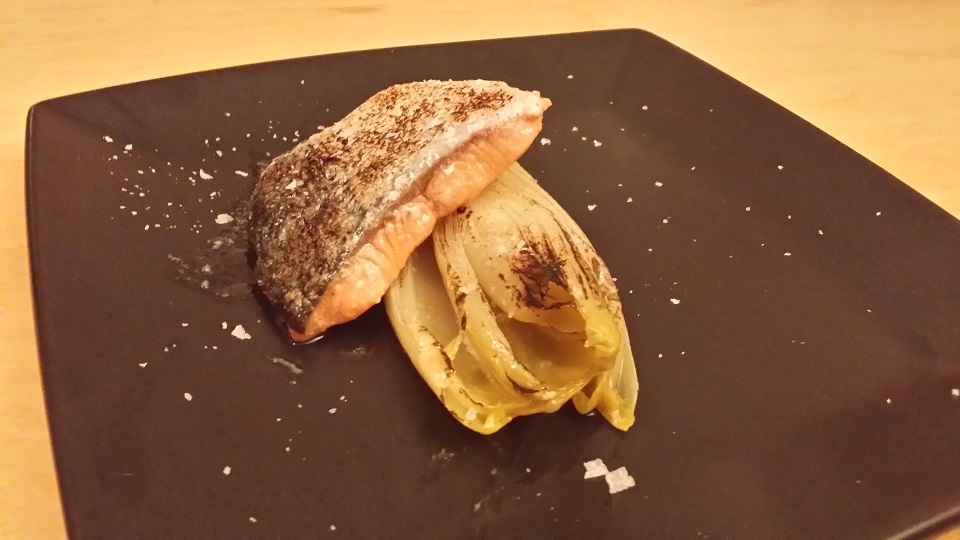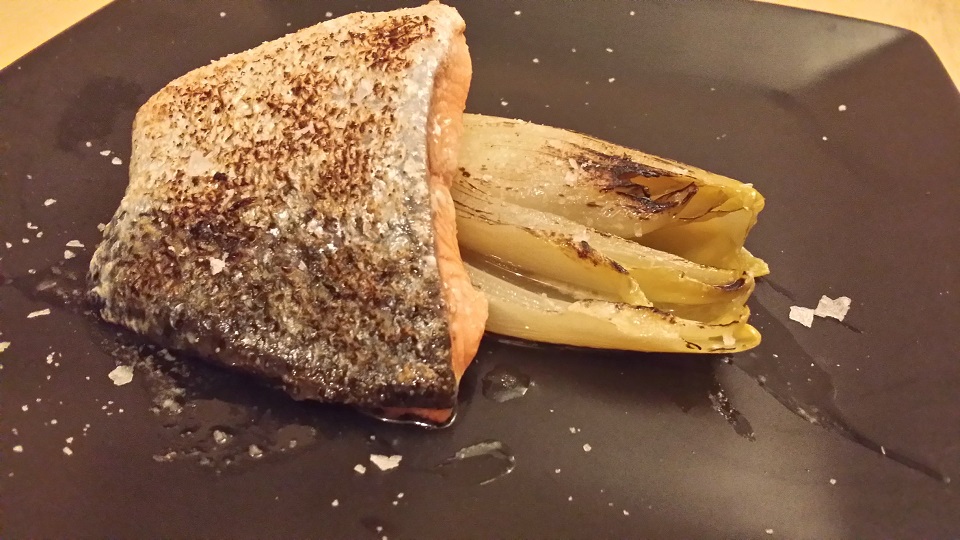 curry salmon with confit chicory
Ingredients
For the curry oil:
500

ml

Vegetable oil

1

leek

shredded

1

teaspoon

madras curry powder

Pinch

cumin

1

chilli

diced
For the chicory confit:
2

chicory heads

halved

4

sprigs

thyme

1

kg

butter
Instructions
Combine the curry oil ingredients in a saucepan and bring to a gentle heat, and then turn it off the heat. Leave to steep for an hour. Put your salmon steaks in a vacuum seal bag and douse with the oil. Seal and sous-vide at 50C for 50 minutes.

While the salmon cooks, melt the butter in a saucepan and add the thyme. Keep it on a medium heat and add the chicory. Simmer for 20 minutes or until knife-tender. Remove from the fat and keep cut-side down to drain the excess butter.

When the salmon is ready, use a blow torch to scorch the skin side of the fish. Put a tiny sprinkle of sugar on the cut side of the chicory and blow torch until well scorched. Sprinkle the fish and the chicory with Maldon sea salt and serve.
Here's another great chicory recipe: http://kelliesfoodtoglow.com/2014/09/25/balsamic-roasted-figs-roasted-fig-chicory-and-walnut-salad/