heston blumenthal's triple cooked chips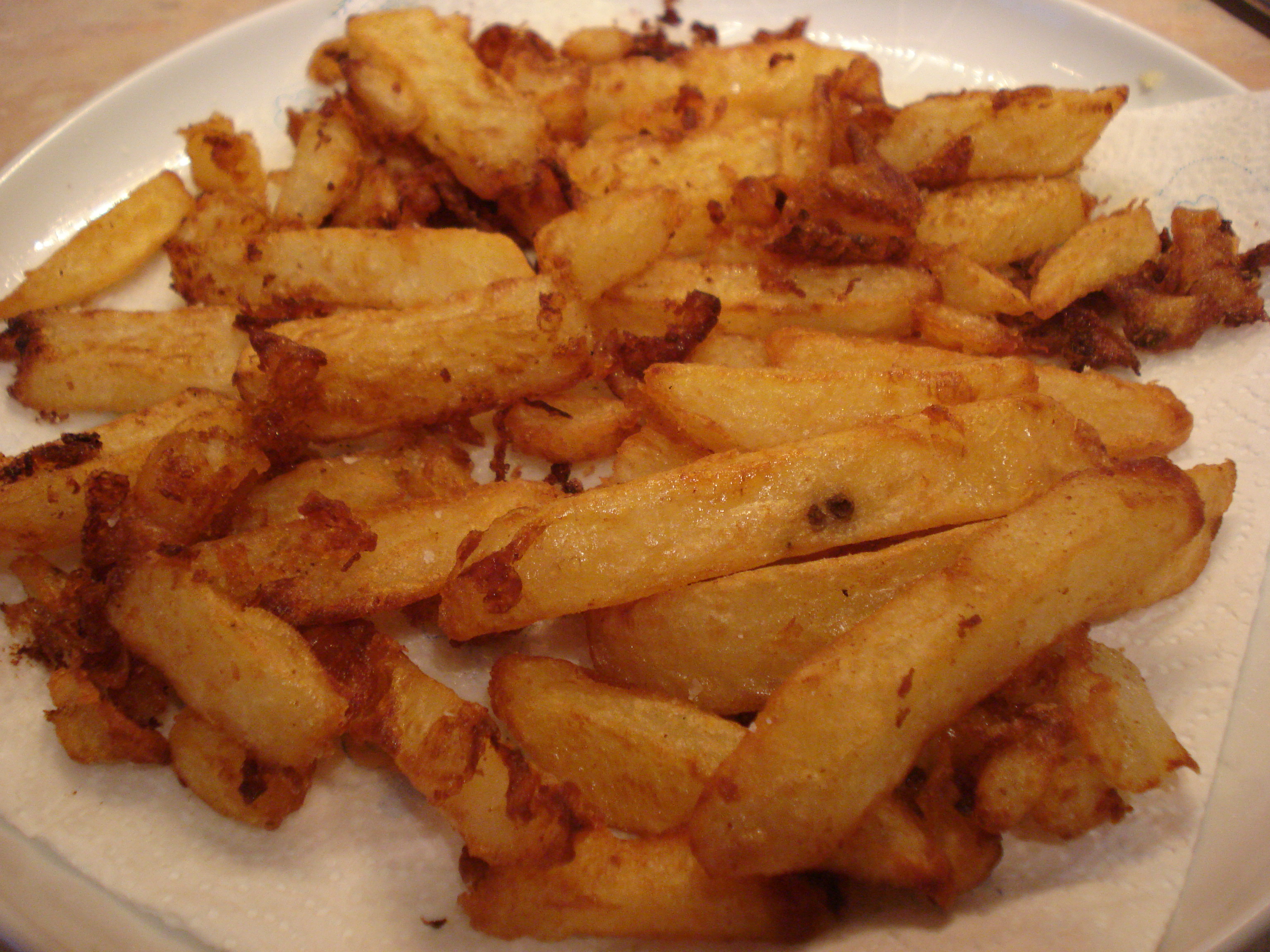 I'm sure like many Brits chips have certain evocative memories; for me they split two ways. The first is good ol' fish and chips, eaten from paper along Southend seafront, stained with vinegar and gritty with salt, chilly breeze from the sea in the air. The other memory is of my Nan's chips. She would peel the potatoes, chop them into chunky pieces (we'd call them wedges these days) and deep-fry them from raw until nearly dark brown. It doesn't sound great but they had a thick crust and packed a potato punch, and I miss them terribly.
Fast-forward a little and I'm gazing down at Heston's triple-cooked chips. They've taken a while to do (as do most of his recipes) but the proof is in the eating: a brittle brown crust, golden skin and that cheeky deep-fried smell. The flesh inside is giving and fluffy – exactly what you want. They are, as you expect from the man, perfect.
There's a little faff involved, but the ingredient list is very short. First the sliced potatoes are par-boiled on a gentle heat, then deep-fried, then deep-fried again. Between each stage the potatoes are chilled and dried out thoroughly. Removing as much water as possible is crucial to drying out the chip; this ensures maximum crispiness. It may be a lot of stages but one big advantage to this method is that you can stop and refrigerate the chips at any step until needed, so all the legwork can be done well in advance if needed. When it comes to frying I use a deep saucepan filled a third with oil; I've owned two deep fat fryers in the past. One just plain stank, the other melted. Yes, melted. A bit of a drawback for a deep fat fryer.
You can read his recipe in either In Search of Total Perfection
(as part of fish and chips) or Family Food: A New Approach to Cooking (Penguin Cookery Library)
. The only discrepancy is between the boiling stage; one says to salt the water, one not to. I decided to go with instinct and as if they were roast potatoes, salted them.
You can also find variations of this recipe at Waitrose, The Times, and an interesting accompanying interview (plus sciency bits) at RSC.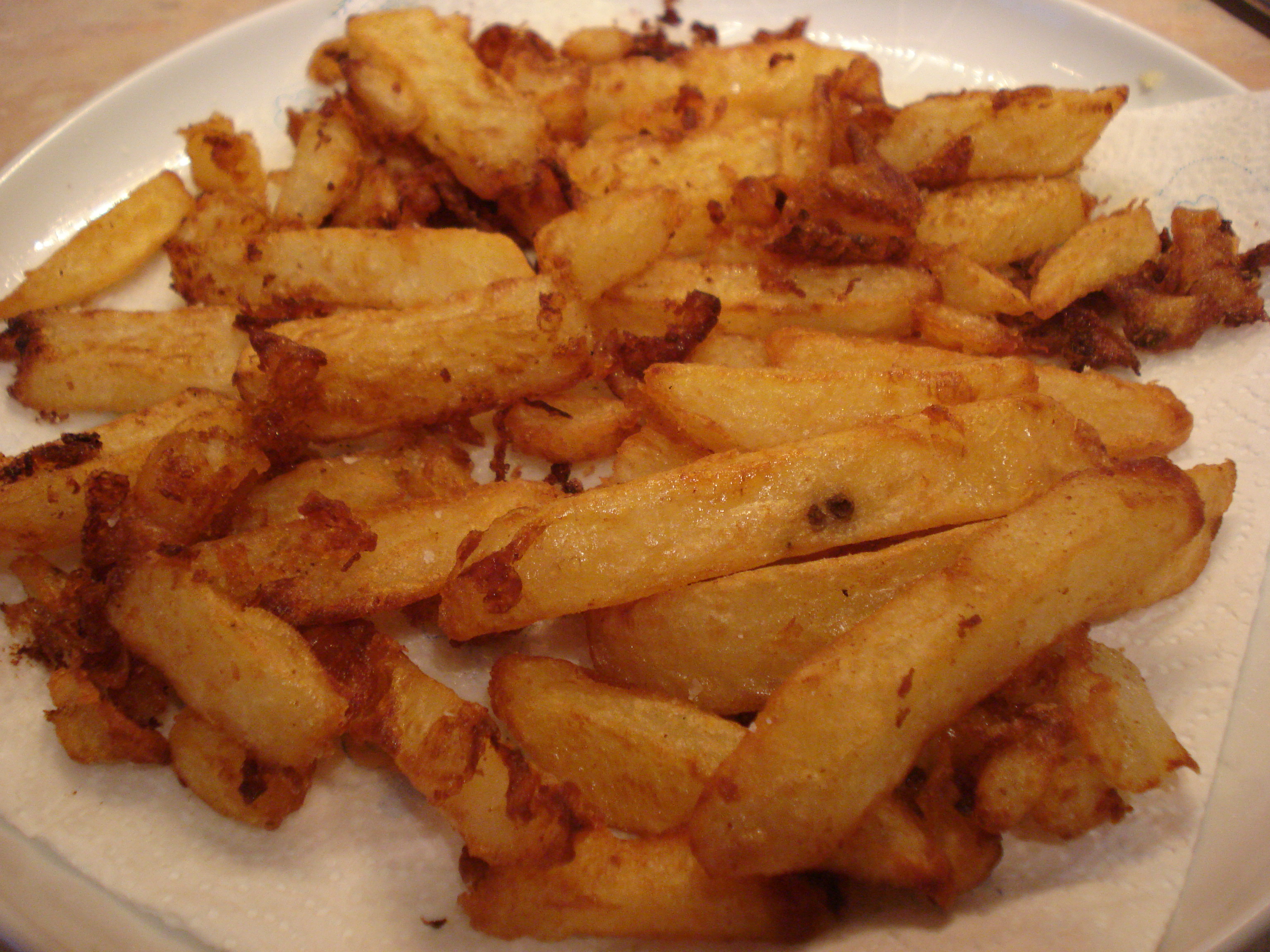 Heston Blumenthal's triple cooked chips (serves 2):
Ingredients
2

large Maris Piper potatoes
Instructions
Sliced the potatoes into 2cm thick chips. Don't be too fussy about this; uneven things are charming. Rinse the potatoes well under running water to remove excess starch from the surface (this will stop them clinging together in the fat).

Plunge the chips into salted boiling water and reduce the heat to a simmer. This will ensure the middle is cooked thoroughly before they turn into mush. Remove from the water when a knife point slides in easily - this will take about 10 minutes.

Drain the chips well and put in a single layer on a tray. Put into the freezer for 30 minutes to completely dry them out.

Bring a plain oil (e.g. rapeseed) to 130°C - use a probe or sugar thermometer to achieve this. Drop the chips in and fry until they turn a very pale yellow and as Heston says, "have a dry appearance". It's an odd description but you'll know it when you see it. Don't let them turn brown. This will take another 10 minutes.

Drain again, bake on the tray and back in the freezer to dry out.

Bring the oil up to 180°C. Chips back in, now let's get them coloured. Keep them in there until you get a nice dark brown on the edges. Yep, another 10 minutes. When done drain thoroughly and chuck on the Maldon sea salt - they can take quite a bit.