jamie's italian (brighton)
Being a Jamie Oliver nerd, I'd been waiting for the opportunity to try one of his restaurants. Being a fellow Essex boy I'm constantly disappointed that there isn't one of his places in this great county. When Jamie, when? I'll work there for free!
I do however make regular trips to Brighton, so knew the next time I would be sampling Jamie's Italian. They don't accept bookings so the four of us (3 adults + 1 child) rocked up in anticipation around 5pm and got seated quickly. I even asked to sit at a banquette to give us plenty of room and this was no bother at all.
My first impressions were of an American diner – quite chunky and glitzy. Jazzy murals of trainers and mirrors adorn the walls, meanwhile you can see right into the kitchen through a glass partition. The waiters have a pretty area, with butler sinks and rustic dressers to store their stuff. It's pretty massive as well, not that they were short of covers!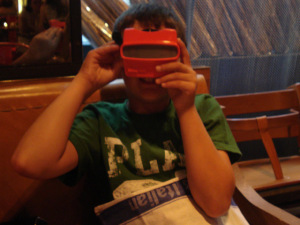 Though the little one with us was sure to eat an adult's portion, I asked for a child's menu anyway because I'd heard they were unique. Indeed they are – 80s Viewmasters! Though the pictures are cute bafflingly there are no descriptions on any of them, so you've no idea what's being ordered. The menus themselves are large and full of cheeky Jamie-isms as you might expect.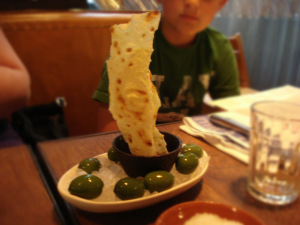 Immediately we ordered olives, being a firm favourite of my family. Described as 'best olives', that was certainly an apt description. Rich, plump green beauties with a meaty, almost parmesan-y tones. Set over ice and accompanied by 'music bread' – whatever that is – and olive tapenade, these truly were the best olives. Incredible.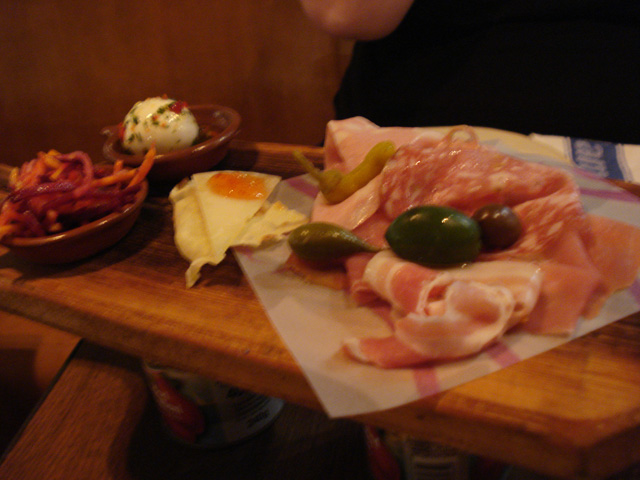 Following from that we had a plate of meat antipasto and veg antipasto between the four of us. Antipasto always gets me giddy, I love courses where you can pick and nibble at different bits and pieces. These were an absolute triumph, laid on breadboards set atop two upturned tins of tomatoes. Wafer thin San Daniele ham, salty prosciutto, chewy mortadella… the meats alone were of the highest quality. Yet another fat olive and curiously plump capers finished this section off. There's a cheese in the middle I can't recall, but reminded me of manchego with membrillo. There was a tangy side dish of pickled carrot and beetroot which was just the right counterpoint. To leave the best til last, the mozzarella was the finest we had ever tasted. A paper-thin crust held a ball of soft creamy cheese that oozed in the mouth. Utter heaven. On the veg side there were some pleasing mixed mediterranean bits – courgette, artichoke etc – that were also delicious.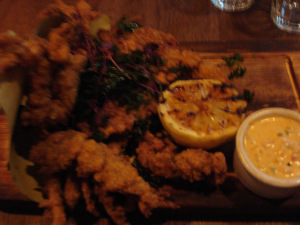 We then had an array of mains: lamb lollipops acheived that great combination of fun and tasty, with an array of dips; sweet potato lasagne that was warm and soothing; bolognese proclaimed to be "the best ever"; while I went for soft-shell crab. These were writhing great monsters, apologies for the dodgy pic but I was in a hurry to devour them.  They were sweet and crispy and tasty, a real treat. If I had one complaint, it would be that there's almost too much of it – even with my massive appetite I had out-crabbed myself – there were two whole crabs to nibble! In all the mains were incredibly satisfying, especially when paired with wilted greens and balsamic chickpeas.
For dessert we barely managed a bakewell, orange tart and range of sorbets. All were marvellous, the bakewell almondy and jammy, the orange tart thick and citrussy.
It was a superb meal – the best I've eaten this year and one of my favourite meals ever. Now when's the Essex branch opening?!