lasagne al forno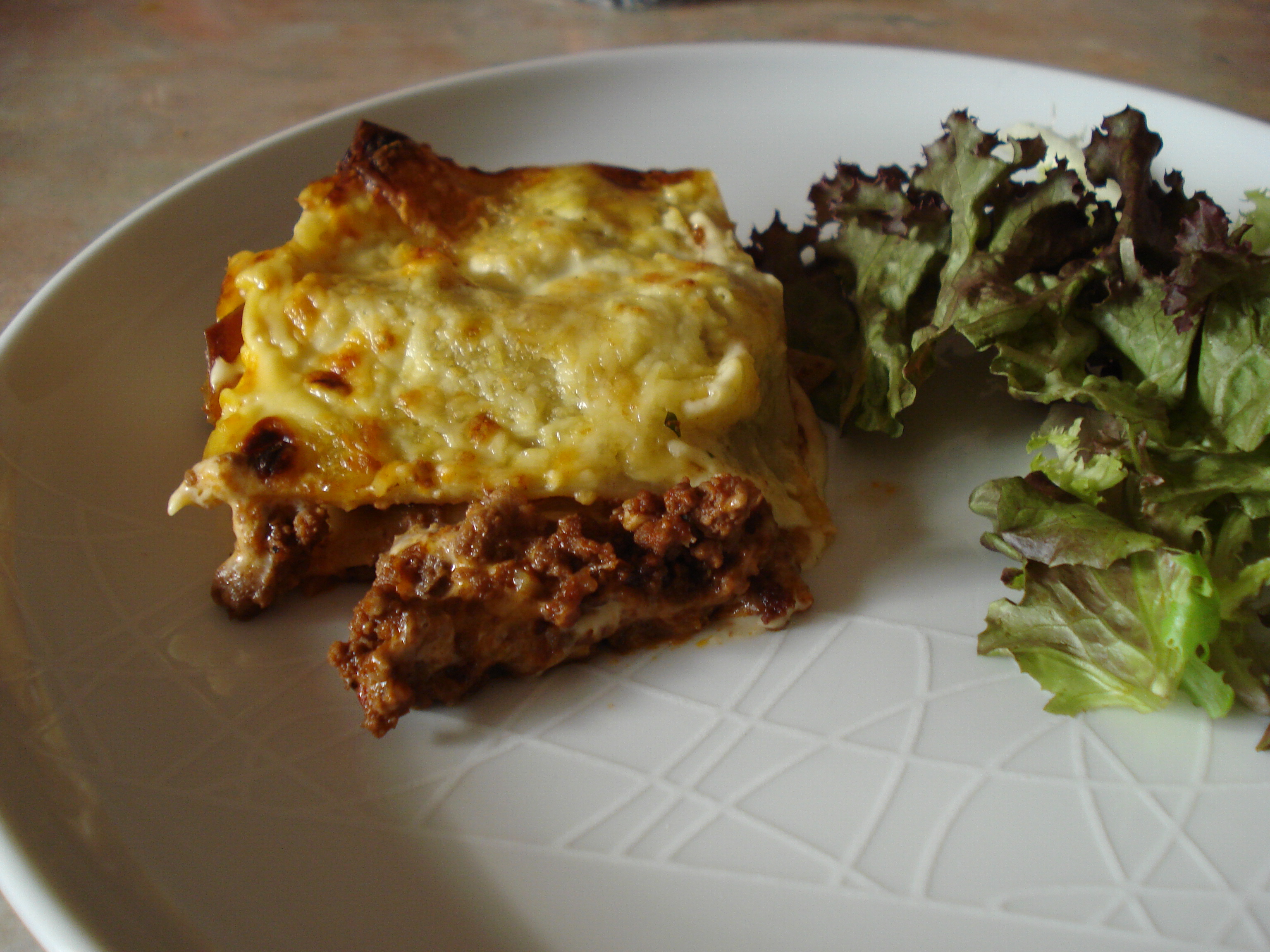 Lasagne has to be one of my favourite dinners. If I'm stuck for what to cook, it always pleases a crowd and satisfies. I like a lasagne with gutsy tomato sauce, plenty of layers of pasta and a bubbling, cheesy topping. I've tried all sorts, with Marmite in, with marmalade in, with soy sauce in… this version is about as traditional as I make mine.
I used some CIRIO tomatoes in this one, a mix of thick passata, tomato puree and the amazing Pizzassimo sauce.
On a whim, I picked up a jar of pre-made white sauce. Before I knew how to make bechamel I would use Ragu white sauce. I don't know why I went for this; I haven't tried it in maybe 12 years. But I was really pleased with the taste of it, slightly peppery and perfectly creamy. I didn't dare look at the ingredients list but if I was running short on time I'd definitely use it again.
Looking for other lasagne recipes? Try Summer veg lasagne or this more full-on lasagne recipe.
Lasagne al forno (serves 6 with a green salad):
1 onion, finely chopped
500g beef mince
2 garlic cloves, minced
1 tablespoon tomato puree
1 jar tomato passata
½ tin Pizzassimo sauce
500ml beef stock
1 jar Ragu white sauce
About 10 lasagne pasta sheets
Big handful of grated cheese. Yes, cheddar will do
Get a large saucepan on a low heat, add a splash of oil and fry the onion gently for about 10 minutes. When softened, crank up the heat and add the mince, stirring frequently to prevent sticking. Add the garlic, tomatoes and stock and simmer for 20 minutes. Check for seasoning and take off the heat to cool slightly.
Preheat the oven to 180°C. Get an ovenproof dish and start with a layer of pasta. Add a thin layer of mince mixture, half the white sauce and top with pasta. Add more mince, more pasta and top with white sauce. Grate cheese over the top and bake for about 30 minutes until bubbling and golden. Leave out of the oven to set for a couple of minutes, it'll be easier to cut.