moules carboniere

Spud Jr has got the cooking bug. In his Summer holidays I've managed to get him some work experience in a professional kitchen and he's having a whale of a time. He's gaining loads of interesting skills and learning some new swearwords into the bargain too. He's also had the chance to cook some things he's never used before because I don't tend to have them around, such as sea bass, salmon, and mussels.
He enjoyed mussels so much I thought we'd have some for dinner. We had already planned to have penne carbonara so I figured we could combine the two somehow.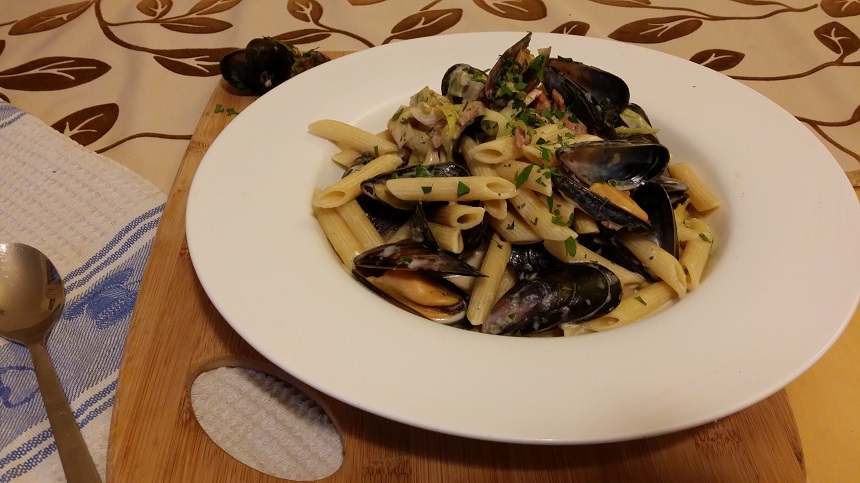 I kept the silky, eggy sauce of carbonara, with the booze and fresh parsley of moules marinere. And it was a hit! Franco-Italian relations are preserved once again.

moules carboniere
Ingredients
100

g

pancetta

diced

1

leek

finely sliced into strips

White wine

200

g

mussels

150

ml

single cream

1

egg yolk

A little grating of parmesan

Small bunch of parsley

chopped
Instructions
Get a large frying pan over a high heat and a large saucepan filled with salted water on the boil. Cook your pasta according to the packet instructions while you do everything else.

In the pan fry the pancetta until browned and then add the leeks. Stir fry until softened, then add the water and mussels. Add a lid and cook for 4 minutes.

While the mussels steam, combine the cream, egg and parmesan. Season with plenty of black pepper. Remove the frying pan from the heat and add the cream mix and the pasta, stirring and tossing the whole time. Discard any mussels that have not opened up and serve in bowls with a sprinkling of parsley.