nigel haworth's lancashire hotpot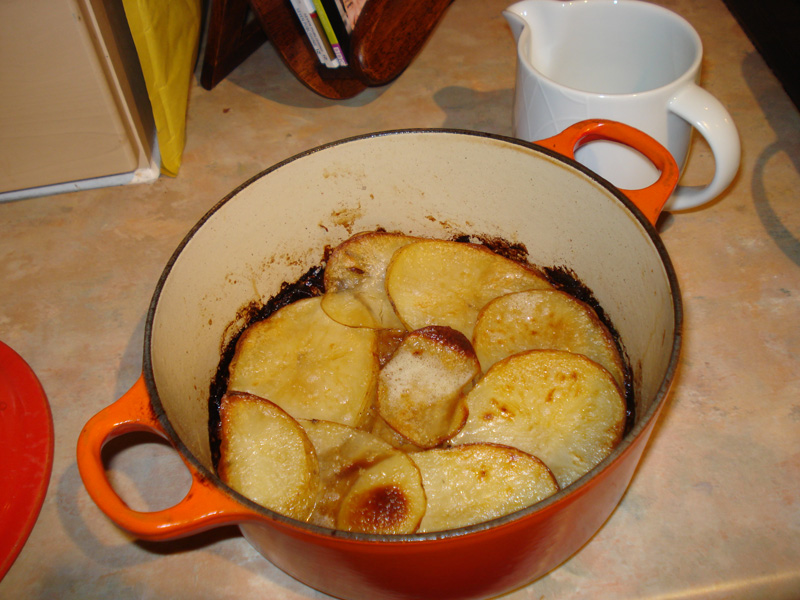 I have a "go to" Lancashire hot pot recipe that I like very much, cribbed from Rick Stein some years ago. It's very tasty, but like many others I was bowled over with Nigel Haworth on the Great British Menu this year, who blew the competition away with his hot pot. (One word or two? I just don't know. His recipe is here.
I've simplified it slightly for home cookery – cut down on the varieties of lamb and reduced it down to just the neck fillet. I also used a jar of pickled cabbage – I can't better those results. No herbs either, which is a big surprise. I also worried about the lack of liquid in the meal so bunged together an easy gravy of roast vegetables deglazed with lamb stock.
It was very tasty, and I can see why it was such a winner. Rich, gamey lamb, sweet onions with a crunchy potato topping – what's not to like? My only slight concern was that the recipe isn't clear about when to use a new pan for frying off the different parts. I browned the lamb in the same pan as it eventually baked in, and it caught round the edges, making it black and sticky. These bits were nice but a touch over. Doing it again I'd use two pans for frying lamb and onions, then put the part cooked elements back into a separate casserole dish for baking. Starting off from cold it will have less chance to blacken. That said, it's delightful. Pair it with pickled cabbage for a tart contrast.
Nigel Haworth's Lancashire Hotpot:
500g lamb neck fillet
1 tablespoon flour, seasoned
1 large onion, sliced
25g butter
1 large potato, sliced into 2mm rounds
Preheat the oven to 160C.
Toss the lamb in seasoned flour and fry in a pan to brown all over.
Fry the onions in butter and a large pinch of salt until softened.
Toss the potato slices in a little olive oil with salt and pepper until well coated.
Lay the lamb in a casserole dish, put the onions on that and top with the potato slices. Bake in the oven for 2 hours.
After 2 hours, brush the potato top with melted butter and bake in the oven uncovered for a further 30 mins or until the potato is golden brown. Serve with pickled cabbage.