one tray roast chicken dinner

I love a roast dinner but I don't love the mess you have to create to make it. With this one tray roast chicken dinner recipe everything is done in one baking tray, so you only have one thing to clean up at the end. Potatoes, chicken, gravy, peas, carrots all in one pan. It pretty much takes care of itself so you can leave it to get on with cooking while you do other things.
It's a real time-saver and more importantly, a washing up saver! This would work really well with other meats such as lamb, pork and turkey too.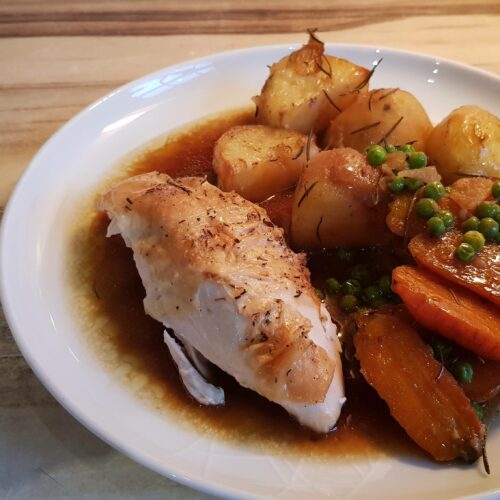 one tray roast chicken dinner
A quick and easy way to prepare a roast dinner
Ingredients
1

whole chicken

about 1.5kg

dried herbs of your choice

e.g. sage, rosemary, thyme

4

carrots

500

g

potatoes

e.g. Maris Piper

500

ml

chicken stock

3-4

handfuls

frozen peas

2-3

sprigs

fresh herbs (optional)

e.g. rosemary, sage, bay
Instructions
Get the oven on to 180C.

Untie the chicken and open the legs so hot air can penetrate the bird. Slather with oil, season with salt and pepper and sprinkle over your favourite dried herbs. Pop in the tray and put in the oven.

While the chicken gets started, peel and halve your carrots. Peel your potatoes and chop into golf-ball size chunks.

Once the chicken has had 30 minutes, take the tray out and scatter the carrots and potatoes around the chicken. Give them a turn in the fats and oils in the base of the tray, and season the vegetables. Put back in the oven.

After a further 20 minutes, you can add fresh herbs if using. 30 minutes after this, check the chicken. The best way to do this is by using a probe thermometer where it should read over 70c, or pierce the thickest part and ensure the juices run clear. Remove the chicken to a board to rest. If the chicken isn't done keep checking every 10 minutes. Once the chicken is removed you can add 500ml chicken stock.

After 20 minutes give everything a good turn in the stock and scatter over the frozen peas. Return to the oven.

After 10 more minutes everything should be done. Carve your bird, add carrots, peas and potatoes to your plate and ladle over the gravy. Enjoy!