potted duck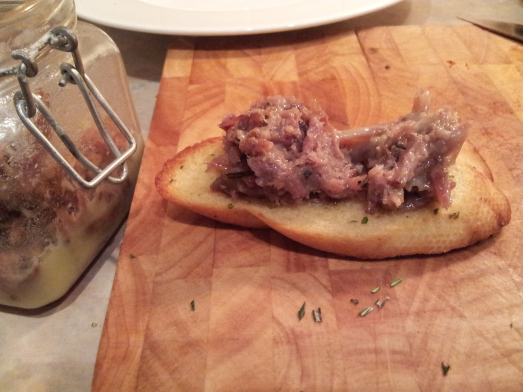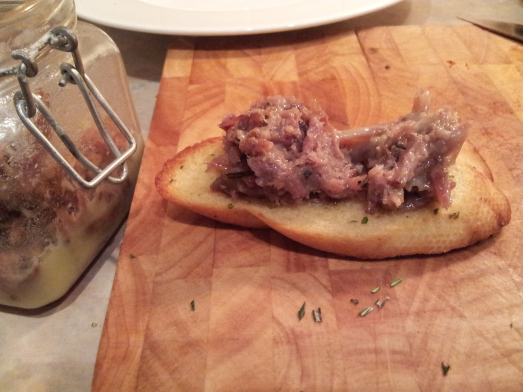 It's been something of a duck week. I nearly picked up two duck breasts at the weekend, but when they cost £7 and a whole duck cost £8, it seemed a false economy (as buying meat portions almost always is). So after enjoying some lovely roasted duck breasts with red wine sauce and sauté potatoes, what to do with the rest of the duck?
Heston had a bloomin' good suggestion in Heston at Home
: potted duck. Being a Heston recipe, it has quite a few stages of curing and confiting, and I got bored waiting for it so tossed aside the smoking stage at the end. I can't say I miss it; there's mountains of flavours rolling along in waves as you munch down through rich, soft meat.
If you have some duck legs knocking about – and let's face it, who hasn't… – you could do much worse than piling this into a nearby kilner jar. So here's what I did based on Heston's recipe, smoking stage removed and all.
Potted duck (can serve about 8, depending on how generous you are – it's pretty rich):
9 star anise
1 cinnamon stick
5 black peppercorns
2 bay leaves
Zest of 1 orange
60g salt
2 duck legs
500g duck fat
2 sprigs of rosemary
2 cloves of garlic
Preheat the oven to 180°C. Put the star anise, cinnamon, peppercorns and bay leaves on a baking tray and roast for 5 minutes. Tip the lot into a pestle and mortar with the salt and orange and pound to dust. Rub all over the duck legs, store in a sealed container and refrigerate overnight.
The next day, put your slow cooker on low. Add the duck fat, rosemary and garlic and allow to melt. Thoroughly rinse the duck legs and pat dry. Add to the slow cooker and top up with oil if required to cover the legs. Slow cook for 18 hours.
Remove the duck legs from the fat and shred with two forks. Pack into a ramekin or kilner jar, and pour over a little of the cooking fat (save the rest for roast potatoes or pork belly). Refrigerate for a couple of hours then serve with your best toast, pickles and chutney (I used a fig chutney like this).