recent review round-up

I've been trying some new products out lately. See what I thought!

MOR Sausages
These new sausages are gluten-free and have much less fat than traditional sausages. I often eye low-fat alternatives with suspicion as something gets lost along the way that ruins the flavour. I'm pleased to say that's not the case with these sausages!
Alongside the meat MOR have packed in non-meat alternatives to bulk out the sausage filling. These include lentils, cauliflower and chick peas. Each time they serve to add interest to every bite, giving a pleasing range of textures. Currently the range includes Mediterranean chicken with sun-dried tomatoes and basil; pork with super-green veg and lentil; Moroccan pork, cauliflower and chickpea; and pork with beetroot and apple. The chicken were my least favourite being a bit bland but the others were all full of flavour and really tasty. Worth trying! You can find them at Tesco at £3 RRP.

MYHK meals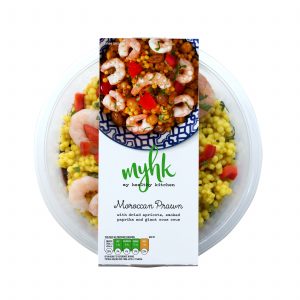 My Healthy Kitchen are a range of ready meals designed to be tasty yet still healthy. They're made with high quality, fresh ingredients with flavours from all over the world.
Each meal is under 500 calories with no artificial flavours, colours, or preservatives. Each meal also offers at least one other nutritional benefit, such as low fat, saturated fat, or salt, a source of protein or fibre, or contains 1 (or more!) of your 5 a day.
The meals are designed to be microwaved and ready in about 5 minutes. The packaging is very clever too, with a two tier system I've not seen before to stop any ingredients getting soggy from the sauce. There are six myhk meals available: Moroccan Prawn; Roasted Mediterranean Vegetable Risotto; Oriental Chicken; Chicken Paella; Pea, Mint & Rocket Risotto; and Prawn Katsu. I tried the first three of these.
Unfortunately I didn't particularly enjoy any of them. They were all inoffensive but lacking any real strong flavour and low in seasoning. Another quirk common to all of them was the fact that they are high in chilli flavour, which is a way to mask the lack of anything else going on.
A noble effort, but not for me.

Lyons coffee bags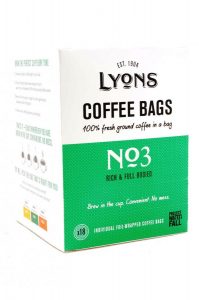 I do love a coffee. And anytime I can get a decent coffee without faff I'm sold. I have a cafetiere on the go most of the time at work, which is not exactly a lot of work but I seem to forget to clean out the gadget at the end of the day without fail.
These coffee bags from Lyons are a great way to get a coffee fix on the go. Each bag (like an oversize teabag) is individually foil-wrapped so you carry a couple wherever you need to.
The taste of the coffee is very good. Not especially strong but very satisfying. Be careful with the bags when you're taking them out though – I squish teabags against the side of the mug, but these bags prefer a lighter treatment. I split the first one I tried!
Tesco currently sell them for £2.60 for 18 (about 14p a cup) which seems pretty reasonable to me.

Diforti online shop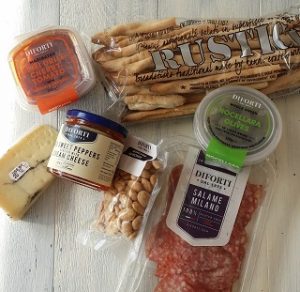 The Diforti Classic Antipasti Selection is a collection of yummy Italian things from this online store. It features
Semi-dried Cherry Tomato
Nocellara Del Belice Olives
Red Sweet Pepper stuffed with cheese
Spanish Salted Marcona Almond
Aged Pecorino With Truffle
Italian Breadsticks Rustici
Salame Milano
It's a lovely round-up of things. I was particularly taken with the semi-dried tomatoes and salty almonds. The truffle cheese was a bit strong for me though; really pungent and not to my taste. The rest were all excellent.
It's decent value at £21 and would make a great lunch for 4 people.
Philadephia Flip & Dip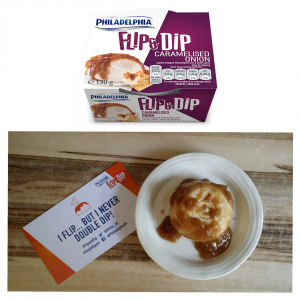 Philadelphia are asking the thorny question, do you double dip?
In other words, do you dip a crisp or crudite, munch and then go back for more? If you've ever watched Seinfeld, you'll know the answer has to be no. "It's like putting your whole mouth in there!"
I'm in the single dip camp. Which are you?
Philadelphia Flip and Dip is the brand new dip perfect for sharing at summer parties.
It's a tub of lightly whipped Philadelphia cream cheese, topped with one of three sauces including Sweet Chili, Mexican Salsa and Caramelised Onion. Turn the pot out on to a plate and you'll see the sauce trickle down the side of the creamy cheese.
Philadelphia Flip & Dip is ideal for sharing occasions and is now available in Tesco and Asda for an RRP of £1.49.
That's all for now – of you want more stuff like this, pop your name in the box below and get an email every time there's something new.