baked sweet potato with slow cooker bbq beef
Sometimes all you want is stodge. Stodge with sticky sweet tender meat. Slow cooker BBQ beef is a great crowd-pleaser, and you barely need to do anything bar dumping into your slow cooker.
This slow cooker BBQ beef recipe is sweet, sticky and tangy: just the way it should be. By using brisket it naturally forms those strands that are so juicy to eat.
This would work great with a regular jacket potato, but a sweet potato gives it another flavour that's so interesting. I choose here to roast the sweet potato with cumin which I think gives an earthy smokiness, but experiment with other seeds you have such as fennel or coriander seed. This is also a dinner that scales up or down really well. Served here with a sticky sweet potato and lashings of sour cream, this is a very satisfying dinner that is ready with hardly any effort.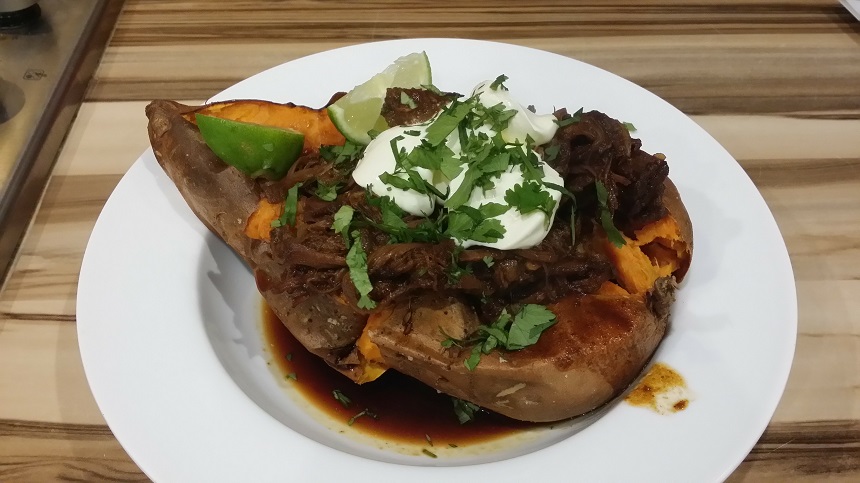 Made too much beef? Not a problem. It freezes brilliantly, and could make a decent filling for an epic sandwich, mix with mushrooms for a super pie, or serve with fresh chilli and tortillas to liven things up.
I used brisket because I love it, here's some more of my favourite brisket recipes:
Cholent – this Jewish standby is a huge hit in our house
Spicy, meaty feijoada
For the sauce, mix all the ingredients together and put into your slow cooker. Put on low.

Mix the rub ingredients together and rub into the beef. Put this in the slow cooker with the sauce. Leave for 10 - 12 hours until a fork goes in with no resistance. Shred with forks and add the spring onions. Keep warm until needed.

Preheat the oven to 170C. Rub a little oil over the sweet potatoes, then sprinkle with salt and the cumin seeds. Pop in the oven and cook for 45 minutes - 1 hour until tender.

Split the potato, add the beef and top with sour cream, lime and coriander.