restaurant review: pizza express, rayleigh

My home town of Rayleigh has undergone a huge transformation in the past five years. It suffered the same stagnation that ran across most of the suburban high streets of England in the 2000s as the recession bit. In 2010 restaurant after restaurant opened up and now the high street heaves with people of an evening. We're now spoiled for choice, not only by chains such as Ask and Prezzo, but wonderful independents such as Marco's and Pancho's. In December 2015 they've been joined by Pizza Express. The announcement caused a local stir, as it was to be sited in not just any old building, but in the oldest secular building in Rayleigh. With some concession, it went ahead with space allocated to the upper floor for a Rayleigh museum. You can read more about how they matched the existing building here.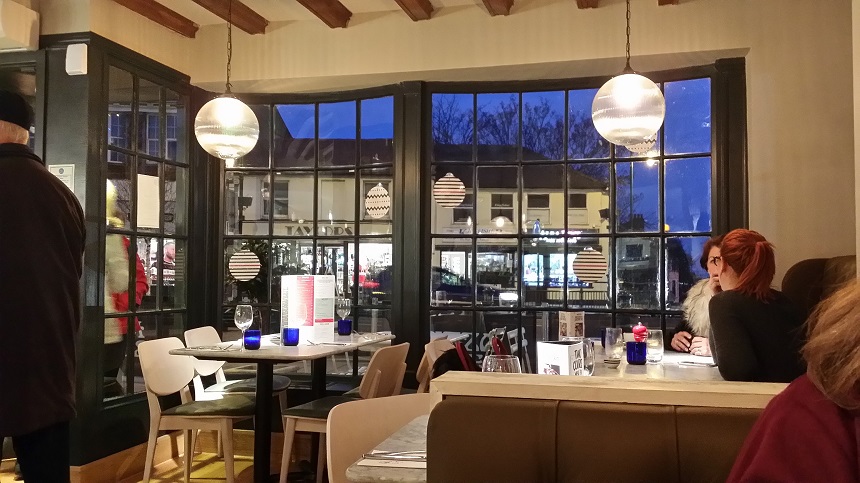 Now that it's here, I gave it a try. I popped along early, a 4pm table on a Monday. My very jolly waiter Nahim explained how we were lucky to be between lunch and dinner, as that evening's service was packed from 5pm until closing time. The restaurant's prime location on the crest of the town's hill and attractive frontage has fuelled it's popularity, and proves that Rayleigh is hungry for yet more eating options.
They've made marvellous use of the space. Previously it was a women's clothing store, dark and with uneven flooring. The transformation is total. It's bright and airy, with the trademark Pizza Express laid back atmosphere. There's lovely sage banquettes, delightful non-matching tiled booths and irregular white brickwork to contribute to this feel.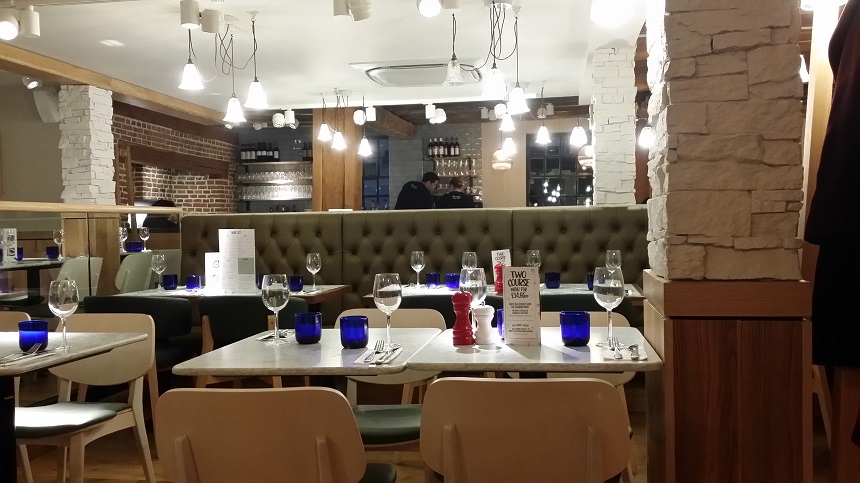 With my wife and daughter, we focussed on trying some of the seasonal specials. I had their pork and pancetta croquettes – lovely meaty things, served with a warming apple cider sauce.
We then moved on to pizzas – a spicy lamb pizza that came recommended from the staff, and a Brussels Spout and pancetta pizza.
The spicy lamb pizza was not fiery at all, just lively and fragrant. It reminded me of one of my favourites, lahmahcun. But it's the fresh tomatoes that make it, providing welcome acidity and moisture.
The Brussels pizza was very sprouty! You will already know whether that's a good thing or not. It was a fun eat – perhaps not something we'd order again – but a non-obvious yet interesting combination for a pizza.
My six year old had dough balls followed by a tomato pasta. The children's menu is something that has always felt like an afterthought at Pizza Express; they try so hard to give them things to colour, make and do yet the food is extremely limited. It's very easy to give children the option of bread followed by bread, which as any parent knows will end up with a full tummy very quickly. And even then, the pasta choices are restrictive. I'd love for the same creativity applied to the adult's menu transferred to the children's options.
We finished our meals with a honeycomb cheesecake. It's excellent. If this was in a supermarket I'd buy this every week.
Unfortunately on our visit we weren't able to try everything we wanted. I ate after it had had it's second full weekend of service. The very experienced manager Hayley, recently relocated from her Welwyn Garden City branch, was still learning how tastes differed from her previous restaurant. Apparently we have a greater appetite for fish – must be our near-coastal location I guess! Due to this learning process, the kitchen had run out of a few things and were awaiting a delivery. So I never got to try the heavenly-sounding salted caramel profiteroles. I'm sure however these are teething troubles, exacerbated with the time of year when people especially love to eat out before the Puritanism of January.
The Pizza Express in Rayleigh is very welcome. Clearly the appetite is there – both literally and figuratively – and if they continue to serve with warmth in a relaxed atmosphere they'll be there for a very long time.
I was invited to try Pizza Express for free, and I don't write positive reviews unless I want to.