roast pork belly and broccoli pomegranate stir fry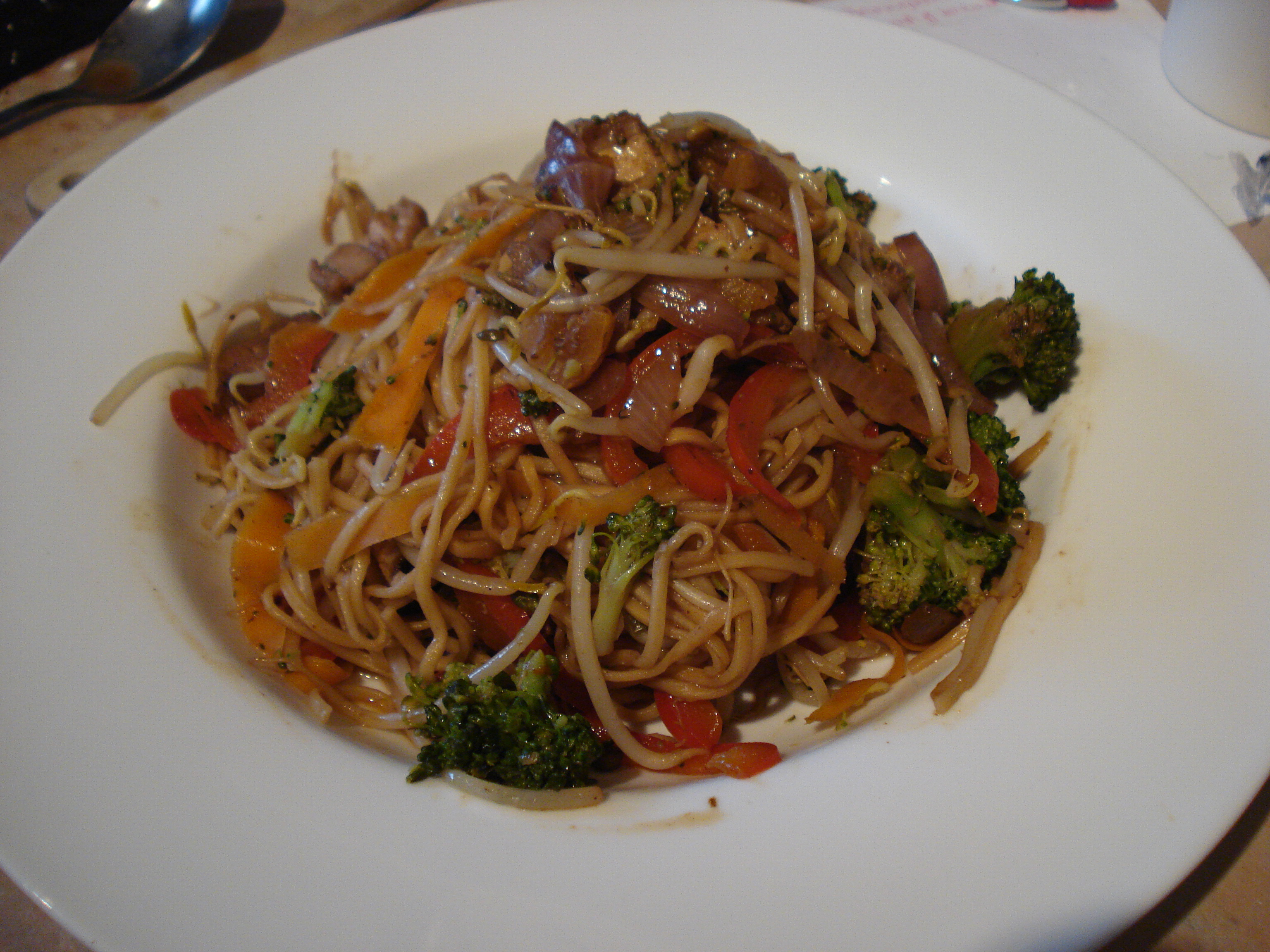 This is a hefty Sunday lunch in disguise. There's quite a lot going on here so you have to plan ahead but by golly it's worth it. There's quite a few pans to have on the go too. The pomegranate juice makes it – sticky and sweet. That with juicy belly pork, crunchy veg and tasty noodles, this is a really interesting plateful with every mouthful slightly different.

This recipe is from Alex Mackay's Everybody, Everyday
. The recipe makes enough for 4 with pork, onions and juice left over so keep that in mind! I reheated mine with some wet polenta which works really well. You can see other recipes from this book that I've cooked here.
Pork and pomegranate stir fry (serves 4):
1kg boneless belly pork
6 red onions, peeled and halved
500ml pomegranate juice
1 tablespoon dark soy sauce
500ml chicken stock
2 teaspoons cornflour mixed with a splash of water
8 dried apricots, finely chopped
1 heaped tablespoon rosemary, finely chopped
1 head of broccoli
1 clove garlic, peeled and minced
1 red pepper, sliced
1 carrot, peeled
3 nests cooked noodles
1 pack beansprouts
Preheat the oven 160°C. Score the pork belly with a sharp knife and rub all over with salt. Get a thick-bottomed roasting tray on a high hob and get a little oil really hot. Add the pork skin side down. Turn the heat down and fry for 10 minutes. One the crackling looks golden add the onion halves, flip the pork over and put it on top of the onions. Transfer to the oven. Roast for 25 minutes.
While the pork roasts, bring the soy sauce, pomegranate juice and stock together in a saucepan to the boil. Reduce by two-thirds and whisk in the cornflour, add the rosemary and apricots and turn off the heat.
When the pork reaches 65°, remove from the oven to rest. Slice thickly and use reserve half for another recipe. Put the onions to one side and use half of these in another recipe.
Take a lidded saucepan and put it over a high heat. Trim your broccoli into florets and halve each one so they have a flat side (this will catch and create a lovely toasted flavour). Add the florets to the pan for abut 3 mins, then add the garlic, a sprinkle of salt, a splash of water and jam the lid on. After another 3 mins shake vigorously until tender, and then put to one side until you're ready to stir fry.
Get your largest wok out over a high heat. Add a dash of oil and fry the red pepper for a couple of minutes. Add the beansprouts and cook for a further minute, add the pork, 5 or 6 onion halves, broccoli and use a peeler to shave in the carrot in thin strips. Keep it moving as much as you can, and add about 200ml of the sauce from earlier. Toss in the noodles and keep stirring. When everything gets up to temperature sprinkle over some chilli flakes and serve. Eat immediately.