russian honey cake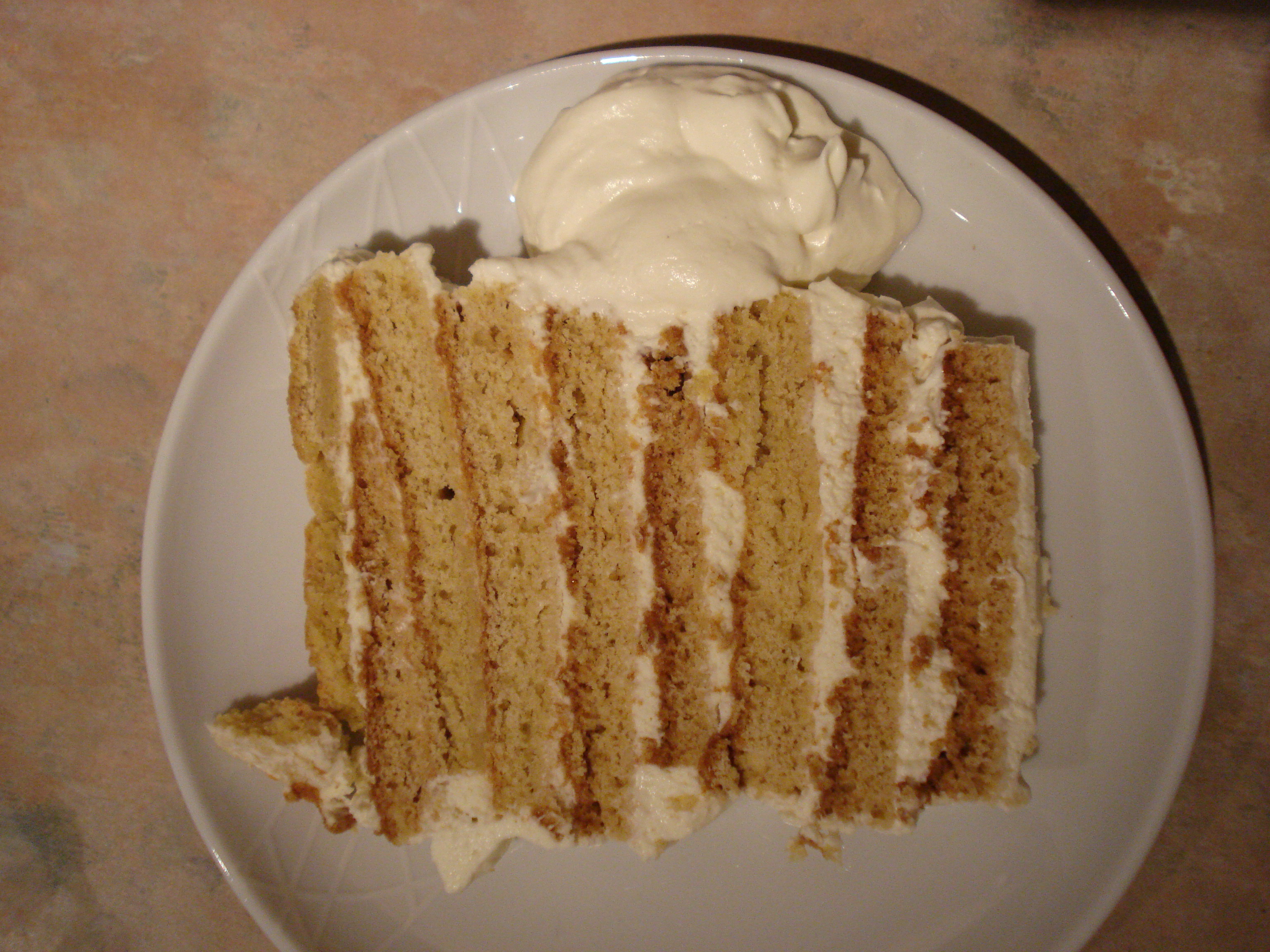 "Russian tea room". I'm not sure about you but that phrase conjures no images whatsoever in my mind. When Helen mentioned that she'd scored us a table at Knightsbridge's Mari Vanna, I had no idea what to expect.
Skirting around Hyde Park I missed it a couple of times. The decor confused me: from the outside I thought it was a florist, and on the inside your Nan's house. There is a frightening amount of knick-knacks, gewgaws and tat littering every surface. Photos adorn the walls (which we were informed are all staff member family snaps), preserves are rammed into a cupboard, the day's pastries line the counters.
Bamboozled by choice, we kinda throw a dart into the menu and went for a couple of random platters: the "men's tea"; and the more classic Russian high tea, whatever that might be. It was a great time to be in there: packed with Olympic tourists, the variety of dialects buzzing back and forth afforded us a great deal of people-watching. After spending a few minutes supping beer and Georgian tea, chatting about the fictional "Mari Vanna" with our host, and admiring the dozen or so doorbells out front, our food arrives.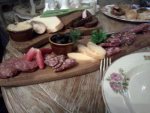 The platter in front of me is various kinds of salamis, smoked cheese and black olives. The salamis were perfectly pleasant but nothing surprising, Helen found them too strong. The smoked cheese again was perfectly good but nothing to set the pulse racing. That said, I am sucker for almost anything served on a wooden board. The tuft of dill was welcome, and the fragrance was obvious in much of the food that came past our table.

The high tea however was much more interesting: your typical Savoy-style tower of silver dotted with pretty things. There were caviar-topped blinis, for which I was de-virginised of caviar, pirogis that put me in mind of soft and spiced meat samosas, slices of delicate white fish and beetroot alternating with cream cheese…
But the desserts are where it was at: the set milk pudding had Helen and I debating for quite a while how the texture was achieved (whipped egg white folded through milk and set in a bain marie, we guesstimated), although a rather average chocolate cake was ignored. However by a million miles the star of the show was a sweet and caramel-laced honey cake. Goodness how we cooed and ooed and aahed over it's dozen layers of squidgy sponge and whisper-light cream. It is a staple of Russian houses come Christmas time, and it's not hard to see why. It was nothing short of brilliant, and I resolved to have at it myself.
I managed to find a decent sounding recipe here, which I've bashed about a bit for my own purposes. And the resultant cake, while not the gossamer-fine thing of beauty from Mari Vanna, was still a homely and squidgy teatime treat. I'd aim to get that dough baked thinner next time, and try to really slice it as thin as I can for maximum moistness. I had a really pleasant time at Mari Vanna – particularly this cake – but watch those prices, as Jay Rayner observed.
Thanks to Helen for the invitation.
Russian honey cake (makes a cake about 20cm x 10cm):
For the dough:
3 large eggs
A big pinch of vanilla salt
220g caster sugar
70g butter
60g honey
2 teaspoons bicarbonate of soda
550g flour
For the cream:
700ml double cream
300ml creme fraiche
180g caster sugar
A generous tablespoon of honey
To finish:
A Crunchie bar (optional)
Preheat the oven to 170°C. Line a large baking tray with greaseproof paper, then give that a little extra grease. Melt together the butter and honey until fluid and then turn off the heat.
Whisk together the eggs, salt and sugar until pale and fluffy. Gradually whisk in the honey butter a trickle at a time, and then sift in the bicarb and flour. Stir until combined to a dough – this will be quite firm, more like a biscuit dough than a cake batter. Using wet hands press this mixture in to your baking tray, as thin as you can. Bake for around 8 – 10 mins, until the it is golden on top and a skewer inserted comes out clean. Peel off the paper and leave to cool.
While it cools make the cream. Whip the cream and sugar until soft but still a touch runny, then incorporate the creme fraiche and keep beating until it just holds its shape. When it's ready loosely ripple through the honey.
When cool, slice the cake into long thirds. Then proceed to cut in half horizontally, by placing your hand on top and slicing across with your sharpest bread knife. You want a thickness of about 5mm. Save the offcuts for later.
Alternately sandwich cake and cream to make a giddy tower. Be generous with the cream as it is going to get absorbed by the sponge. Smooth some more cream over the top and sides of the cake and leave to set in the fridge for about 12 hours.
Before serving, whizz up the cake offcuts with a Crunchie bar in a food processor and sprinkle over the top. If you have some spare cream, serving that on the side wouldn't go amiss :-).