sausage pappardelle pasta

Despite working in the capital every day, I don't spend enough time being a tourist around London. One spare Sunday we tramped off as a family to do just that. We took in the Princess Diana memorial gardens, having fun on the pirate ship. We paddled around the nearby fountain, which was mountains of fun. We then plodded along Constitution Hill, marvelled at how shiny the statue of Eros was, and did some ooh-ahh selfies in front of Buckingham Palace (she was in, by the way).
After all that stamping about, we decided to treat ourselves to dinner out. A short hop away was Jamie's Italian Piccadilly. Now I haven't set foot in a Jamie's Italian in quite a while so I thought it was worth a return visit. We all asked for pasta dishes and were served up in double-quick time. There was a lovely pesto gnocchi with purple potatoes, a heavenly carbonara and rich sausage pappardelle. I enjoyed it so much, I set to making my own version.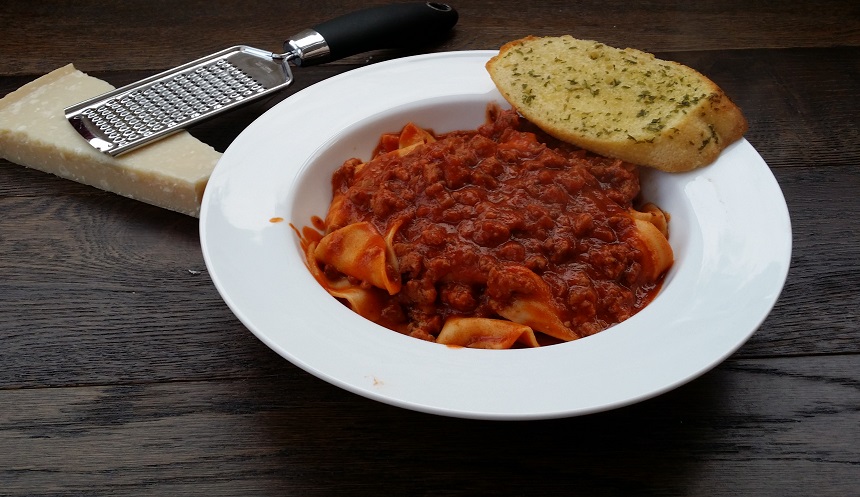 The sausages make or break this one – buy the best you can get hold of. I had some lovely herby Toulouse (not very Italian I grant you) but anything spiked with lots of flavours would be perfect here. I like those 'Italian style' sausages you can get from delis, punched up with fennel and rosemary which I've tried to ape here. I also chose to make my own pasta because I was in the mood for it having just watching Gennaro knock up a batch but buying your own would be no problem. It's a rich and delicious lip-smacking pasta dish.

sausage pappardelle pasta
Ingredients
2

stalks

celery

finely chopped

6 - 8

good quality sausages

1

teaspoon

fennel seeds

1

leaves

large sprig of rosemary

picked and finely chopped

400

g

passata

300

g

pappardelle
Instructions
Preheat your oven to 140C. Get a large pan over a medium heat and add a splash of oil.

Add the celery and fennel seeds to the oil and fry for 3 minutes until the fennel is fragrant and the celery has softened.

While the celery cooks, skin the sausages and crumble the meat into tiny bits. Turn up the heat under the pan and add the sausage. Cook the sausage for a minute or two and then add the passata, plus fill the same container with water and add that to the pan too. Cover and put in the oven for an hour.

When the pasta sauce is ready, cook your pasta according to the packet instructions, drain and fold through the sauce before serving. Grate some parmesan over the top and enjoy with garlic bread.
As fluke would have it, Kavey also visited Jamie's Italian recently!