sledgehammer chicken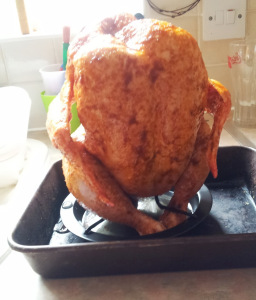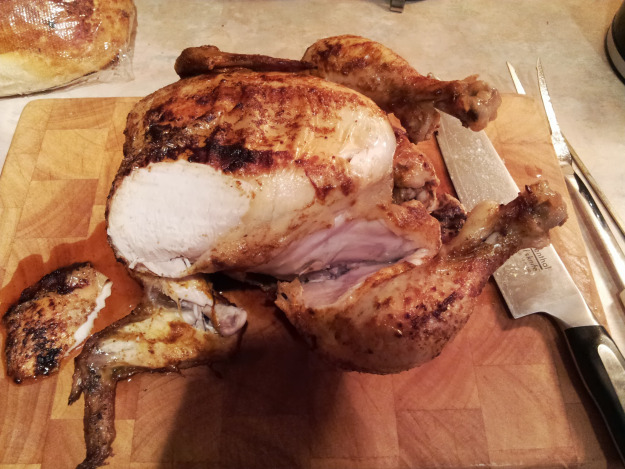 I've cooked a few whole birds on the barbecue before, such as southeast spatchcock and slathered with BBQ sauce. But with getting a drum-style barbecue this year I could try grilling a whole one for the first time.

This chicken came about from trying Sainsbury's new chicken roaster. It's a metal stand which holds the bird in a vertical position while it roasts. Assembled it's rather phallic, but once you look past that you have a metal prong over a tray which all hooks together. The pieces come apart and you are able to fold it away to pretty much nothing. You're cooking a chicken to a similar principle as a beer-butt chicken which I've always wanted to try but just don't like the taste of beer (the quickest my face goes from happy to sad is noticing there's onion rings on the menu, then spotting they're beer-battered onion rings. Horrid yeasty aftertaste, yeeuch).
I rubbed the meat all over with a sweet spice mix and awkwardly impaled the chicken on the spike. And now it looked like it had waltzed off Peter Gabriel's Sledgehammer video, hence the name.
I started mine off on the BBQ with the lid down, but after 70 minutes the bird had barely started to warm up and it just wasn't feeling right. I brought it into the oven and finished it off there. The flavour was great and it had taken on some smoke so not all was lost. Carving into it the flesh was moist and tender.
Is the roaster worth it? I'm not quite convinced. You could go down the beer can route on the BBQ, and in the oven it takes up a lot of space being vertical. Being able to put liquid underneath (I used white wine) means a natural mist is retained going up into the cavity but the skin stays crisp. That said as long as time allows I'll be sticking to my preferred Heston technique. The roaster is a fun gadget, but not essential.
Thanks to Sainsbury's for sending me the roaster to try out.
Sledgehammer chicken (serves 4 – 6):
1 tablespoon brown sugar
1 tablespoon smoked paprika
1 teaspoon salt
1 teaspoon ground cumin
1 teaspoon ground coriander
Pinch of chilli powder
Olive oil
1 medium chicken
Splash of white wine
Mix the spices together and blend with enough olive oil to make a gloopy paste. Smear all over the chicken and make a real mess of it. Impale the chicken on your chicken roaster and fill the tray with wine.
Light the BBQ. Once the flames have died down and there is a thin coating of white ash over the coals, place your chicken into the BBQ and close the lid. Roast there for 2 – 3 hours until the chicken is 70°C at the thickest part (always use a probe thermometer, it's the only way to be sure). Or if your BBQ isn't quite hot enough, transfer to a 180°C oven. Allow to rest for 10 minutes before serving. I served mine with potatoes roasted with chorizo.