sous vide ox cheek kebabs with houmous and red pepper salsa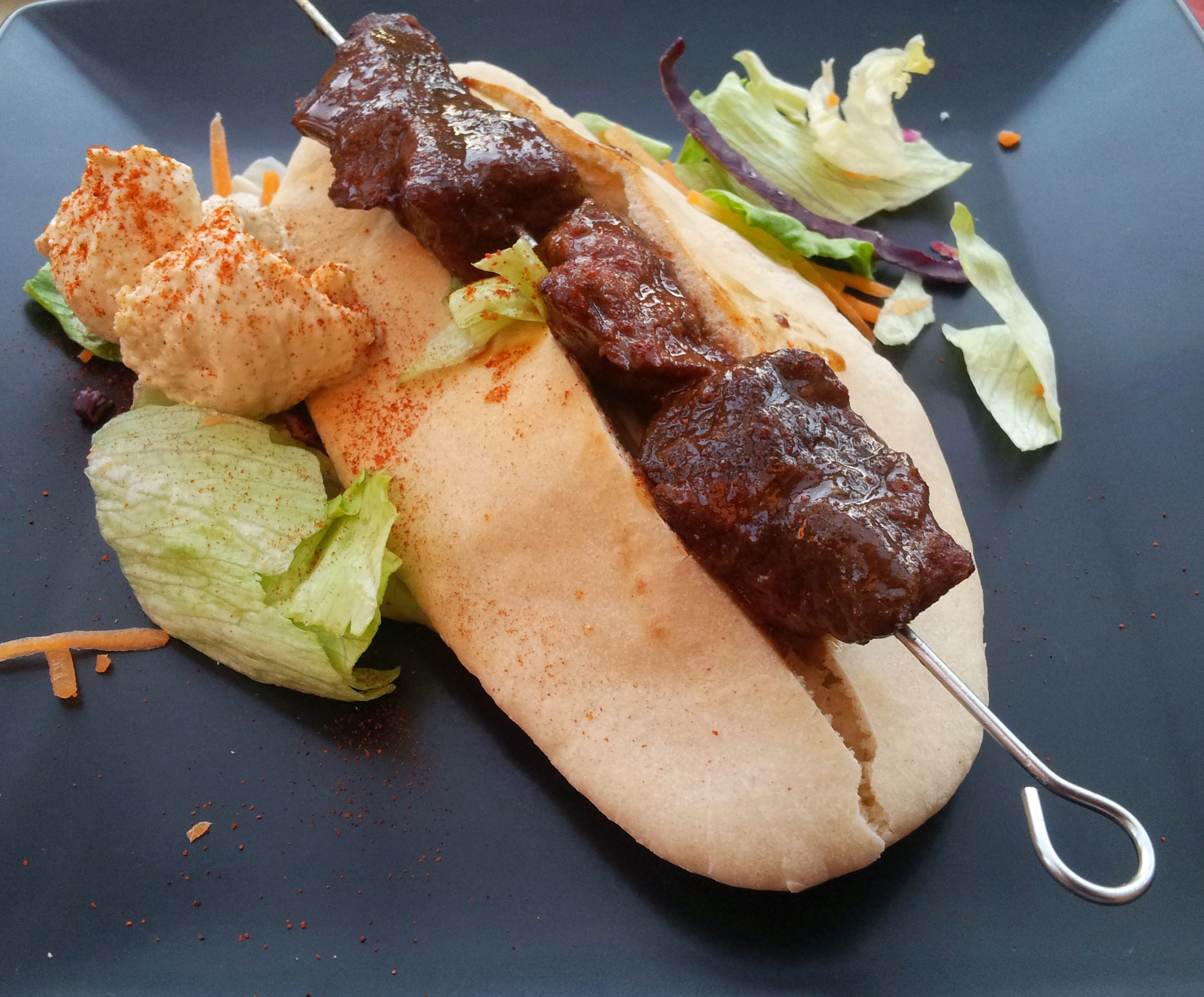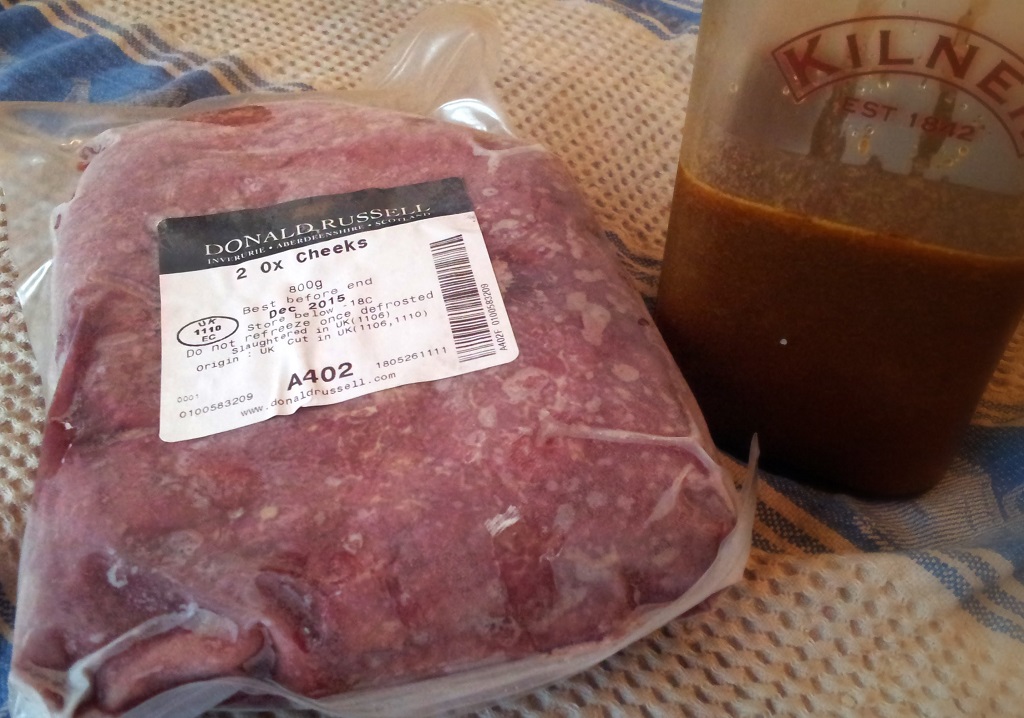 Ox cheek can be an acquired taste. A great big slab of meat that can be quite irony and offally. Someone that doesn't need convincing is our Kavey, who can wax on the subject for hundreds of words. If you haven't joined the army of converts, maybe this sous vide ox cheek recipe will change your mind.
As the English weather warms up we turn our attention to grilled and barbecued food. A strong, charred piece of meat, some crunchy vegetables, zingy sauces that tickle the tongue and bread to mop up the rest and the sunshine practically sorts itself out.
That's the inspiration for this recipe, 'cos who doesn't love food on sticks? There's little better than gnawing away at grub straight from the skewer. The BBQ glaze in this recipe, packed with all the meaty flavours from the ox cheeks cooked sous-vide, is umami-tastic and keeps you going back for more.
This recipe highlights the multi-tasking you can do with a sous vide machine.  The cheeks bubble away, the chickpeas simmer and the salsa dances. The only other elements I use are a saucepan to get a proper reduction on my sauce, and a grill to really scorch the outsides of the sous vide ox cheek kebabs for a tangy glaze.
This mostly hands-off recipe should give you melting, zingy meat, creamy houmous and a spicy salsa for a great party dish that scales up really well and has lots of places where you can prepare ahead. You could also use shop-bought houmous / salsa and substitute your own favourite BBQ sauce to glaze but this is a rich and satisfying recipe that'll keep your guests happy.
I'm entering this recipe in the SousVide Supreme Gourmet Blogger Cook-Off. Of course you should vote for this but here's the upside – a vote will give you the chance to win a bunch of great Sous Vide gear and Donald Russell meat. Check out this page for more details.
I was given a Sous Vide Supreme with vacuum sealer to come up with these recipes. I was also provided with meat from Donald Russell.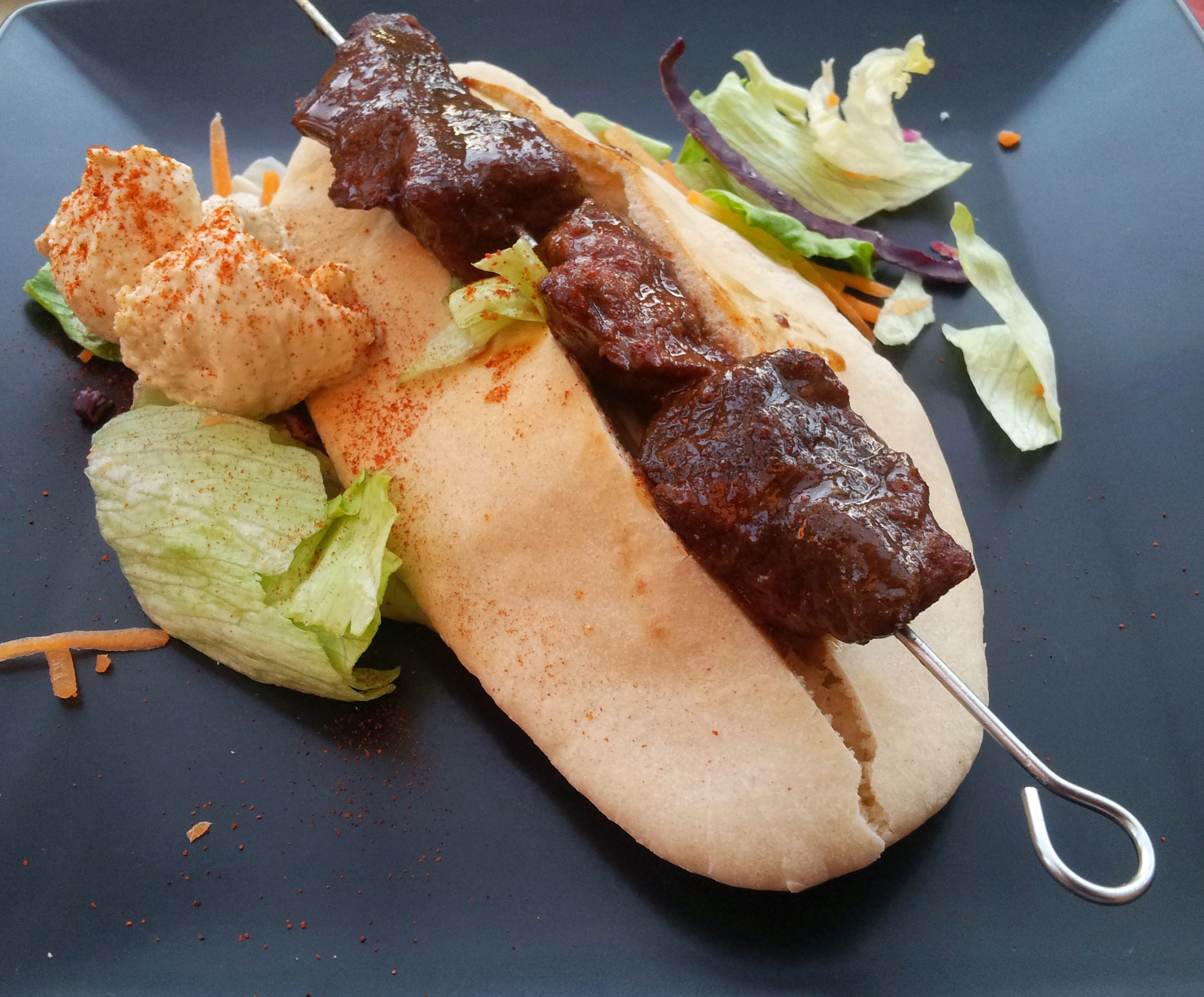 sous vide ox cheek kebabs with houmous and red pepper salsa
Ingredients
_For the houmous_
200

g

dried chickpeas

1

teaspoon

bicarbonate of soda

6

tablespoons

tahini

1

teaspoon

sesame oil

1

lemon

2

cloves

garlic

crushed

Pinch

cumin

2

ox cheeks

diced

1

teaspoon

salt
_For the kebabs_
1

teaspoon

paprika

1/2

teaspoon

chilli

1/2

teaspoon

garlic

1/2

teaspoon

celery seed

1/4

nutmeg

grated

1/2

teaspoon

coriander

Pinch

cayenne pepper

1

tomato

diced

1

chargrilled red pepper

diced

1/2

red onion

diced
_For the salsa_
3

slices

pickled jalapeno

chopped

1/2

teaspoon

ground coriander

1/2

teaspoon

smoked paprika

1

onion

diced

1

star anise

40

ml

Southern Comfort

500

ml

beef stock
_For the glaze (makes about 300ml)_
50

ml

tomato ketchup

20

ml

English mustard

10

ml

balsamic vinegar

10

ml

Worcestershire sauce

1

teaspoon

your favourite hot sauce

I like Frank's

10

ml

black treacle

Fresh salad of your choice

(I used shredded iceberg carrot and red cabbage)

4

pitta breads
Instructions
_For the houmous:_
Soak the chickpeas in cold water overnight with the bicarbonate of soda (this will soften the chickpeas).

The next day, preheat your sous-vide machine to 84C. Put the chickpeas, tahini, sesame oil, garlic and cumin in a plastic pouch and vacuum seal. Bathe for 8 hours.

Pour the contents into a blender / food processor with a large pinch of salt and a squeeze of lemon juice. Blitz to a creamy paste and add salt / lemon as desired. Dust with paprika to serve.
_For the ox cheeks:_
Combine the ox cheeks with the spices in a plastic pouch, vacuum seal and cook at 84C for 7 hours. Drain and reserve the cooking liquid. You could do this simultaneously with the chickpeas as above.

Thread the meat on to skewers, brush with the BBQ glaze (see below) and grill under a very hot grill for 3 - 4 minutes, basting several times to build up layers of glaze.
_For the salsa:_
Combine the tomato, pepper, onion, jalapeno and spices with a pinch of salt and stir well. Leave to sit while you finish everything else.
_For the BBQ glaze:_
Sweat the onion gently in a little butter and oil with the star anise. When soft crank up the heat and add the Southern Comfort. Sizzle away until you hardly have any liquid left and add the beef stock and the juices from the ox cheek bag. Boil hard to reduce by half.

In a separate bowl mix the ketchup, mustard, balsamic, Worcestershire sauce, hot sauce and treacle until blended. Turn down the heat on the saucepan and stir this mix into it. Bottled, this sauce will keep in the fridge for a week.
_To serve:_
Toast a pitta bread, give each person a kebab and allow people to help themselves to houmous, salad and salsa.