southeast spatchcock chook with booze-braised sweetcorn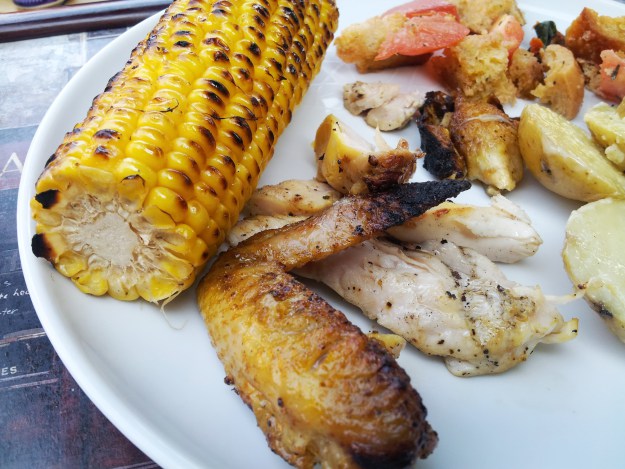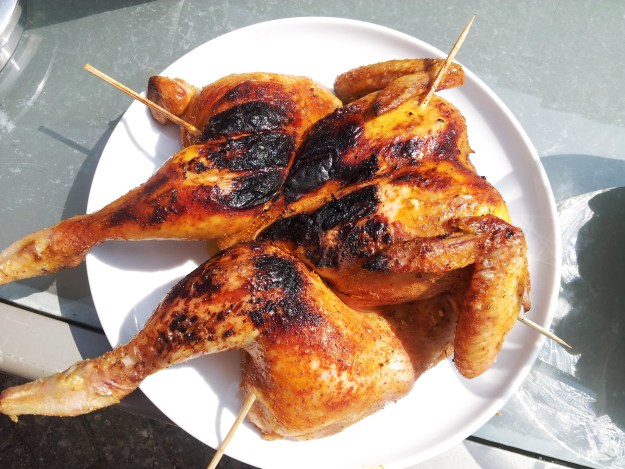 For Mrs. Spud's birthday and the weather hitting decent heights at last, I wanted to come up with a BBQ featuring some special treats. I thought about cooking a whole chicken and grilling some sweetcorn.
Thankfully experimenting with the barbecue is really taking off in this country. We've always lacked the predictable weather and sustained dry spells to really explore but we're gradually catching on. The explosion of diner-style and burger / rib joints, with even Jamie Oliver getting in on the act is further proof of the growing interest. In particular it's worth listening to our American cousins who pretty much have nailed down this cuisine as their own. With dozens of regional variations in cut, technique, rub, baste and flavouring there's plenty to study. If you want to know more about American BBQ I recommend checking out Steven Raichlen, and I strongly recommend his Barbecue Bible book which is packed with great inspiration. It's from this book that my chicken recipe started to take shape.
I've had fun with dry-brining before. The meat juices are drawn out by the salt element, the flavourings dissolve in the liquid that breaks down muscle proteins and get reasorbed back into the meat. The repetition of this process leaves the meat wonderfully seasoned and keeps it juicy, so I was definitely going to use something similar here. Pulling together some of my favourite spices to combine into a rub I left the chicken overnight. In honour of my corner of the country I've called it Southeast style. Spatchcocked to cook reasonably quickly and evenly, and allowed to scorch on the BBQ it gave a smoky, sweet flavour with spicy depth. Really tasty. And my top tip for grilling white meat? Get one of those spray bottles from a garden centre. Fill it with apple juice, and with one squirt you can cool off flare-ups and leave behind a sweet glaze into the bargain.
I paired it with some grilled and braised sweetcorn. With undertones of Bourbon and meaty to boot, my first attempt at barbecuing corn was one I'll be doing again.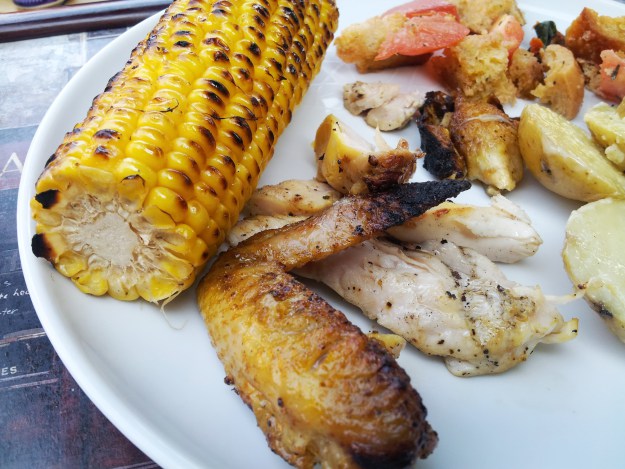 Southeast spatchcock chook with booze-braised sweetcorn (serves 4 with plenty of leftover chicken):
1 medium chicken
For the rub:
2 tablespoons salt
1 tablespoon cumin
1 tablespoon brown sugar
½ tablespoon dried oregano
½ tablespoon smoked paprika
Grated zest of ½ a lemon
For the sweetcorn gravy:
500ml chicken stock
1 tablespoon BBQ sauce
10g butter
20ml Southern Comfort
4 corn-on-the-cob
Free the chicken from its packaging, remove any string and open the chicken out. Turn it over so the breast is face-down, and use a strong pair of scissors to cut down the spine. You can then turn the chicken back over the other way and press down firmly on the breastbone until you hear a sickening crunch. Use two skewers, each corner to corner to hold it open. Combine all the salt ingredients and rub all over the bird. Leave in the fridge uncovered overnight.
The next day, light your barbecue and once the flames die down and the charcoal is covered with white ash place your chicken over the grill. Turn and rotate often to cook evenly. It will take between 40 – 60 minutes to cook depending on about a hundred variables. You can only be sure if it's done with a meat thermometer reading 75°C. I recommend the Heston branded one, but any will do.
While the chicken cooks make your sweetcorn gravy. Combine all the ingredients and bring to a simmer (you may find this quicker and easier to get this started on a regular hob). Dip your sweetcorn in the gravy and transfer the corn and your pan to a hot BBQ. As it starts to char and pop you'll want to turn it, but just before you do give it a dip in your gravy and then back on the grill. Repeat until charred on all sides, then place them in your gravy pan and cover for 5 minutes to cook through. Strain off the liquor to serve on the side, carve the chicken and serve with a panzanella and potato salad.