spaghetti with prosciutto and artichoke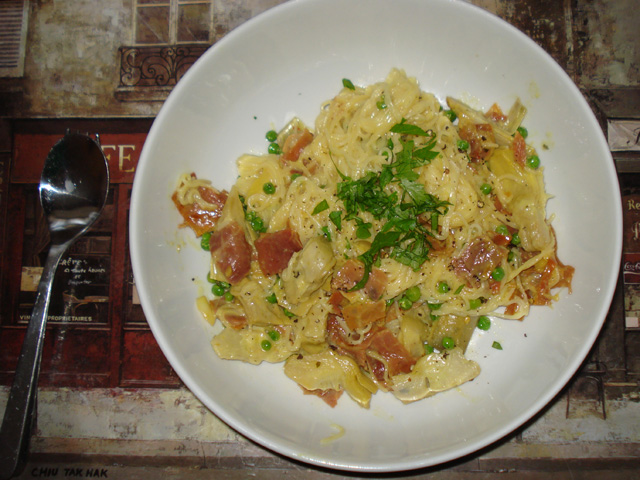 Pleased as punch note: this recipe has been given the Jamie Oliver seal of approval 🙂
A lightning fast pasta dinner. All those wonderful tasty ingredients coming together in a dish that allows you to taste each element yet come together as a varied and interesting whole. Fresh peas, salty prosciutto, meaty artichoke… lovely.
Spaghetti with prosciutto and artichoke:
250g spaghetti
5 slices of prosciutto, chopped
2 cloves of garlic, chopped
250ml white wine
250g artichokes, cut into rough chunks
2 tablespoons mascarpone
Grated zest of 1 lemon
A handful of frozen peas
2 teaspoons of finely chopped parsley
Put the pasta on to cook according to the packet instructions.
Fry the garlic and prosciutto in olive oil until edges of the meat is curled and browning.
Add the white wine and simmer until reduced by half. Add seasoning.
Add the lemon zest, peas and artichokes until warmed through.
Add the mascarpone and allow to bubble a bit. Add a splash of water from the boiling pan to slacken if necessary.
Add the drained pasta and season to taste. Sprinkle with parsley.