chip face-off: tefal actifry vs delonghi deep fat fryer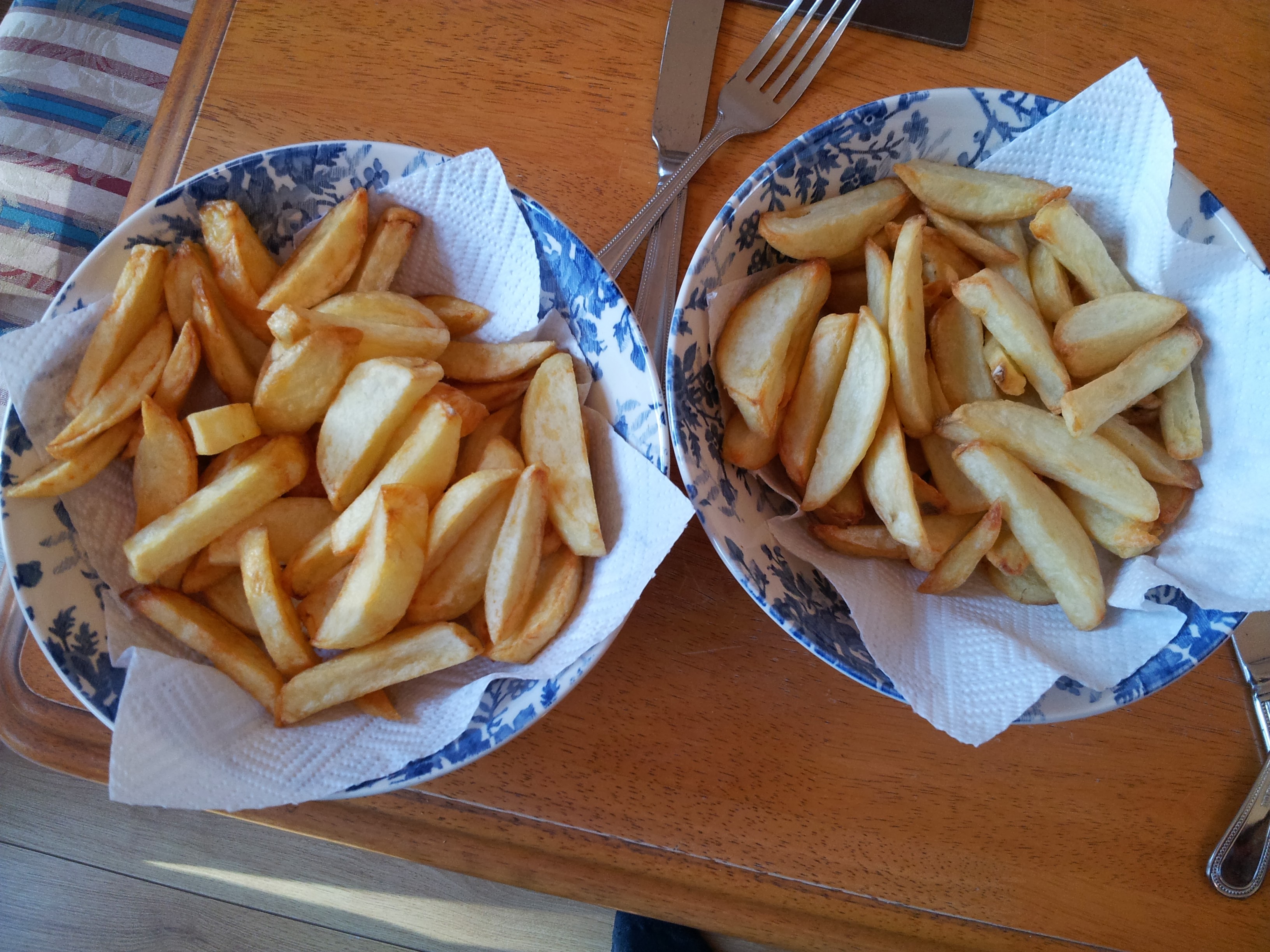 You might've figured out by now that I'm a potato guy. I do love a deep fried chip, but I hate the smell and faff associated with a deep fat fryer. When you've had chips in a deep fat fryer, you know about it for the next few days as the fried smell gets into everything. I've owned them in the past but dealing with the odour, recycling the oil and general faff means when my last one died about ten years ago I didn't bother replacing it. I've been doing the (frankly dangerous) chip pan thing occasionally, but more often oven-baking chips instead.
When the opportunity to try out a deep fat fryer against a Tefal ActiFry I couldn't resist. I took them to my Dad's who has a large utility room to take the smell. We decided to have a chip-off to see whether you could tell the difference between regular deep-fried chips and those prepated in the ActiFry.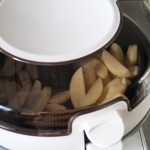 The ActiFry is a very different beast to a regular fryer; it has a rotating drum that spins raw potato around in hot air. To this you add barely a spoon of oil. It does make a little noise while it churns but there's no smell at all. It also takes longer than deep frying – about 35 minutes for 500g of chips, versus about 11 minutes deep frying. The Delonghi model was quiet, gave off the usual frying smell but came up to temperature very quickly. I was also impressed with how you can quickly pull the whole thing apart and clean very near all of it in a dishwasher. You still of course have to get rid of the oil when it's reached the end of it's frying life. The Delonghi Total Clean also had completely cool walls – you couldn't say the same of the ActiFry.
Hestonthusiast note: I decided to go down the regular chip recipe road to keep it simple. I will definitely try them again with the triple-cooked method next time.
But, but, but. What about the actual chip? Well I was confounded by being able to take raw potato and turn them into crisp chips. They coloured beautifully, made a satisfying rustle when you shook the pan, and broke open to reveal a fluffy interior. And to taste they were very, very nice. Side-by-side with the deep fried, the deep fried did edge it. They were more moist, although the ActiFry ones were more 'potatoey'. I also got a few eager volunteers to blind taste them. The consensus was that the fried ones did taste better… but only just. And only because they were side-by-side. If you had the Tefal ActiFry ones on their own, you'd absolutely enjoy them. And the difference in health almost goes without saying: I poured two litres of oil in my deep fat fryer and they produced delicious chips, but to use approximately 5ml of oil and achieve very similar results is very impressive. I'd lined both bowls with kitchen paper; the deep fried one was greasy with fat, where as the ActiFry one was practically dry.
There's also cost to consider. The model ActiFry I used retails around £129 and the Delonghi £69. There is a price difference but the oil running costs (£4 for the 3 litre bottle I bought) will be earned back soon once you factor in time spent cleaning and filtering the oil. I'm quite impressed by the gadget; it claims to make all sorts of other recipes so I'll see what else it's capable of.
Many thanks to Argos for providing the fryers to test. I was free to write whatever I wanted in the review.