tiger bread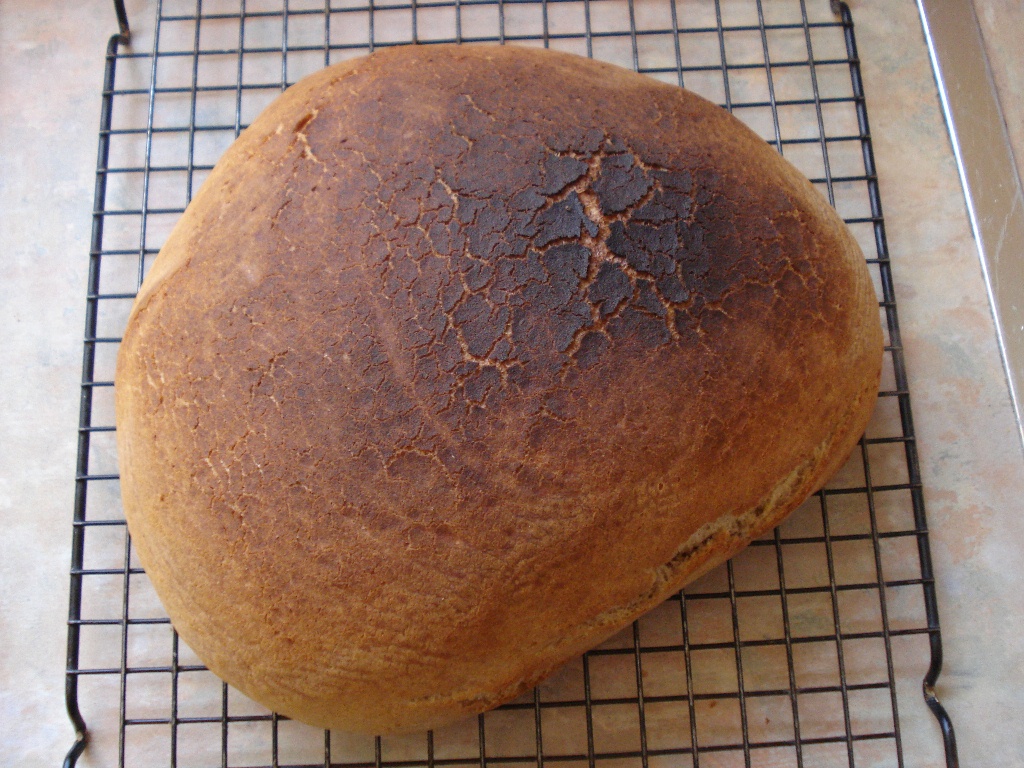 …Or "crackle-top bread" as Lorraine Pascale bills it. Is there a trademark on the name? Sainsbury's are calling it giraffe bread now after all.
Regardless, it's the best loaf of bread I've ever made. Though it was almost never meant to be.
I made everything up, slathered it in the rice flour goop and slammed it in the oven. I popped back twenty minutes later and… nothing had happened. The dough was still ghostly-white and tellingly, I could take it out of the oven with no gloves. My oven had packed up.
Few things are more depressing to a food blogger than the oven dying. All those things you can prepare, make, bake and cook are just cut out. Luckily I'm not completely paralysed, I have another oven but it is teeny-tiny – it's not tall enough to roast a whole chicken if that gives you an idea of the size.
Just big enough however to hold this loaf on it's baking tray. So an hour later than expected, the bread was hacked apart and devoured in seconds. Delicious… if you have a working oven. PS. it looks like wayyyy too much syrupy paste but just keep slathering it on for a crunchy, crackly skin.
Adapted from Lorraine Pascale's recipe
Tiger bread (makes a 500g loaf):
450g plain flour
7g sachet of fast-action dried yeast
2 teaspoons salt
Pinch of sugar
275ml warm water
For the topping
25g rice flour
1 teaspoon caster sugar
¼ tsp fast-action dried yeast
pinch salt
1 teaspoon vegetable oil
Mix the flour, yeast, salt and sugar together and keep adding water until you get a sticky dough. Knead for ten minutes until the dough turns smooth and elastic. Oil some clingfilm and wrap the dough in it. Leave to rise for an hour.
While it proves mix the topping ingredients together with a little water to make a thick paste. Turn the dough out on to a baking tray dusted with flour. Preheat the oven (ha ha) to 200°C. Baste the loaf liberally with the topping and bake for about 25 minutes, until the top is all crackly and the underside sounds hollow when tapped.