turkey masala burgers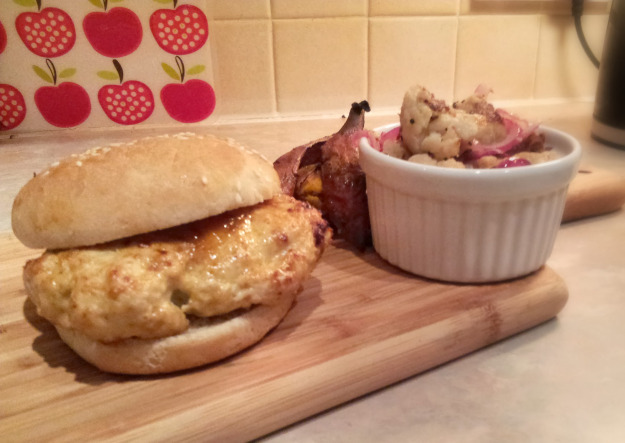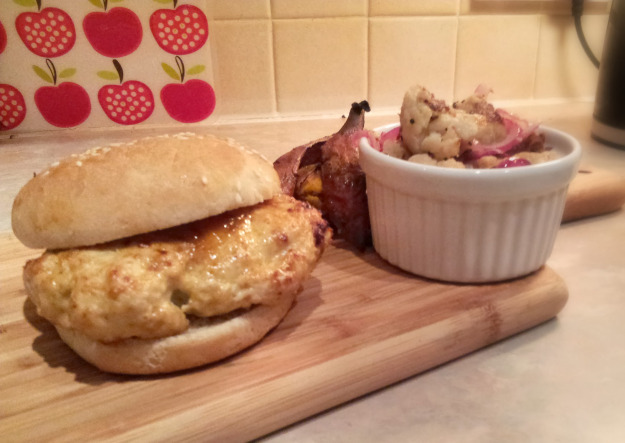 A turkey isn't just for Christmas. It's for all year round.
That was the message put out by the British Turkey board. Headed up by Paul Kelly – a good Essex boy – me and a bunch of others were entertained as a guest of Cyrus Todiwala to help promote the use of turkey throughout the year. Cyrus was an affable host, preparing dinner and chatting away. We were blown away by dishes like turkey heart pie and turkey cafreal tikka. All of us were stuffed with the amount of turkey dishes served, it really did showcase the bird!
It inspired me to cook an Indian-flavoured dinner. I have to be honest and say I'd not used turkey outside of December for a few years; it's appearance in supermarkets seems to have declined. I would quite often but the breast strips for marinating, stir frying or for pies. Using mince here I made a burger with rich masala flavours, inspired by Cyrus Todiwala's tikka recipe. I marinated mine in clotted cream, because I had some knocking about, but traditionally you'd use yoghurt.
My turkey here was succulent and meaty, and supported by spiced flavours it was a real hit. I will definitely be putting turkey in my basket more regularly.
Based on a recipe by Cyrus Todiwala
Turkey masala burgers (serves 4):
800g British turkey mince
¼ teaspoon turmeric
2 heaped tablespoons clotted cream
40g ginger
4 cloves garlic
½ teaspoon ground cumin
½ teaspoon ground coriander
½ teaspoon red chilli powder
Juice of 1 lime
½ teaspoon garam masala
For the sweet potatoes:
5 sweet potatoes, scrubbed
1 teaspoon ground cumin
For the cauliflower pickle:
400g frozen cauliflower
1 teaspoon cumin seeds
1 teaspoon nigella seeds
1 tablespoon white wine vinegar
½ red onion, peeled and sliced
Burger buns and mango chutney, to serve
Season the mince with the turmeric and plenty of salt and pepper. Combine well then form into 4 patties, and leave covered in the fridge while you make the marinade.
Bash up the garlic and ginger with the cumin, coriander and chilli powder in a pestle and mortar until you have a paste. Add the lime juice and cream and mix well to combine. Smother the turkey patties in the marinade, cover (twice!) and leave in the fridge overnight.
When you're ready to cook, preheat the oven to 200°C, get a saucepan over a high heat and the grill on medium high. Slice the potatoes into wedges, dust with the cumin and drizzle with oil. Roast for 30 – 40 mins, turning frequently until starten to blacken at the edges. Sprinkle salt over as they come out of the oven.
When the potatoes are in the oven, put the onion in a bowl with the vinegar and a pinch each of salt and sugar. Stir occasionally.
Add the cumin and nigella seeds to the saucepan and allow to heat for a minute. Add the cauliflower and jam the lid on. Toss frequently and cook for about 15 minutes or until tender. Add the onion for the last minute of cooking and check for seasoning.
Grill the burgers for about 6 – 9 minutes each side, until browned and cooked through. Serve in a toasted burger with plenty of mango chutney.