veal with mushroom veloute and champ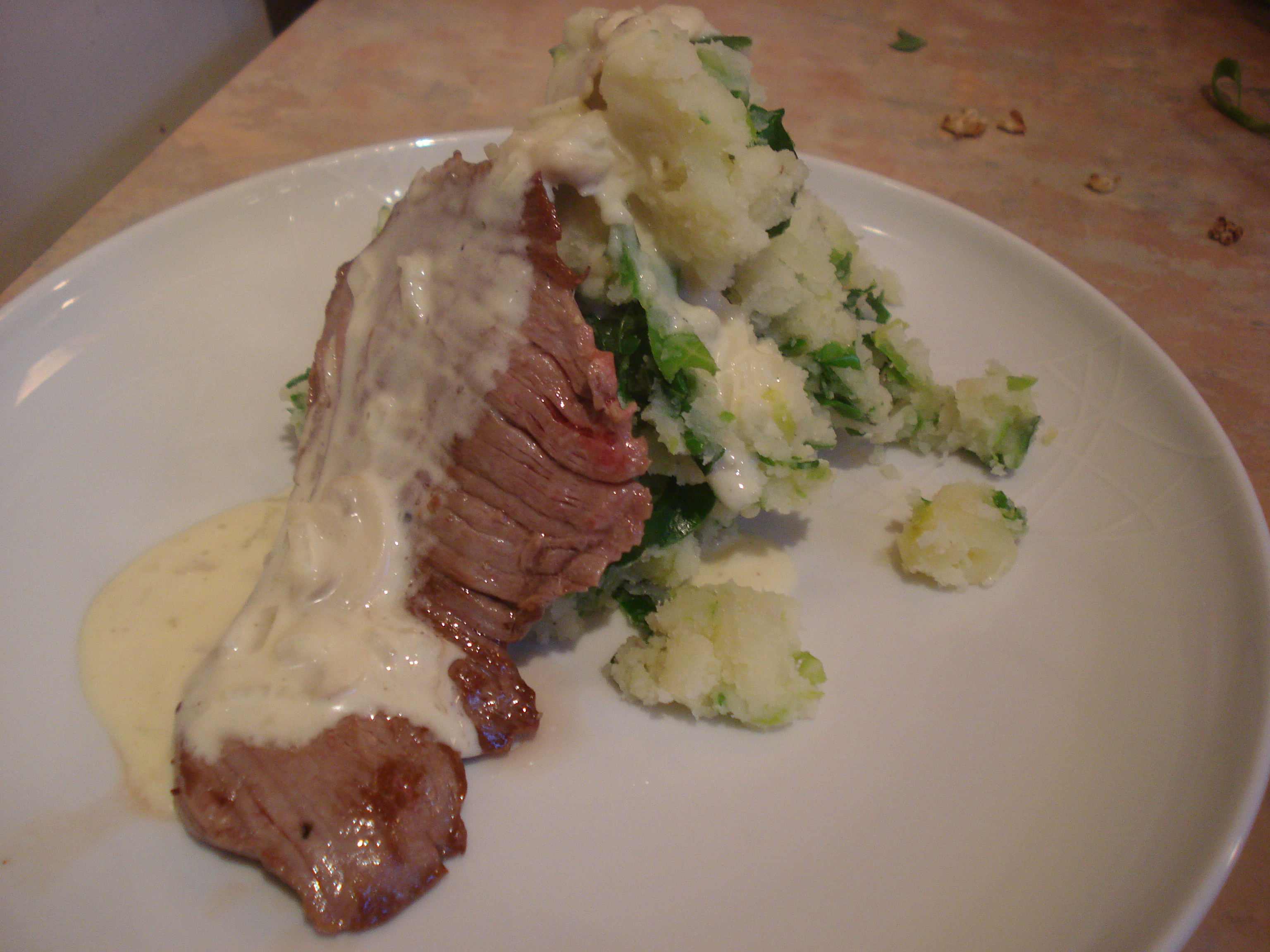 I've been running wild on rose veal lately, courtesy of Farmers Choice. I've really got a taste for this Dorset-raised calf which has a loose texture and a delicate beef flavour and so deserves to be back on the menu.
I've paired the meat here with a subtle mushroom veloute and earthy champ-style mash.
Veal with mushroom veloute and champ (serves 2):
100ml milk
100ml chicken stock
1 bay leaf
1 shallot, peeled and sliced
150g button mushrooms
1 tablespoon plain flour
1 tablespoon butter
Lemon juice
50ml double cream
2 veal escalopes
4 floury potatoes, peeled and diced
1 large handful spring greens
A couple of spring onions, sliced
In a small saucepan bring the milk and stock to the boil and add the bay leaf. Turn the heat down to a simmer and add the shallots and mushrooms. Simmer for 3-4 mins and remove the veg from the liquid. Discard the bay leaf.
Fill a large pan with salted water and bring to the boil. Add the potatoes and simmer for 8 – 9 mins. Add the spring greens and spring onions and cook for a further 2 mins, and then drain.
Get a frying pan really hot. Add a little oil to the veal and season well. Add to the pan and cook for a minute on each side, then put to one side to rest while you make the sauce.
Melt the butter in a small saucepan and add the flour. Cook for 1 minute and gradually add the cooking liquor, stirring constantly until you have a smooth sauce. Stir in the cream and adjust the seasoning with salt, pepper and lemon juice. Return the veg to the sauce.
Mash the potato mix and season, but we're not looking for a puree here. Flash the veal in the pan to heat up and serve with the sauce.