chicken katsu with oyster noodles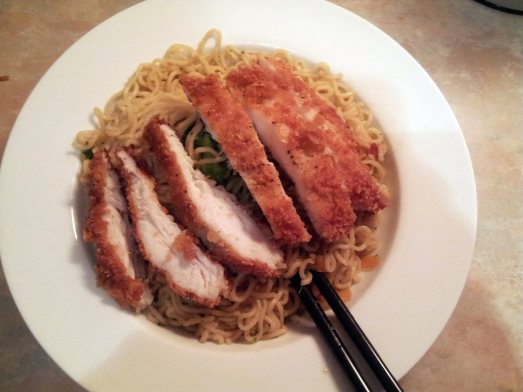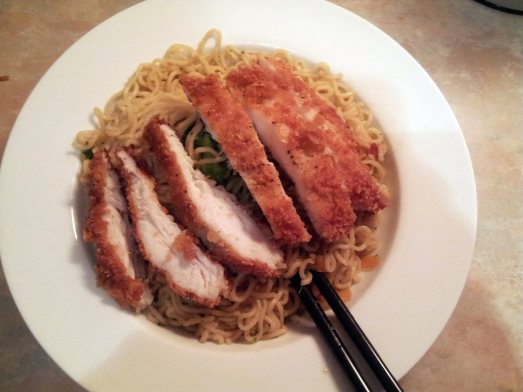 I do love panko breadcrumbs. The ridiculous extra crunch the Japanese breadcrumbs give is so satisfying. So I was really looking forward to chicken coated in panko when I got home.
Until I realised I didn't have any eggs. The typical pane station is flour, egg, breadcrumb. But with no eggs what was I going to do? I figure all it needed was something for the breadcrumbs to stick to. So why not the chef's friend cornflour? My only problem was avoiding that gluey taste that cornflour can give, so I added some ground spices to mask the flavour. Seemed to work pretty well. To the point in fact where I don't see the need to waste an egg on breadcrumbing again!
This is an easy to rustle-up, easy to multiply dinner that is a great combo of crunchy chicken and slurpy noodles. You could use any sauce you like with the noodles – even a splash of soy would do.
Chicken katsu with oyster noodles (serves 2):
2 chicken breasts
1 teaspoon cornflour
1 teaspoon ground cumin
1 teaspoon ground coriander
Milk
A little plain flour
Panko breadcrumbs
4 noodle nests
1 litre chicken stock
Large handful of broccoli florets, cut into bite-size pieces
A pinch of chilli flakes
1 carrot
A pinch of sesame seeds
Get a large pan with shallow oil over a medium heat, and a saucepan for your noodles over a high heat.
Lay out a sheet of cling film and dust with salt and pepper. Put the chicken on this and lay another piece of chicken on top. Using a rolling pin, bash the chicken to approx 1cm thin.
In a bowl combine the cornflour, cumin and coriander. Add milk until you get a thick, sludgy paste. Set up a breading station, with one bowl of plain flour, your cornflour sludge, and the breadcrumbs. Dust the chicken with flour, dip in the cornflour paste and then in the breadcrumbs. Make sure they are well coated.
Lower the chicken into the oil gently. When done on one side flip over until done, then drain on kitchen paper.
Get the chicken stock on to boil in the saucepan and add the noodles. After 3 minutes or when the noodles are done, drain them and rinse well with cold water.
Add the broccoli back to the noodle saucepan, add the chilli along with a splash of water. Peel the carrot and use the peeler to shave into strips into the broccoli. Jam the lid on and cook fast. After about 3 minutes the broccoli should be tender, so add the oyster sauce and toss well. Cook for a further minute and then add the noodles back to the pan, tossing well to mix. Serve in a bowl topped with sesame seeds, and top with the sliced chicken.