onion soup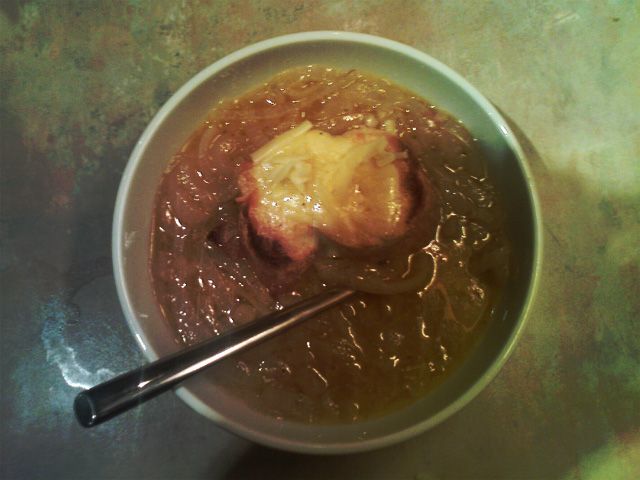 You can't go wrong with a rich brown bowl of onion soup, with deep beefy flavours and soft sweet onions. And for me it isn't complete without a crisp crouton bobbing on top, with a layer of melted cheese. Gruyere is best, but I'll settle for cheddar. Just the thing when the nights draw in.
The milk powder isn't essential but is packed with proteins and sugars; when heated they brown up really well adding colour and the sugar and butter give a beautiful shine to the finished soup.
The stock is crucial to this. It's the body of the flavour and has nowhere to hide so get the very best you can.
Onion soup:
50g butter
1 bay leaf
Pinch each of dried thyme, sage and rosemary
6 onions, peeled and finely sliced
1 heaped tablespoon milk powder
300ml white wine
2 pints of your best beef stock
Toasted bread and cheese, to serve
Melt the butter in a large pan. When it starts to foam, add the herbs and tip in the onions with a pinch of salt.
Allow the onions to caramelize on a low heat. You need to allow them to catch on the bottom of the pan, as this gives the finished soup it's colour. After ten minutes of this add the milk powder and cook away for another 3-4 minutes.
Add the wine and turn the heat up, allowing this to bubble away and reduce to almost nothing.
Add the stock and simmer for 20 mins. Adjust the seasoning, then top with toast and melted cheese.