pea, bacon and mushroom pasta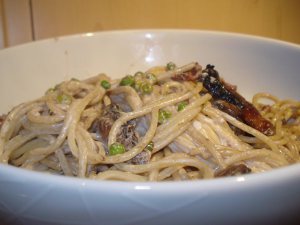 Here's a mouthful. A little of everything in one bowl, quick and tasty.
I got some spaghetti on to boil whilst the pan business goes on. A quick frying of some bacon in a pan, and then some frozen peas and sliced chestnut mushrooms. Whilst that fries up I took a trip to the windowbox to collect some woody, aromatic thyme. I think it's my favourite herb, so robust and penetrating, leaving a comforting note. I chuck a few leaves in with everything else.
Pasta's about done now, so I drain that and chuck it in the pan with some creme fraiche and lemon juice. A quick season, a sloosh around for a couple of minutes, and in a bowl it goes. Instant and tasty.