pork belly with salted red cabbage and roasted swede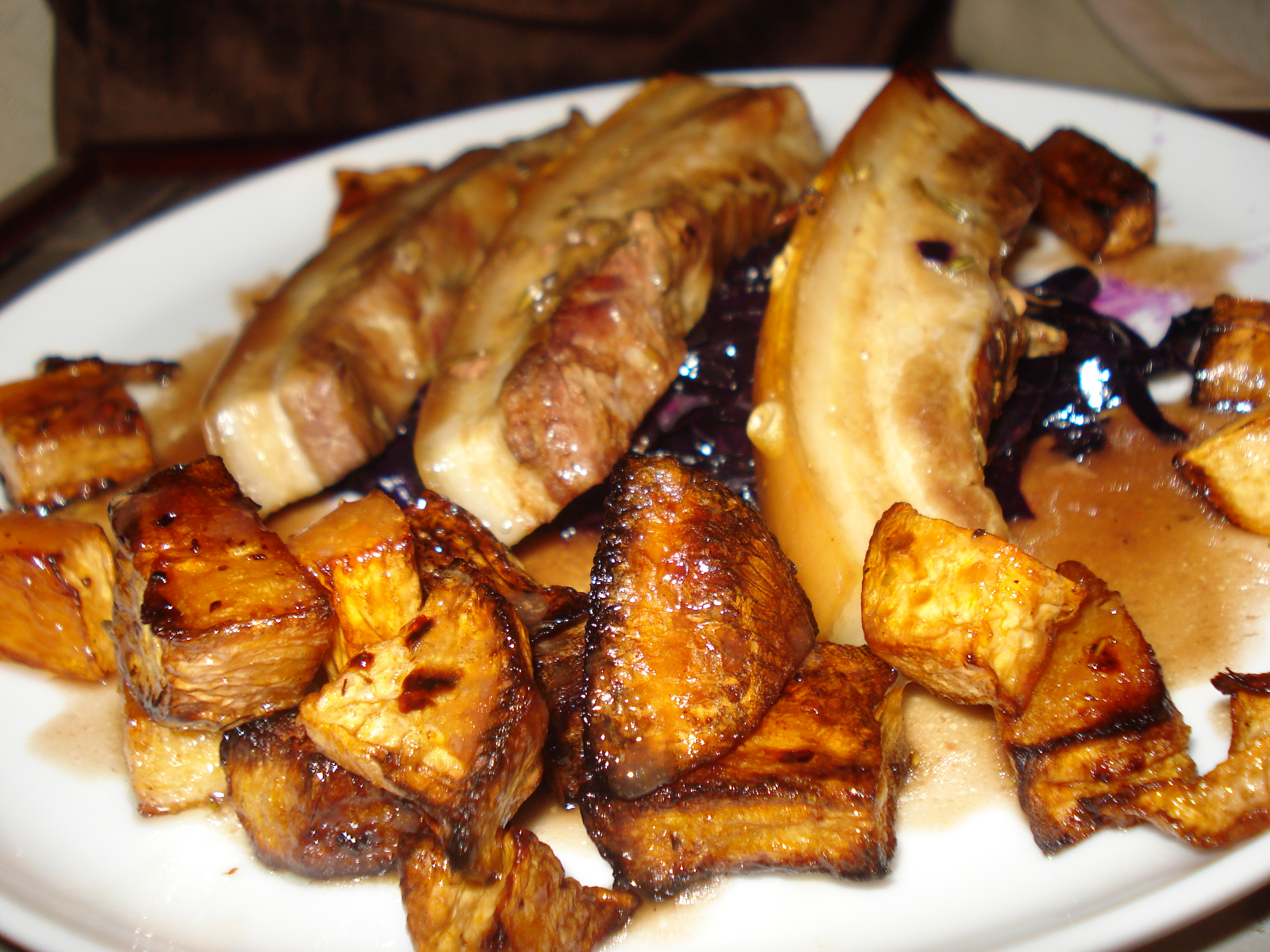 Sometimes, I just crave pork belly. The gelatinous texture and tender meat send me giddy with excitement. But the really interesting part of this recipe is the red cabbage. I've always stewed red cabbage for ever, but I saw the avuncular Nigel Howarth on Saturday Kitchen this week and he prepared it by salting and then quick frying. It's a revelation, with a taste verging on sauerkraut but with that sweetness of red cabbage. I love it!
(I made some changes to Nigel Howarth's red cabbage recipe according to my store cupboard and my tastes; his original recipe can be found here)
Pork belly with salted red cabbage and roasted swede:
For the pork:
500g pork belly
1 tablespoon fennel seeds
1 celery stalk
1 onion, halved
3 garlic cloves
100ml cider
100ml chicken stock
For the cabbage:
½ head red cabbage, finely sliced
15g coarse sea salt
100ml sesame oil
50g icing sugar
50ml port
50ml red wine vinegar
Pinch cayenne pepper
For the swede:
½ swede, diced
2 tablespoons olive oil
2 tablespoons port
1 tablespoon red wine vinegar
Pinch of thyme leaves
Put the cabbage and salt in a bowl, stir well and leave for 4 hours. Rinse the excess salt before using.
Preheat the oven to 150°C.
Place the root veg in a baking tray. Rub the pork all over with sea salt and fennel seeds. Pour the liquids in the pan and layer the pork on top of the veg. Cover with foil and roast for around 2 hours or until meltingly tender. Remove from the oven and leave to rest under the foil
Turn the oven up to 200°C. Toss the swede in all the other ingredients with some salt and pepper and roast for 30 minutes until tender.
Heat the sesame oil in a pan and add the cabbage with the cayenne. Fry for a couple of minutes until softened. Push the cabbage to one side and add the icing sugar. Once you see it melt add the vinegar and port and continue to stir fry until tender.
Pop the pork under a hot grill until the skin goes crisp.