my potato recipe ebook
I like potatoes. In fact, I like them so much, I decided to write a book about them. I collected 50 of my favourites in this potato recipe ebook. It's available now on Amazon.
Fifty Ways with Spuds: 50 brilliant ways to cook potatoes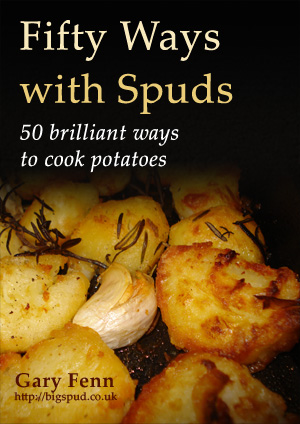 A bunch of classics are included along with some original ideas, with inspiration taken from all over the world. From roast potatoes to potato dosas, from gratins to salads, there's something for everyone.
There's obviously a whole chunk dedicated to roast potatoes: my method of absolute perfection first, then taken off into new ways with glazes and techniques galore.
Already a keen reader of the blog? Well half of them are original so there's plenty of reasons to buy this book and get inspired in the kitchen.
Don't have an ebook reader? If you have an iPhone, Android or Windows phone / tablet you can download Amazon's free Kindle reader app to get it sent straight to your device. Or you can download Amazon's PC Kindle software and read it on your computer. More info from Amazon here.
I've really enjoyed making it. I hope you like it.
PS. Already bought and enjoyed it? Thanks so much. I'd really appreciate a review.